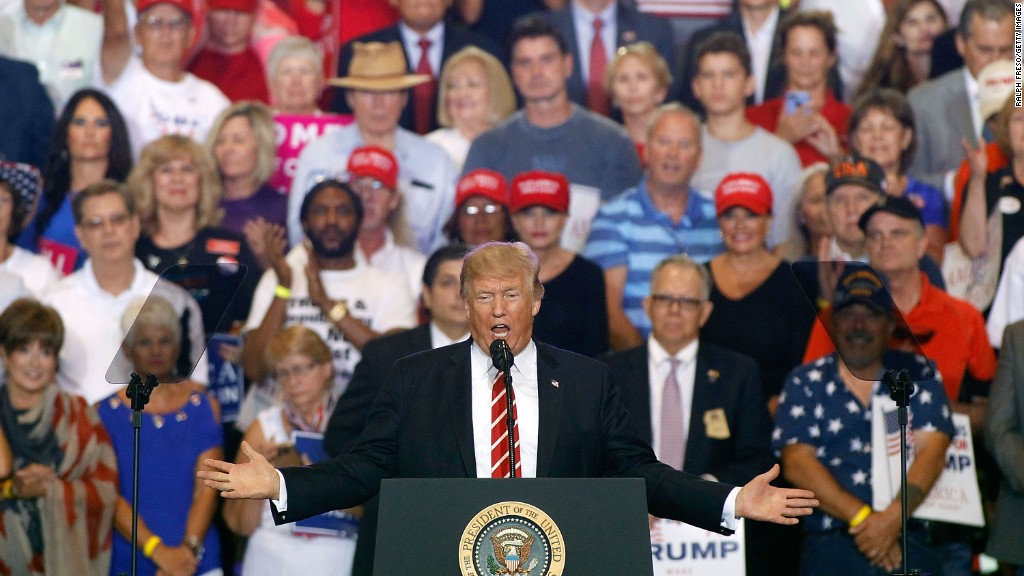 President Trump began an investigation earlier this year into whether steel imports were threatening national security. Four months later, the steel industry wants action.
Executives from 25 steel companies and industry groups wrote a letter to Trump on Wednesday demanding the president act. They say excess steel capacity and rising imports are hurting the American steel industry.
"The need for action is urgent," the letter stated.
Trump had directed Commerce Secretary Wilbur Ross in April to launch the probe.
Ross originally said he hoped to wrap it up by the end of June, but the Commerce Department won't give a new estimate now. An official told CNNMoney on Tuesday that the administration is "following the normal process of review."
Since the announcement of the investigation, steel imports have continued "to surge," the executives said. Imports in June captured 30% of the U.S. market and hit their highest monthly total in more than two years, the letter argued.
"The sustained surge of steel imports into the United States has hollowed out much of the domestic steel industry and threatens our ability to meet national security needs," the leaders wrote in the letter.
Related: Why hasn't Trump used his 'sledgehammer' on trade?
The letter was signed by top executives from Nucor Corp. (NUE), ArcelorMittal USA (AMSYF), United States Steel Corp (X)., the American Iron and Steel Institute, and others.
Tougher trade policies were a centerpiece of Trump's campaign. He lambasted China and Mexico for stealing millions of jobs from the United States, and he promised to bring those jobs back with better trade deals or punishing tariffs.
The United States is the world's largest steel importer. Its top three import sources are Canada, Brazil and South Korea.
Under a 1962 law, if the president invokes national security as the reason for the investigation, he can impose tariffs as high as he wants without approval from Congress. He can also get around an independent panel of U.S. trade judges. A trade official from the Clinton administration told Bloomberg in May that the law is a "big sledgehammer."
If Ross determines that steel imports do threaten national security, it could start a trade war. The U.S. would probably impose tariffs, which could affect trade partners. Some or all could retaliate with tariffs on American products.
However, Trump hinted in July that tariffs may not be coming soon, if at all.
He told The Wall Street Journal that the administration would address steel tariffs after "we get finished up health care and taxes and maybe even infrastructure," according to a transcript published by Politico. Congress has so far failed to pass health care legislation and hasn't even taken up taxes or infrastructure.