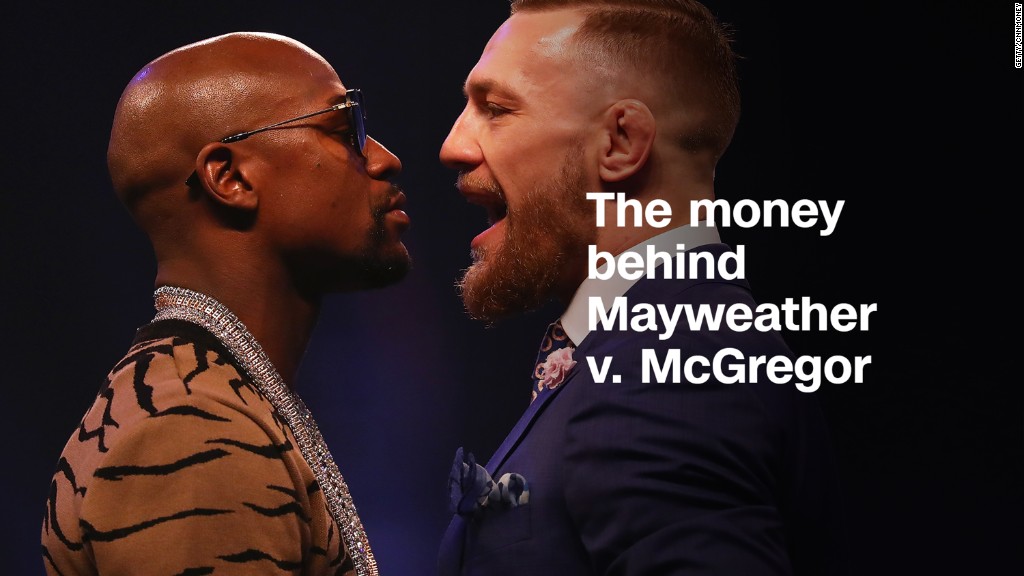 Floyd Mayweather vs. Conor McGregor really is "the money fight."
Both fighters have made it clear they agreed to Saturday's bout for one reason: the purse.
It's going to be quite large. A huge number of people are expected to tune in to watch, many for the sheer spectacle of seeing an MMA fighter go up against a boxer.
Industry experts have speculated that the fight could surpass $500 million, which was a record set by the Mayweather vs. Pacquiao fight in 2015.
"This is like in 'Rocky 3' when he fights Hulk Hogan," said Jesse Lawrence, founder of TicketIQ. "It's an interspecies struggle. This is an exhibition."
Lawrence said said he expects the overall gross revenue for the fight will likely exceed the Pacquiao fight because of its unique pairing.
Mayweather came out of retirement for Saturday's big event. McGregor crossed over from MMA, and stands to make more money than ever before in his career. If the fight does bring in more than $500 million, Mayweather should get a cut of over $300 million while McGregor will likely get about $150 million.
The fight is expected to be a major spectacle between two outspoken characters whose polarizing personalities have created ardent fans and passionate haters.
McGregor upped the ante when he told Mayweather: "Dance for me, boy!" Many construed the comment as racist. Mayweather later used a homophobic slur to address McGregor.
It's no wonder people are invested. Many are tuning in just to see one of them lose.
In Mayweather's case there's the additional excitement of his defending an undefeated record. Some are hoping he gets knocked off his pedestal.
Related: Floyd Mayweather has big plans for his retirement
All that intrigue leads to a big cash prize.
There are several ways the fight will make money -- sponsorship deals, concessions and closed circuit parties, which are being held at nine casinos in Las Vegas. But the biggest moneymaker is pay-per-view sales.
Watching the fight on pay-per-view will cost at least $89.95 for standard definition. High definition runs about $10 more. These prices are the same as they were for Mayweather-Pacquiao but more people are expected to tune in.
Showtime Sports Executive VP and General Manager Stephen Espinoza said during a press conference that this fight will be the most widely distributed pay-per-view ever.
"There is no event bigger than this one," Espinoza said. "The two biggest stars in combat sports. The two biggest personalities in sports. Two once-in-a-generation talents in one once-in-a-lifetime event."
Espinoza said there's much broader distribution for this fight than for Mayweather Pacquiao, and that the closed circuit distribution has also set a new record for revenue.
Related: Muhammad Ali: A brand known around the world
Ticket sales are another big indicator of how well this fight will do.
The resale ticket market has been in flux and not all of the tickets have sold out. But, there are about 3,000 more tickets available for this fight than there were for Mayweather Pacquiao.
And it's not like the tickets are cheap. The lowest resale fare on Friday was $1,100, down from $1,900 just two days ago.
Ken Solky of LasVegastickets.com said based on what he's seeing, he thinks ticket sales will reach as high as $80 million. The current record of $72 million was set by the Pacquiao fight.
Related: The Muay Thai brand using social media to take the fight to its rivals
Mayweather is one of the best boxers of his era. In 49 fights, he's remained undefeated. McGregor is an Ultimate Fighting Champion but he's not a boxer.
Many doubt that the skills he's become famous for in a UFC cage will translate to a boxing ring.
Experts think Mayweather will win this handily even though he's 40 and McGregor is only 29.
However, people are betting on McGregor en masse. Whether it's because he's an underdog or because he's so dominant in MMA, 85% of all bets have been placed on McGregor to win, according to Dave Mason, sportsbook brand manager for BetOnline.ag.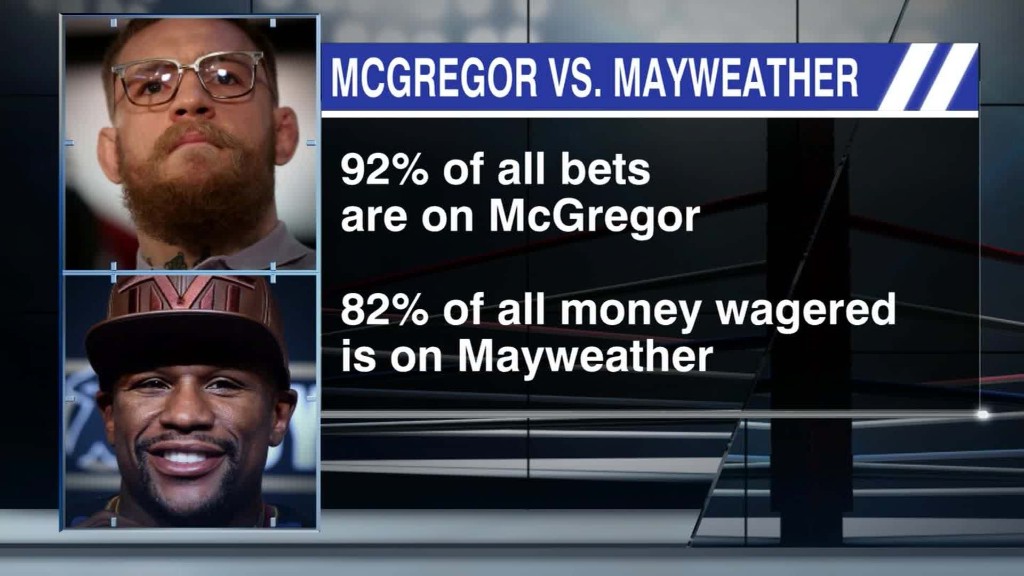 Sports betting is illegal in most of the U.S., save for Nevada, Oregon, Delaware and Montana, but betting experts say this is the most heavily wagered bout ever.
Anticipation for the fight and McGregor's popularity with bettors is also an indicator of the growing popularity of Mixed Martial Arts and UFC.
MMA is the fastest growing sport on Instagram, according to the social media app's PR company. McGregor may have recently surpassed Mayweather in Instagram followers with 17.1 million but he's about 2 million short in Twitter followers.
Related: The Mexican boxing gloves loved by Muhammad Ali
Whoever wins on Saturday will take home a belt as ostentatious as this fight.
The World Boxing Council, which sanctioned the fight, has created a special "money belt" with 3,360 diamonds, 600 sapphires, 300 emeralds, 1.5 kilograms of solid 24-carat gold and alligator leather.