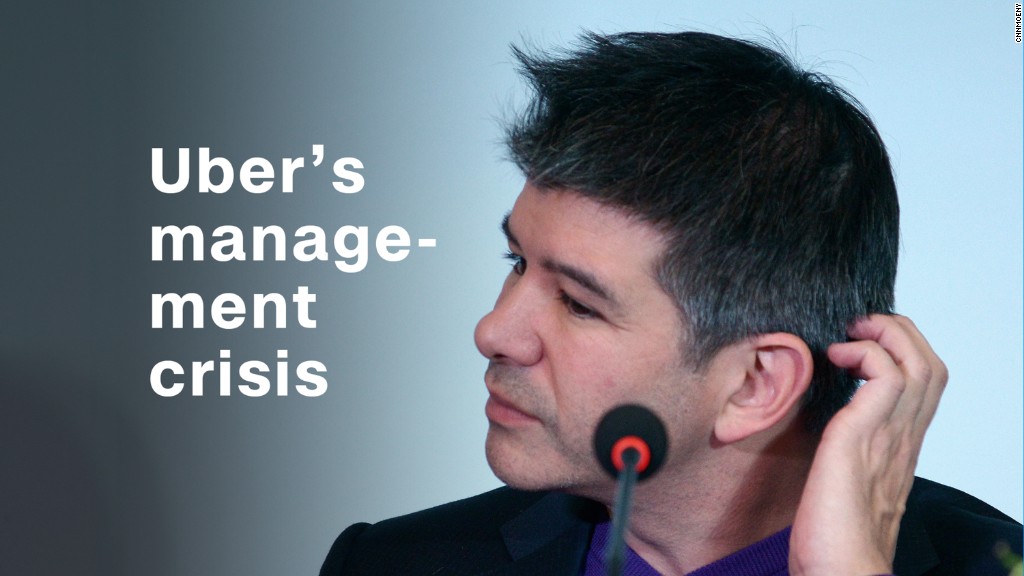 Dara Khosrowshahi sets himself apart from the young guns of Silicon Valley.
"I'm different from many of these young CEOs in that I'm not the founder ... I'm what you'd call 'professional management,'" he once said.
He was talking about being the CEO of online travel company Expedia (EXPE), but the same thing applies to Uber, which on Sunday picked him as its new CEO.
Related: Uber taps Expedia's Dara Khosrowshahi as CEO
An Iranian refugee who built his early career in the U.S. financial industry, Khosrowshahi is facing a new kind of challenge at the ride-hailing company after 12 years running Expedia.
Uber, the world's most valuable startup, is reeling from a catalog of crises culminating in the forced resignation in June of its CEO and co-founder, Travis Kalanick, who remains a powerful shareholder and board member.
Here's what you need to know about the man the Uber board has picked to steady the ship: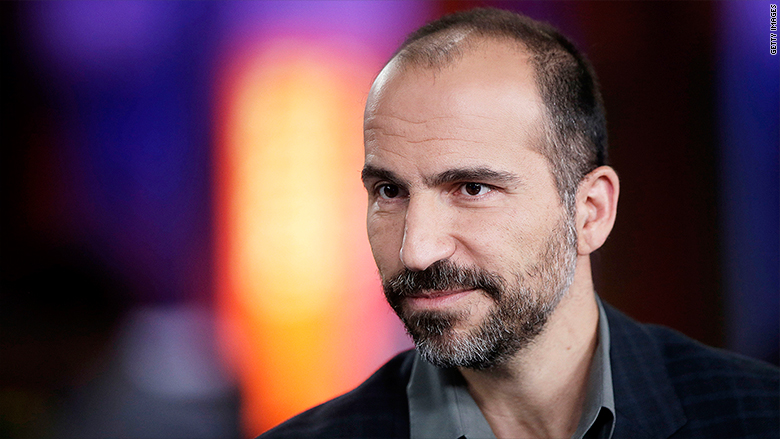 Fierce competitor
Khosrowshahi made a name for himself at Expedia by going on offense against disruptive challengers, buying travel startups and investing heavily in technology to "stay ahead of the pack," he said at a recent tech summit.
"The minute you stop improving on the internet, someone catches up and takes over," he told the audience.
The 48-year-old executive may need to heed those words at Uber, which is facing growing competition at home and abroad. The ride-hailing startup has been without a CEO since Kalanick stepped down in June and has suffered an exodus of senior managers.
Heading Uber will be a big shift for Khosrowshahi in at least one respect -- he'll be going from a perennial underdog to an industry leader. Though he has aggressively expanded Expedia's business over the years, it still trails arch rival Priceline (PCLN).
Tough start
Khosrowshahi took the reins at Expedia in 2005, just as the financial crisis hit. He was a young new leader and readily admits that he wasn't a particularly good CEO during his first year at the helm.
Things changed, he says, after an engineer came to him and told him, "Dara, you're telling us what to do, but you're not telling us where to go."
"That really shifted my view of what a CEO has to do," he said in 2013. "A CEO of a multinational global company can't say what to do, you've got to plant the flag."
Expedia has prospered under his leadership, despite threats from new rivals like Airbnb and established tech giants like Google (GOOGL). Expedia's share price is now more than six times as high as it was when the company went public in 2005.
That's impressive growth, but it pales in comparison with that of Priceline's stock, which is worth around 80 times as much as it was in 2005.
Related: Got $1750? Book a trip or buy 1 Priceline share
Not afraid of Trump
Born in Iran, Khosrowshahi immigrated to the United States as a refugee at the age of 9 when his family fled the Iranian Revolution.
Khosrowshahi's experience meant President Trump's order earlier this year to suspend immigration from seven Muslim majority countries hit close to home.
"I believe that with this executive order, our president has reverted to the short game," he wrote in an internal company memo. The U.S. "will certainly be seen as a smaller nation, one that is inward-looking versus forward thinking, reactionary versus visionary," he continued.
Related: After fighting Trump, Expedia CEO just wants to get back to work
Expedia was one of the first in the tech industry to file a legal challenge to the president's travel ban. On the day of Trump's inauguration, Khosrowshahi tweeted a new Expedia advertisement touting the importance of travel to fight "narrow minds" and "prejudice."
He also drew attention for saying on an earnings call in February, "Hopefully we will all be alive to see the end of next year." Khosrowshahi later played down the remark, which was widely interpreted as a dig at Trump, but his concerns about the president's stance remain clear.
The American Dream
The American dream "is the best brand out there," he said in May. "It's stronger than Apple and Microsoft and Google combined times 10."
If you believe in democracy and work hard, you can make it, he said, "and that's what makes this country great, and I think the president should be for that not against it," he said.
Raised in New York State, he studied electrical engineering at Brown University and became an investment banker shortly after graduation. He rose to vice president at investment bank Allen & Company before leaving for IAC (IAC), working under Chairman Barry Diller.
Serial dealmaker
Khosrowshahi drove Expedia to success by focusing on growth and dominating the online travel booking industry, especially when it came to hotels and accommodation.
Over the years, it bought Trviago, Orbitz, Travelocity and Egencia, gaining access to a trove of data on travel habits.
Two years ago, Expedia acquired Airbnb rival HomeAway, getting in on the increasingly popular vacation rental trend.
Khosrowshahi became the highest paid CEO in the U.S. in 2015, raking in nearly $95 million thanks to a huge award of stock options after he agreed a deal to stay with Expedia until 2020.
But that was before Uber came along.