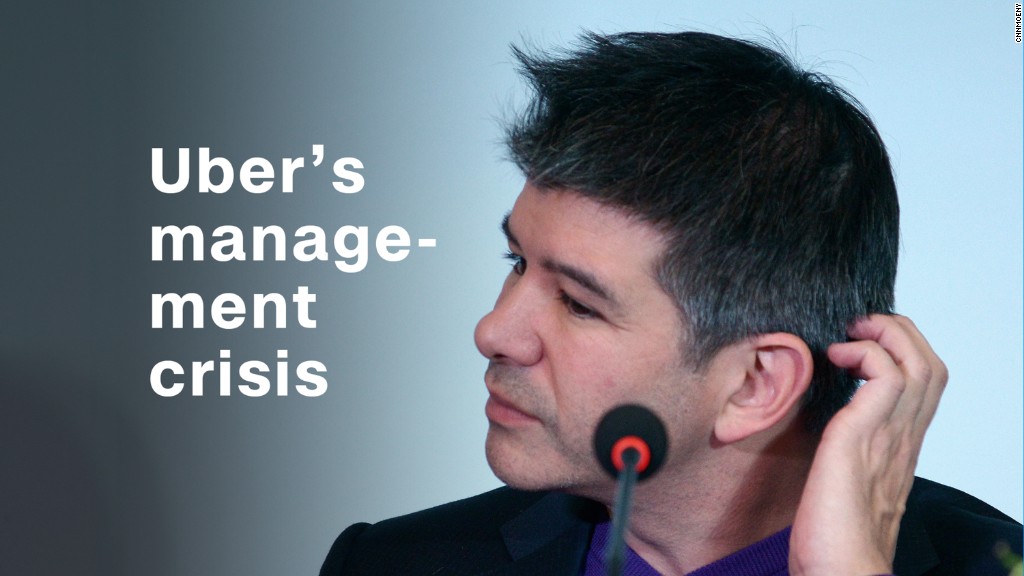 Dara Khosrowshahi has a nearly perfect resume to be Uber's next CEO.
As the CEO of Expedia (EXPE), Khosrowshahi has experience running an international travel company, not unlike Uber. He oversaw a publicly traded business making him a good fit to take Uber public. And those who know Khosrowshahi say he's the "adult" that Uber's corporate culture sorely needs.
But if Khosrowshahi is well positioned to fix the many pressing issues that have plagued Uber throughout this year, he also has the potential to create a new one: getting in President Trump's crosshairs.
Khosrowshahi gained widespread media attention this year for being a vocal opponent of Trump.
Under his leadership, Expedia became one of the first in the tech industry to file a legal challenge to Trump's travel ban in January. Days later, Khosrowshahi ended an Expedia earnings call by saying, "Hopefully we will all be alive to see the end of next year."
Khosrowshahi's early opposition to Trump was driven both by Expedia's concern about political issues impacting the travel industry and his experience as an Iranian refugee.
"I said my part. I'm glad I did," Khosrowshahi told CNN Tech in an interview in April. "It wasn't popular with everybody. It wasn't calculated. It was from the heart, and I think I represented the company well."
"Now I can get back to work," he added.
Khosrowshahi hasn't stopped criticizing Trump, though. Just this month, he went after Trump for his controversial remarks on neo-Nazi and white supremacist groups rallying in Charlottesville.
"I keep waiting for the moment when our Prez will rise to the expectations of his office and he fails, repeatedly," Khosrowshahi wrote in a post on Twitter.
Related: Uber's new CEO will have to deal with Uber's old CEO
"Dara is not the type to seek headlines," says Hadi Partovi, a cousin of Khosrowshahi and an early Uber investor. "But he also has the courage to stand for what's right."
This courage may win him support in Silicon Valley, where Trump supporters are hard to find. But there are nonetheless concerns that Khosrowshahi's political statements could be a liability for Uber.
James Cakmak, an analyst with Monness, Crespi, Hardt & Co, wrote in an investor note Monday that it's unclear "how his outspokenness against the White House weighs on domestic regulatory hurdles."
Most of Uber's battles are on the city and state level, but the ride-hailing startup does come under federal scrutiny. Just this year, Uber has settled two complaints with the Federal Trade Commission. It is also reportedly facing a Department of Justice probe over a tool it built to help drivers dodge law enforcement.
Travis Kalanick, Uber's previous CEO, initially served Trump's business advisory council and defended his role as being necessary to execute on Uber's mission. He dropped out of the council in February amid customer boycotts.
Those close to Khosrowshahi say he can strike the right balance.
"Dara is extremely adept at dealing with sensitive situations," Partovi said. "He's a technologist, but he's also a diplomat at the same time."