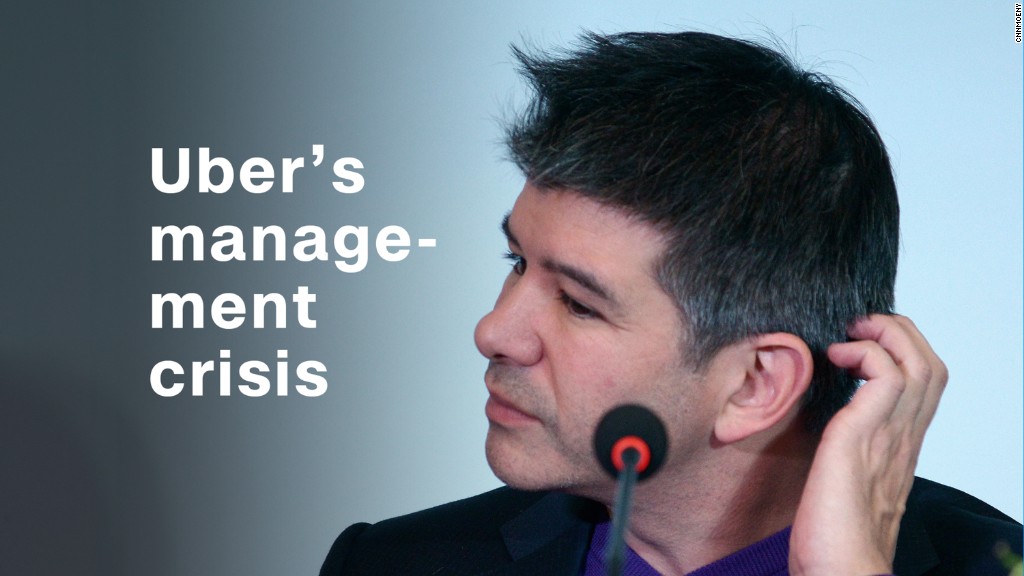 After a year full of PR crises and self-inflicted wounds, Uber is finally on the cusp of turning the page.
Uber's new CEO, Dara Khosrowshahi, met with the embattled startup's employees for the first time on Wednesday at an all-hands meeting.
"This company has to change," Khosrowshahi said in his remarks, according to the company. "What got us here is not what's going to get us to the next level."
The Expedia (EXPE) CEO said he will start at Uber on Tuesday.
For Uber, Khosrowshahi's start can't come soon enough. It took Uber's board nearly 70 days to settle on a new CEO after the resignation of its co-founder and previous CEO Travis Kalanick.
Kalanick was in attendance at the meeting. Khosrowshahi previously described his relationship with the brash founder as "budding."
Those who know Khosrowshahi say he's the "adult" that Uber's corporate culture sorely needs. Khosrowshahi also has experience running an international travel company, and oversaw a publicly traded business making him a good fit to take Uber public.
Numerous Uber employees and investors tweeted their excitement over the new CEO. One former Uber executive described the vibe internally as "strong optimism," but said a key concern lingers among employees: "continued distraction from Travis."
Even as Khosrowshahi stood in front of employees, another Kalanick drama was unfolding. Lawyers for Kalanick and Benchmark, one of Uber's major investors, met for the first time in court Wednesday to hash out an explosive lawsuit.
Related: Uber's new CEO will have to deal with Uber's old CEO
Benchmark sued the former CEO this month in an effort to get him off Uber's board. Among other allegations, Benchmark accused Kalanick of trying to "acquire the power to pack the Board to facilitate his desired re-appointment as Uber's CEO."
The judge ordered the case go to arbitration, handing a victory to Kalanick -- and likely Uber -- by avoiding a more public proceeding.
"Mr. Kalanick is pleased that the court has ruled in his favor today and remains confident that he will prevail in the arbitration process," a spokesperson for Kalanick said in a statement provided to CNN Tech. "Benchmark's false allegations are wholly without merit and have unnecessarily harmed Uber and its shareholders."
Beyond the boardroom battle, Khosrowshahi faces a long list of challenges at Uber. Several large Uber investors recently marked down their investments. The startup reported losing $645 million in a single quarter. Its rivals abroad raised billions and banded together. And the company is still working to fix its culture after an investigation into sexual harassment allegations.
Khosrowshahi must also rebuild Uber's C-Suite. Until this week, Uber was operating without a CEO, COO, CFO, CMO or president. But he may be close to filling one of those.
Khosrowshahi reportedly said Expedia's CFO will also be coming to Uber. Hours later, however, Expedia announced that its CFO Mark Okerstrom will take over as CEO.
Khosrowshahi will continue to serve on Expedia's board of directors.
In his remarks Wednesday, Khosrowshahi said his plan is to focus on Uber's core business and "pay the bills" while also working to "take big shots."
Uber said Tuesday Khosrowshahi will "be meeting with employees around the world in smaller groups over the next few weeks, and spending time with drivers."