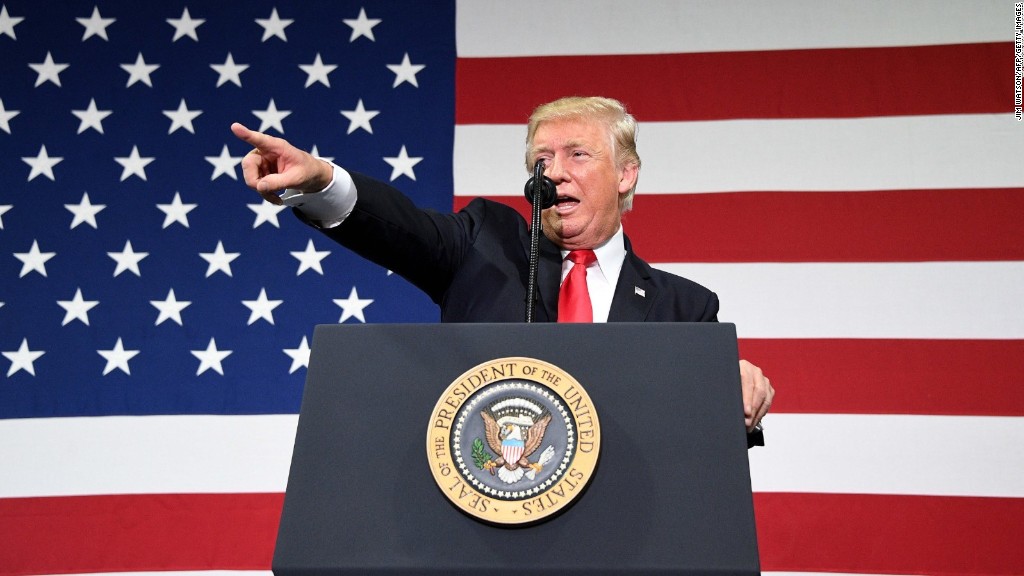 President Donald Trump claims to be a business-friendly president. But how can that be true when the five largest tech companies in America all vehemently oppose his stance on immigration?
The heads of Apple (AAPL), Google owner Alphabet (GOOGL), Microsoft (MSFT), Facebook (FB) and Amazon (AMZN) were among the more than 400 business leaders that asked Trump to keep the Deferred Action for Childhood Arrivals program, or DACA.
DACA allowed immigrants who came to the U.S. as kids, a group commonly referred to as Dreamers, to avoid deportation. U.S. Attorney General Jeff Sessions announced Tuesday that DACA was being rescinded.
Many top executives were already opposed to the Trump administration's stance -- even before Sessions formally killed the program.
Apple CEO Tim Cook wrote in a tweet Sunday that "250 of my Apple coworkers are #Dreamers. I stand with them. They deserve our respect as equals and a solution rooted in American values."
Laurene Powell, the widow of Apple co-founder Steve Jobs, expressed her support for DACA as well. She retweeted Cook's comment and added that "we stand together with #DREAMers at Apple and across the country."
Facebook CEO Mark Zuckerberg added in a post on his social network that the decision by the White House Tuesday "is a sad day for our country."
Zuckerberg said it "is not just wrong. It is particularly cruel to offer young people the American Dream, encourage them to come out of the shadows and trust our government, and then punish them for it."
Tech executives are among the most vocal critics of the DACA decision. But they aren't the only business leaders to oppose the president on his immigration stance. GM (GM)CEO Mary Barra signed the petition. So did Hubert Joly, CEO of Best Buy (BBY).
And some guy named Warren Buffett signed it as well. Buffett's Berkshire Hathaway (BRKB) is just behind Amazon in market value -- so that means that the six largest companies in America all oppose Trump's decision to do away with DACA.
Related: Ending DACA hits U.S. economy where it hurts
The Business Roundtable and U.S. Chamber of Commerce -- powerful representatives of business interests -- also expressed their disappointment with the Trump administration's decision to end DACA.
But this may not be the end of DACA just yet. It is still possible that a new law to protect children of immigrants could spring forth.
Trump urged Congress to act. And he did not appear to rule out supporting a new plan by lawmakers to come up with a solution which, as House Speaker Paul Ryan put it, ensures that "those who have done nothing wrong can still contribute as a valued part of this great country."
However, the Trump administration's decision to kill DACA and punt the ball to Capitol Hill before there is a plan in place to protect the 800,000 people that will be impacted is shocking.
It is especially striking when you consider that Trump calls himself a successful businessman -- just like many of the ones that continue to oppose many of his policies.
A true leader that understands Corporate America would not risk hurting American business icons like Apple and GM -- and the hard-working people whose livelihoods depend on the paychecks they get from these companies.
President Trump appears to be catering to a base that is fearful of losing jobs to "foreigners." It's an unfortunate stance that risks hurting the U.S. economy. The trend toward globalization won't end anytime soon, no matter how hard Trump tries to kill it.