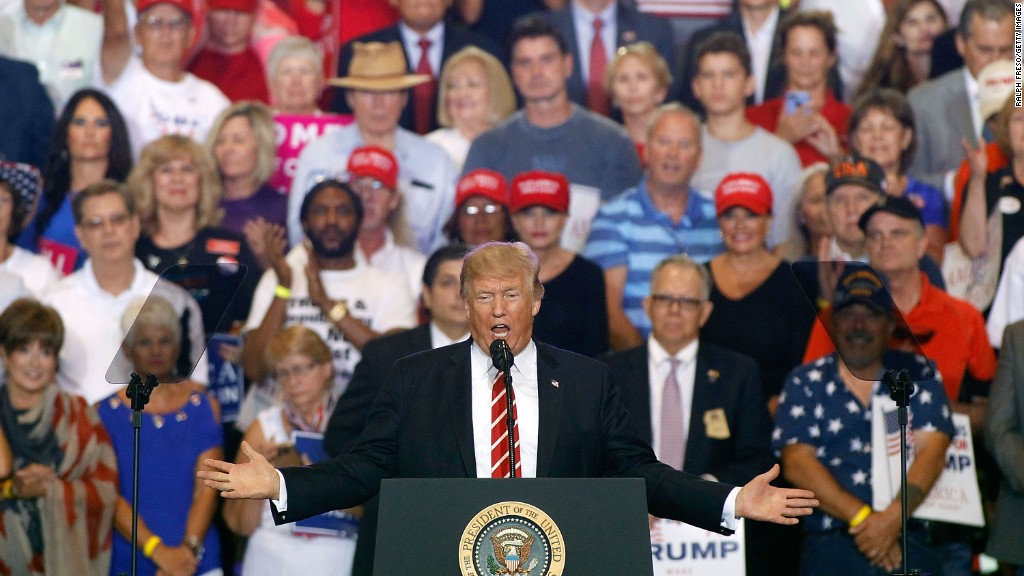 President Trump's top trade official says the U.S., Canada and Mexico are making progress in NAFTA negotiations.
"I am pleased to report that we have found mutual agreement on many important issues," U.S. Trade Representative Robert Lighthizer said Tuesday at the end of Round 2 of talks in Mexico City.
But Lighthizer won't say what exactly the three nations have agreed upon, in principle. That lack of detail is partly for legal reasons: All sides have signed non-disclosure agreements.
But as President Trump threatens to pull out of NAFTA, which he calls the worst trade deal in history, trade experts are concerned that the U.S. still hasn't fleshed out the finer points of its goals as talks move at an "accelerated" pace.
Related: Trump threatens to pull out of NAFTA
"If you want a quick deal, it seems worrisome that the United States hasn't yet formulated some of its key negotiating positions," says Chad Bown, a senior fellow at the Peterson Institute for International Economics, a research group.
None of the contentious issues were mentioned on Tuesday by Lighthizer or his counterparts, Mexican Economy Minister ldefonso Guajardo and Canadian Foreign Minister Chrystia Freeland.
Top of the list is a provision on car parts made in North America. Next is a key rule that seeks to protect companies' investments in all three countries. Mexico's minimum wage is another thorny issue. That's just the beginning.
Related: Trump playing 'bad cop' in NAFTA talks
Instead, the trade teams hailed their hard work during five days of negotiations. They kept their comments in broad terms. Freeland thanked the U.S. negotiators for sacrificing their Labor Day.
The second round of talks came on the heels of Trump's latest threats to pull out of NAFTA. On August 22, Trump said "I think we'll end up probably terminating NAFTA at some point."
Mexico's foreign minister, Luis Videgaray, called Trump's threats a negotiating strategy, emphasizing that Mexican leaders will respond with a level-headed approach.
Trump does have the power to withdraw from NAFTA without Congressional approval, though there would undoubtedly be pushback from lawmakers on Capitol Hill. Trump could initiate a 6-month withdrawal phase. Videgaray, who is a key leader but not one of Mexico's negotiators, says Mexico won't negotiate if Trump triggers the 6-month long exit.
Related: Why hasn't Trump used his 'sledgehammer' on trade?
Experts say the lack of progress on the tough stuff through the first two rounds could be deliberate.
"You pick the low hanging fruit, then you wait until the last second to do the heavy negotiations," says Joseph Brusuelas, chief economist at RSM, an accounting firm.
But Brusuelas underscores a risk to the talks if negotiators wait too long: "It is important that this get done sooner rather than later so it doesn't impact the Mexican presidential election."
Mexico's presidential election in July 2018 -- and the campaigns that will get into full swing in the months before it -- represent a hard deadline to get talks done.
Mexican President Enrique Peña Nieto can't run again due to term limits. And the front runner in Mexico, Andres Manuel Lopez Obrador, has promised to renegotiate the deal again if he gets elected. Plus, Peña Nieto's political party, PRI, can't afford to look like it's offering major concessions to Trump ahead of critical elections.
For now, seven rounds of talks are scheduled through December. Key details may not be announced until talks reach the finish line.
"Nothing is agreed upon until everything is agreed upon," says Bown.
Round 3 will be in Canada on September 23-27.