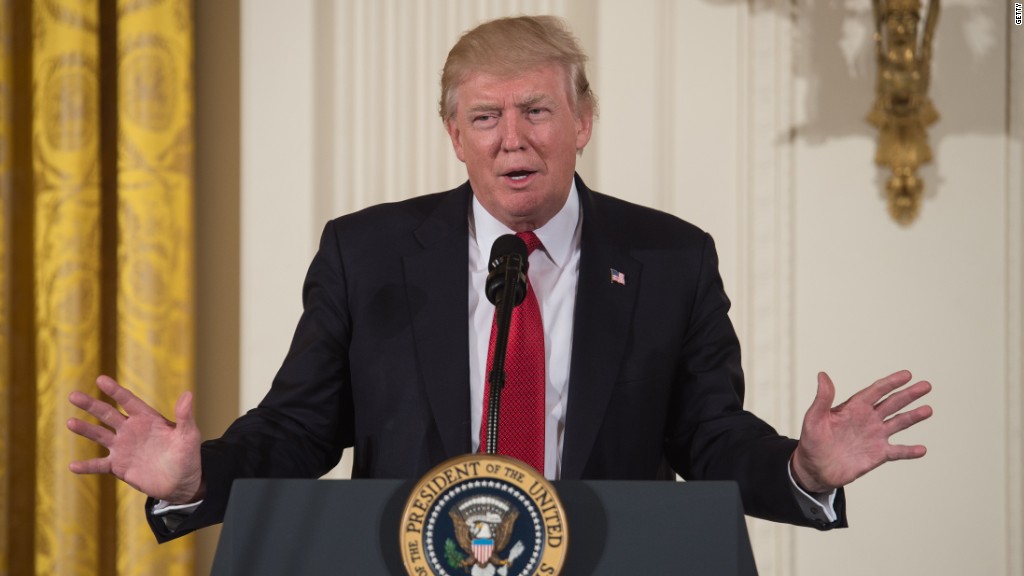 President Trump and Republicans want to rip up rules on big banks.
But Wells Fargo (WFC) keeps getting into serious trouble, undermining the president's deregulation agenda.
After creating a national firestorm last September because it created millions of fake accounts, the No. 2 U.S. bank landed in hot water again this summer.
Just in the past few months, Wells Fargo has admitted to charging thousands of customers for car insurance they didn't need. It has been accused of ripping off vulnerable mom-and-pop businesses on credit card fees. Worse yet, Wells Fargo said last week that it uncovered as many as 1.4 million more fake accounts by digging deeper into its broken culture.
Now, instead of talking about hearings on bank deregulation, Congressional Republicans are under pressure to hold another round of hearings on Wells Fargo.
"We don't see how Congress can just ignore this," Jaret Seiberg, an analyst at Cowen Washington Research Group, wrote in a recent report.
Seiberg predicted that the "political and regulatory spotlight will continue to shine brightly on Wells Fargo," potentially forcing CEO Tim Sloan to head to Capitol Hill.
Trump's deregulation agenda includes "doing a number on" the Dodd-Frank Wall Street reform law, reining in the Consumer Financial Protection Bureau, easing restrictions on big banks' trading operations and relaxing annual stress tests for major lenders. Even if Wells Fargo's mistakes don't completely upend those plans it's hard to see how these scandals help the case.
Related: Wells Fargo uncovers up to 1.4 million more fake accounts
The latest Wells Fargo controversy gives fresh ammo to critics who say these banks are too big to manage.
The "seemingly never-ending avalanche of scandals" shows that Wells Fargo has made a habit of "ripping off and preying on their customers," Maxine Waters, the ranking Democrat on the House Financial Services Committee, said in a statement last week.
Wells Fargo has repeatedly apologized for wrongdoing, and it's taken steps aimed at correcting the errors. Those steps include installing new management, tapping a new chairman, replacing its flawed sales goals and reaching a $142 million class action settlement with customers.
Still, Waters promised to introduce legislation to "break up banks like Wells Fargo that repeatedly engage in consumer abuses, so that they can never harm consumers again."
By contrast, Trump has spoken about the need to protect bankers. Bank CEOs are "petrified of the regulators. They're petrified. They can't move," Trump said during a town hall with CEOs in April that included Citigroup (C) boss Michael Corbat.
Unlike complex bank scandals of the past (think: toxic mortgage assets and the London Whale), Wells Fargo's controversies are relatively simple to understand. For years, the bank left in place wildly unrealistic sales goals that encouraged employees to cheat customers.
"The accessible nature of the Wells Fargo scandal is what makes it so potent," Boltansky said.
Related: Wells Fargo accused of ripping off mom-and-pop shops
Wells Fargo's troubles seem to undercut one of Republicans' top arguments: that the Consumer Financial Protection Bureau needs to be reined in. This regulator, formed by the 2010 Dodd-Frank law that Trump has condemned as a "disaster," was established to act as a watchdog against abusive bank practices.
"I respectfully think the Republican argument is tough to get behind. They spent years attacking the CFPB for being too aggressive, and now we get this scandal and the CFPB wasn't tough enough," Boltansky said.
Wells Fargo's recent problems also can't help Republican efforts to kill a recent CFPB rule that makes it easier for Americans to sue banks for bad behavior. The House already voted to overturn the CFPB rule, which blocks companies from using forced arbitration to stop class action lawsuits from consumers. The Senate is expected to take up a similar bill as soon as this month.
Without naming Wells Fargo specifically, Federal Reserve chief Janet Yellen spoke recently about pushing back on financial deregulation by reminding the audience the global financial crisis began just a decade ago.
"For some, memories of this experience may be fading," Yellen said, "memories of just how costly the financial crisis was and of why certain steps were taken in response."