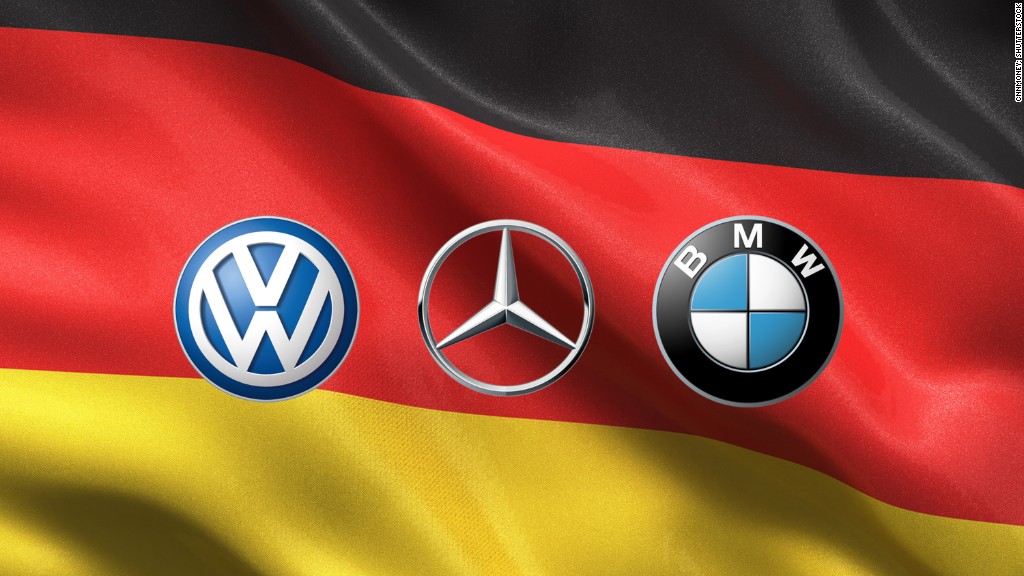 German Chancellor Angela Merkel is running for a fourth term as leader of the strongest economy in Europe.
The continent's export powerhouse has been blessed with record business confidence, low government debt and the most robust labor market of any country that uses the euro.
Yet German voters will also have problems to consider before the vote on Sept. 24. The country faces growing inequality and potential labor shortages.
Its leading industry -- autos -- has been rocked by an emissions scandal, calls to ban diesels in major cities and claims that it has been running a cartel.
Here's how the world's fourth largest economy stacks up:
The German economy expanded by 0.7% in the first half of 2017, its fastest pace in three years.
Meanwhile, business confidence hit a new record high in July.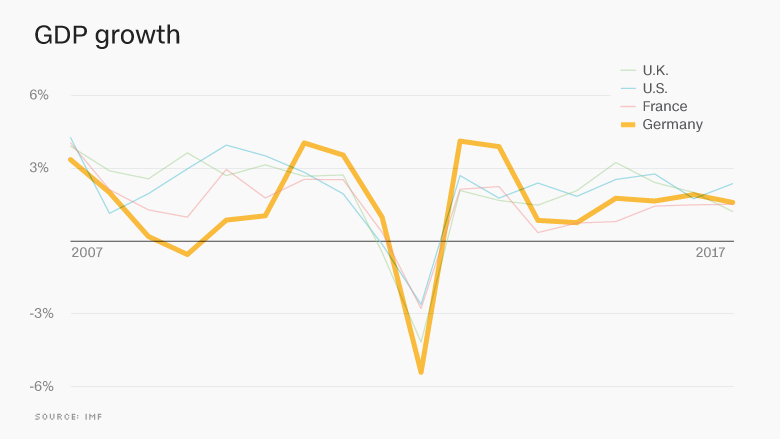 Related: Germany: 'Diesel crisis' could hurt our economy
Thanks to strict government budget policies, Germany has avoided the debt problems that plague some of its neighbors.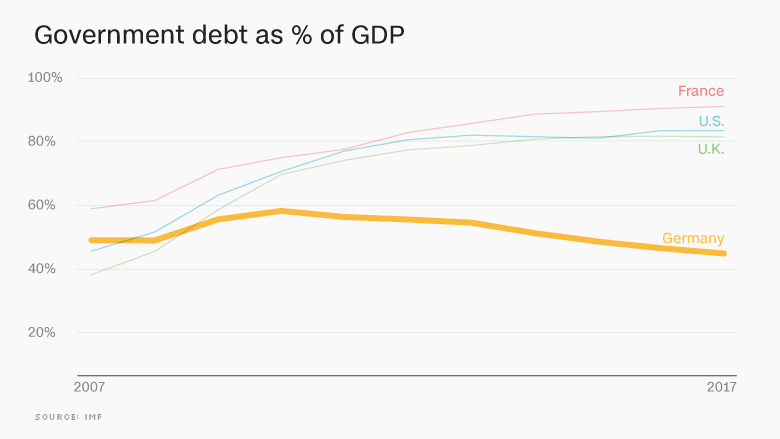 The favorable conditions have combined to produce the strongest economic production per person in Europe.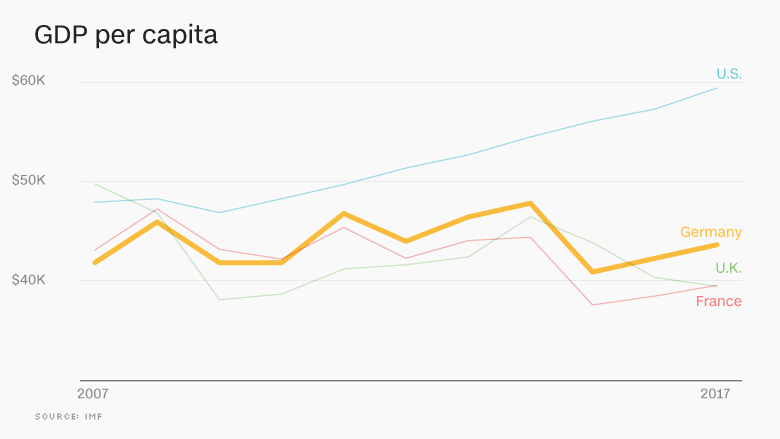 But the cheery statistics help disguise an urgent inequality problem.
A third of all income ends up in the pockets of just 10% of Germans, according to the German Institute for Economic Research.
The wealth gap is even wider, with the richest 10% holding 60% of assets.
Germany introduced a national minimum wage in 2015. But the lowest earners haven't seen their disposable incomes rise in 15 years, according to German development bank KfW.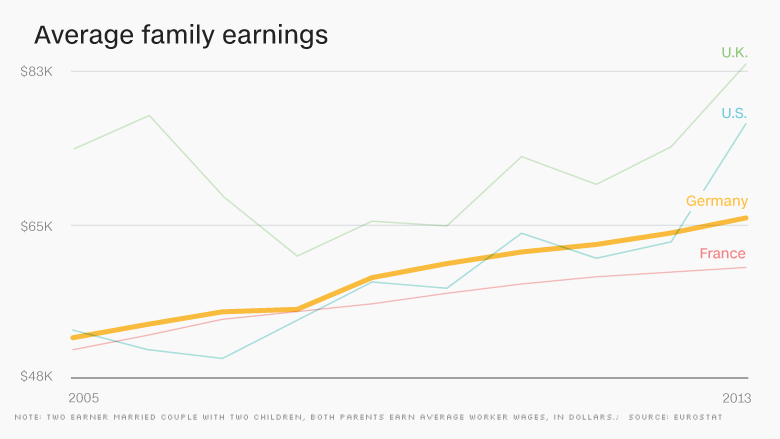 Related: Angela Merkel: Germany could ban gas and diesel cars
The gap between rich and poor has widened since 1991, the year after east and west Germany were reunited.
The most widely used measurement of income inequality is the Gini coefficient, a scale that runs from zero to one. Zero means everyone in society has the same income, while a reading of one means one person has everything.
In 1991, Germany had a coefficient of nearly 0.25 points. By 2015, the number had risen to 0.29, according to the German Institute for Economic Research. It says growing inequality is acting as a drag on growth.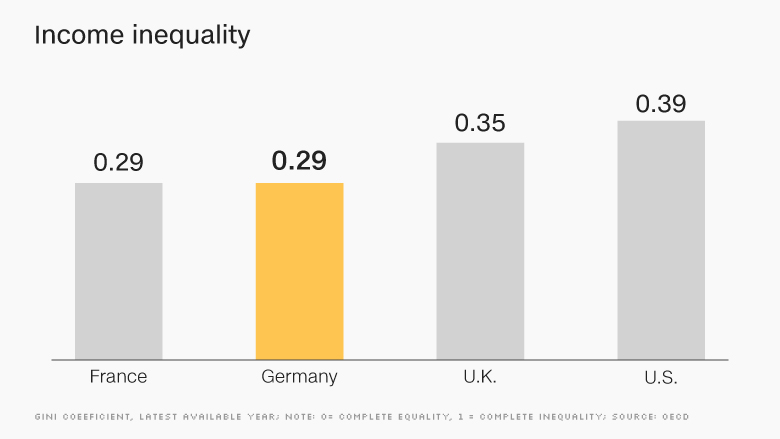 Related: 3 reasons the euro is having a killer year
German unemployment is the lowest in the eurozone -- so low in fact that economists worry about potential labor shortages.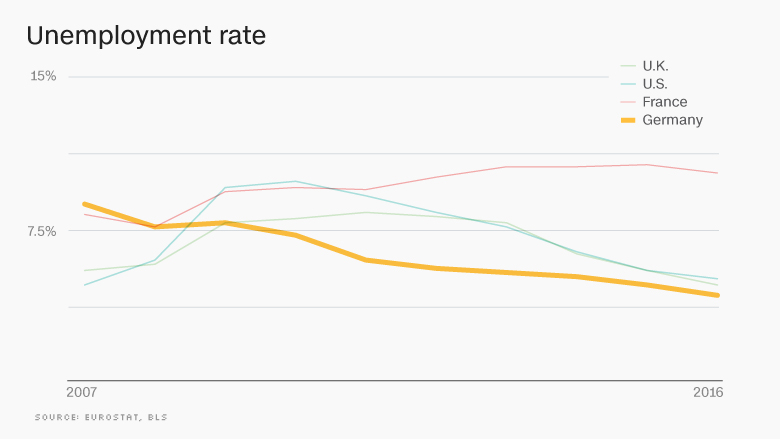 Oxford Economics said that more German companies are warning that the labor market could hurt their growth.
Oliver Rakau, an economist at the group, said that even a spike in immigration won't be able to counteract the "demographic headwinds" of a declining working age population in the coming years.