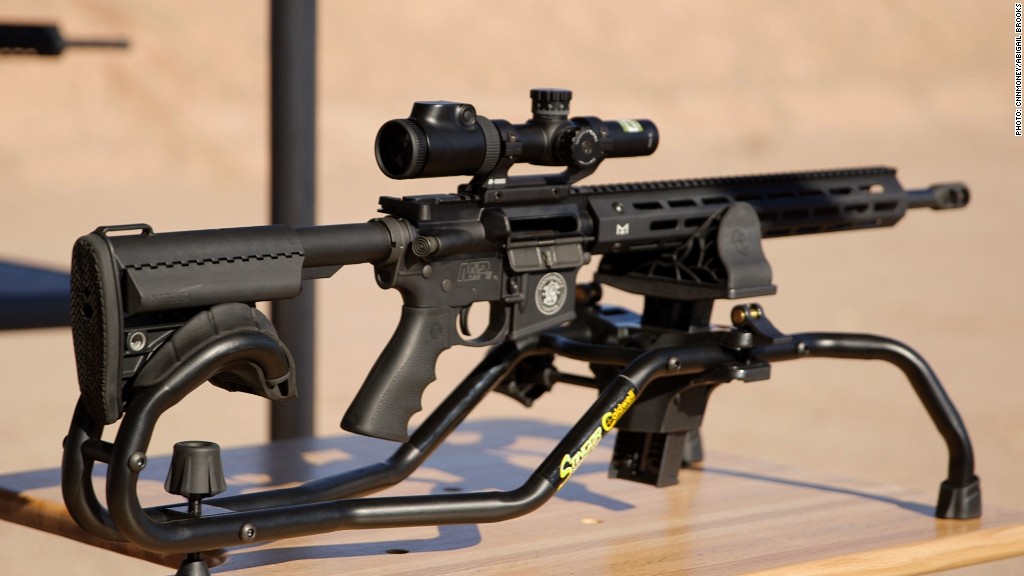 The Trump hangover continues for gun companies.
American Outdoor Brands (AOBC), the company formerly known as Smith & Wesson, says gun sales last quarter dropped by half from a year ago. Sales of long guns, including assault rifles, hunting rifles and shotguns, dropped by two-thirds.
The company's stock plunged 17% on Friday. It's lost half its value in a little more than a year.
American Outdoor Brands said it was suffering from comparisons to 2016, when gun and ammo sales boomed during the presidential campaign. The company said the campaign "may have caused concerns related to potential firearm ownership restrictions."
Related: Trump is still hurting gun sales
Fearing that Hillary Clinton would become president, many gun owners stocked up, believing that tighter gun restrictions would follow. Clinton's loss to Donald Trump, a Republican endorsed by the National Rifle Association, calmed those concerns -- and triggered an industry-wide sales decline.
Related: Who will be the new enemy for Trump and the NRA?
The industry's problem was exacerbated by retailers having stockpiled guns and ammunition, expecting a Clinton victory to further drive sales. When she lost, retailers were stuck sitting on the inventory.
Gun retailer Dick's Sporting Goods (DKS) suffered a similar stock plunge when it reported a slump in sales in August.