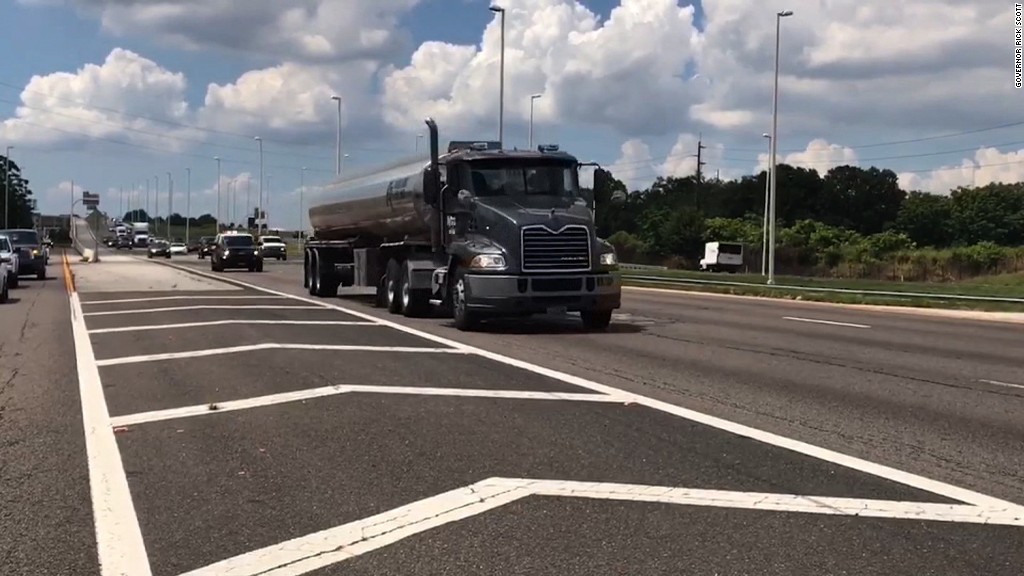 Florida continues to grapple with a serious gasoline shortage as millions of motorists flee Hurricane Irma's path of destruction.
At least 37% of all gas stations in the Miami-Fort Lauderdale market were without fuel on Friday afternoon, according to estimates from crowdsourcing platform GasBuddy. Roughly one-third of the gas stations in West Palm Beach, Fort Myers-Naples and Tampa-St. Petersburg were also without gas.
The situation is even worse a few hours to the north in Gainesville, a central Florida city that is experiencing an outage in at least half of its gas stations, GasBuddy reported
The fuel outages come as Florida officials order mandatory evacuations for many counties in South Florida ahead of the expected arrival of Hurricane Irma on Sunday. The storm, which is expected to remain at Category 4 strength, is extremely dangerous, packing 150 mile-per-hour winds and enormous amounts rainfall.
"All Floridians should be prepared to evacuate soon," Florida Governor Rick Scott said on Friday.
Unfortunately, that task is being complicated by the fuel shortages. One-third of the gas stations in the Orlando-Daytona Beach-Melbourne region are empty.
Even Tallahassee, the state capitol that is around 500 miles away from Miami, is experiencing outages in at least 25% of its gas stations, according to GasBuddy.
"You just have such incredible demand for gas right now as people pack up and leave," said James Miller, director of communications for the Florida Petroleum Marketers and Convenience Store Association.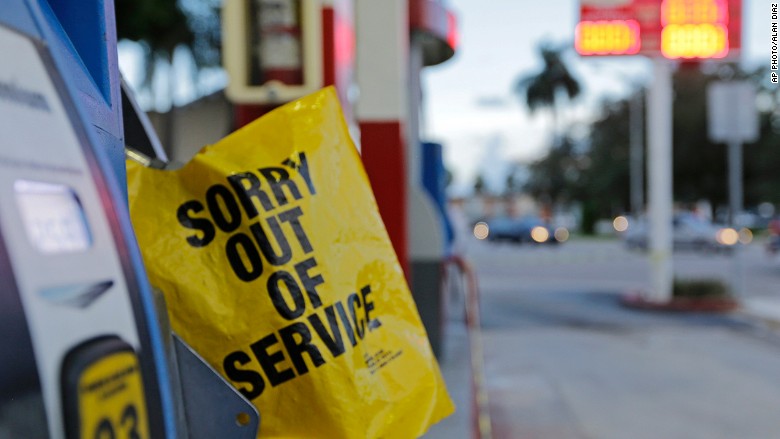 Related: 'Panic buying' sparks gas shortages in Florida
The gas shortages were exacerbated by "panic-buying" earlier this week from Florida residents worried about Hurricane Irma's uncertain path.
The other problem: Last week, Hurricane Harvey rocked the Gulf Coast's refinery system, causing major outages that disrupted fuel deliveries to Florida and other markets.
Now, there are signs that massive demand for gas caused by Hurricane Irma is spreading to Florida's neighbors to the north.
In Georgia, at least 12% of the gas stations in Savannah and Augusta were without fuel, GasBuddy reported. Another 17% of the gas stations in Charleston, South Carolina were empty. There are also some sporadic outages in North Carolina.
The good news for Florida evacuees is that the state's ports are open and prioritizing fuel deliveries, for now at least. That's critical because virtually all of the Sunshine State's gas is delivered by waterways and Florida operates with minimal fuel supplies on-hand.
Governor Scott has also taken several steps to try to speed up gas deliveries and encourage gas stations to remain open as long as possible. He's gone so far as to offer police escorts for fuel delivery trucks shipping gas to stations along evacuation routes.
"That's been a huge help and will continue to be," said Miller.
Related: Florida air travel starts to shut down
Scott also offered police escorts for gas station employees to ensure they're able to get out safely before the storm hits.
Florida residents who do manage to find gas should expect to pay more.
Mostly due to the impact of Hurricane Harvey, the average gallon of gas in Florida sold for $2.73 on Friday, according to AAA. That's up from $2.28 a month ago.