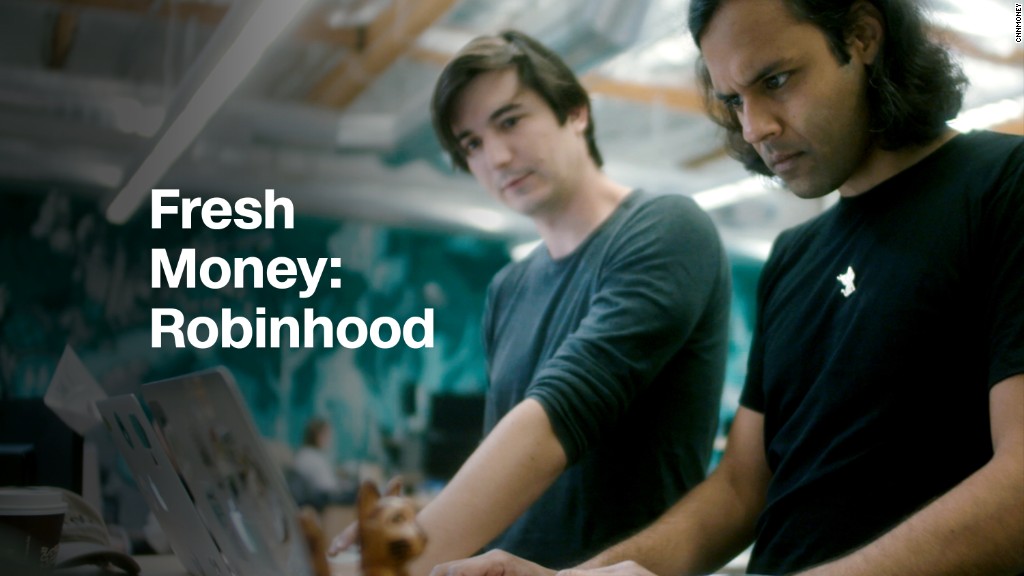 Robin Hood stole from the rich to give to the poor. Or so the folk tale goes.
Baiju Bhatt and Vlad Tenev had that idea in mind when they decided to launch their investing app, Robinhood. The app allows anyone to buy and sell stocks without fees. No more paying a broker or being charged for each trade.
"There's a lot of wealth being created on Wall Street and it was coming to the top 1%," Vlad told CNNMoney. "The name Robinhood is very aspirational to us because it's a little bit rebellious. We understand that not everything is right with the financial industry. It's been unfair. It's not been treating people really well."
The idea of lowering the entry cost to trading on the stock market seems to be working.
Robinhood recently got $110 million in Series C funding. It's valued at about $1.3 billion and its user base is made up mostly of young Americans.
"The majority of people in this country, they live paycheck to paycheck," Baiju told CNNMoney. "If we can, long-term, change that trend and make it so that investing and saving money, more broadly, is less of a chore and something that people actually want to do, that would be success to me."
Related: Tips to deal with stress from those who know best
Baiju said he's always had an appreciation for the stock market because it provided him with opportunities he wouldn't have had if his parents had stayed in India.
"So many of my peers thought the whole system was rigged or that it was a only to serve a small group of people," Baiju said. "While I agree with that at a certain level, I also just realized how lucky we were to be in this country, all of us, and how all of us should be taking a part of the system. If it's as good as it is, then why isn't everybody else a part of it as well?"
Related: Her startup is changing people's fitness routines
Both Baiju and Vlad are the children of immigrants. Vlad's family emigrated from Bulgaria, and he moved to the U.S. when he was five years old.
"We had a very similar upbringing. When we were growing up, we were both poor," Baiju said.
They met at Stanford University where they became friends and eventually roommates.
Vlad, a new father, sees a lot of parallels between launching Robinhood and raising his baby daughter, Nora.
"Especially at the early stages, you're entirely responsible for this new thing and you have to continually be there and make sure that it survives," Vlad said. "From time to time, you get something completely new that you didn't expect, like a giggle or a smile. Whether it's a company or a person, I think those moments are really special and remind us why we're here."