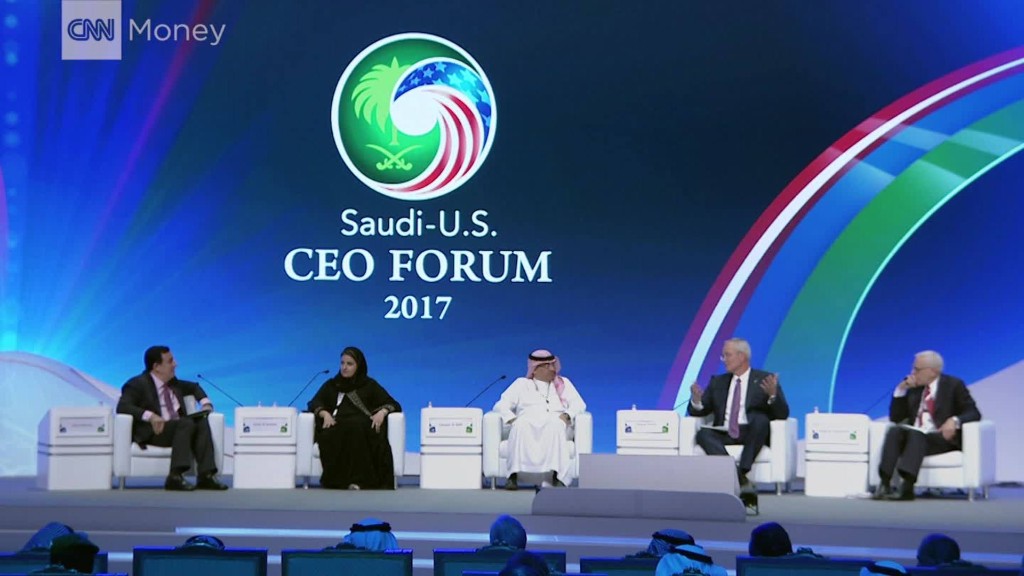 Saudi Arabia is still planning to sell part of its giant oil company on the stock market next year despite changes to the kingdom's economic revival plan.
In a statement Saturday, the Saudi government said the initial public offering of shares in Saudi Aramco -- which is likely to be the world's biggest -- was on track.
"The IPO process is well underway and Saudi Aramco remains focused on ensuring that all IPO-related requirements are completed on time and to the very highest standards," the Saudi information ministry said.
Aramco CEO Amin Nasser said earlier this year that the IPO was scheduled for 2018.
The partial sale of Aramco is part of Vision 2030, an ambitious plan to overhaul the Saudi economy and reduce its dependence on oil.
Related: Saudi Arabia wants to be top beach vacation destination
But as first reported by the Financial Times on Thursday, Saudi Arabia is redrafting parts of the economic makeover just over one year after it was first unveiled.
Saudi Arabia was forced to rethink its economic strategy after oil prices dropped to $26 a barrel, blasting a huge hole in the country's budget.
Now it is revising the National Transformation Plan (NTP), a pillar of the broader strategy that sets specific targets for government bodies to meet by 2020.
The Saudi government gave few details about the changes and did not state whether new targets would be introduced. It said the revisions would "improve efficiency and effectiveness of delivery across institutions."
"It is tough to judge the impact of the redrafting without knowing the changes to be made," Jean-Michel Saliba, an economist at Bank of America Merrill Lynch said in a research note on Sunday.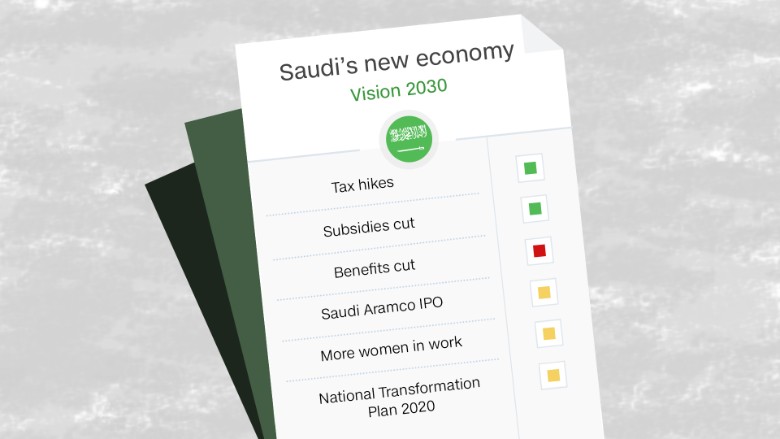 Investors will watch for signs that the kingdom is pushing back targets to restore government finances.
"The NTP does include some fiscal reforms," Saliba wrote. "In the event, a delay to fiscal reforms would be in line with our view that the government wants to achieve an uneasy balance between austerity and activity, and try to support growth."
Related: The man leading Saudi Arabia's overhaul just got more powerful
Some progress has been made to stabilize the economy since the overhaul was announced last year. The government has cut some subsidies, announced new taxes and borrowed billions to balance its books.
But it's also backpedaled on at least one measure. It reinstated benefits for government officials six months after slashing them. And much more work is needed to open the kingdom to foreign investors, develop other areas of the economy, and wean Saudis off lavish state support.
Oil prices have not recovered to levels the kingdom hoped and the economy is stagnating. The International Monetary Fund expects GDP growth at just 0.1% this year.
"It is important to adjust and adapt to unexpected situations, and to use new circumstances in ways that reinforce and strengthen underlying strategic objectives," the Saudi information ministry said in the statement.
Saudi officials have said they expect the IPO to value Aramco at around $2 trillion. If the market agrees, selling just 5% would raise $100 billion -- four times as much as Alibaba (BABA)'s IPO in 2014, the largest to date.