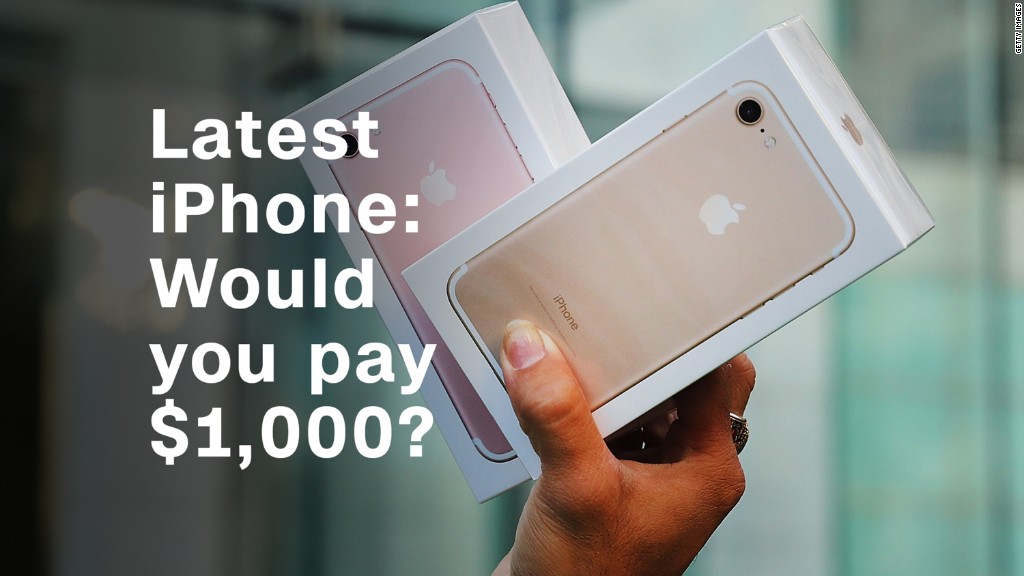 It's a big day for Apple.
The tech giant is expected to unveil the iPhone 8, iPhone 8 Plus and iPhone X at an event Tuesday, promising wireless charging, a better camera, a bigger screen and a much higher price.
Wall Street is excited, fired up by leaks of Apple's plans before the event.
Apple's stock rose 1.8% on Monday, part of a broader market rally. Apple (AAPL) is up about 40% this year. The only stock in the Dow that's done better is Boeing (BA), with a 55% gain.
Apple is just 2% below the all-time high that it set earlier this month. The company's market value is a staggering $835 billion. If the stock goes up 20% more, Apple will become the first public company worth $1 trillion.
Sure, CEO Tim Cook may face criticism if the company prices the highest-end version of the new iPhone at $1,000 or more, as rumored. Yet analysts think people will still be more than happy to shell out.
Related: Apple's big iPhone reveal -- here's what to expect
Wall Street forecasts that Apple's sales in the quarter that ends in December will be up more than 10% from a year ago and that earnings per share will increase nearly 15%.
And for Apple's next fiscal year, analysts think sales will rise 15% -- to $261.6 billion. Wall Street is predicting that earnings will be up more than 20% next year.
Simply put, increased iPhone sales should boost demand for Apple's Macs, revenue from Apple's iTunes music store and App Store and potentially even iPads and Apple Watches -- the proverbial iPhone halo effect.
Related: Christmas in September? Businesses prep for next iPhone
Macquarie Research analyst Benjamin Schachter wrote in a report Monday that he is in the so-called "super-cycle camp" regarding the iPhone.
"We expect the next iPhone to include innovations that will be clearly visible, marketable, and useful for the mass-market globally." he said in the report.
Despite these high hopes, Apple's stock still trades at a reasonable valuation of less than 15 times earnings forecasts for next year.
That's a discount to the broader market. The S&P 500 is valued at about 17 times estimates for 2018 earnings -- and profits are only expected to increase 11% next year.
Apple is even cheaper if you exclude the iNormous amount of cash it has on its balance sheet: $261 billion. That makes up nearly a third of Apple's overall market value.
Subtract that from the core (pardon the pun) Apple business, and Apple trades for a little more than 10 times earnings estimates for next year.
So even though there is a lot of pressure on Apple to deliver a phone that will eat into the market share of Samsung's Galaxy line and others running on the Google/Alphabet (GOOGL) Android operating system, the stock is still reasonably priced.
And investors seem pretty confident that Apple's best days are still ahead.