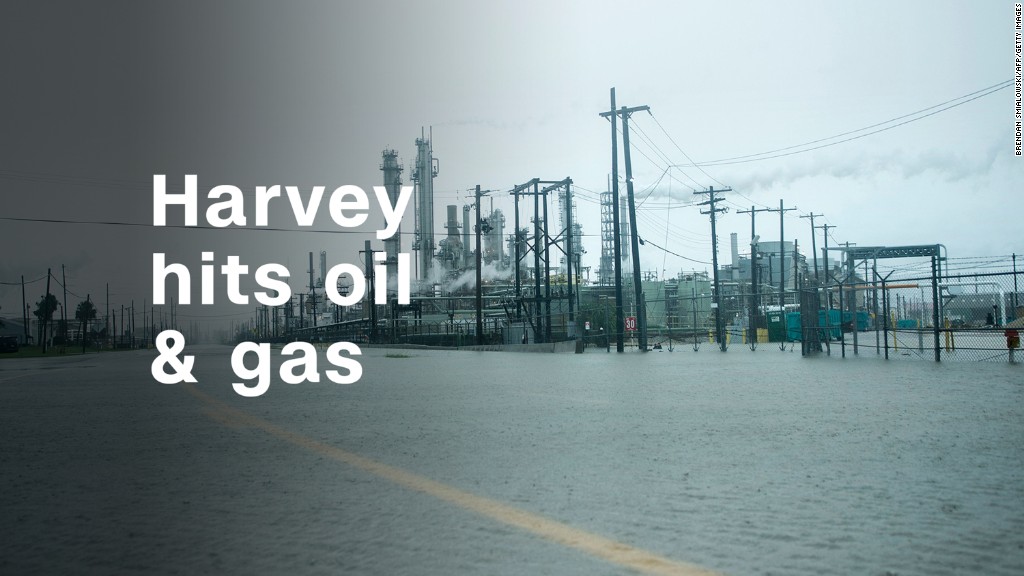 Hurricane Harvey packed such a powerful punch that more than a dozen Gulf Coast oil refineries are still hurting two weeks after the storm struck Texas.
Five oil refineries remain shuttered as of Monday, according to S&P Global Platts, an energy research firm. Ten more are partially shut down as they attempt to recover from historic flooding.
All told, about 2.4 million barrels of daily refining capacity in Texas is offline because of Harvey, Platts estimates. That is about 13% of the country's total ability to turn oil into gasoline, jet fuel and other products.
"It's pretty massive," said Jake Eubank, manager of refining and processing at the research firm Genscape.
Harvey dealt a serious blow to America's energy infrastructure, knocking oil rigs offline, disrupting shale oil drilling inland and closing key ports. But the biggest hit was to refiners. At one point, about 4 million barrels of refining capacity was shut down. Gasoline prices spiked around the United States.
Refinery comeback efforts have been disrupted by flooding, damage, power outages and challenges created by the sudden nature of some shutdowns.
"When refinery units go offline unexpectedly, it tends to be harder to get them back online," Eubank said. "I would expect it will be a couple of weeks before we're completely back to normal."
Goldman Sachs said Monday it's taking longer than expected to bring refineries back to normal.
"The recovery is well underway but the restarts are taking more time and, for some refiners, exposed more significant damage," analysts wrote in a report.
Related: Florida races to refill gas stations after Hurricane Irma
ExxonMobil's (XOM) Beaumont refinery suffered severe flooding, and no restart date has been given, Goldman noted. An Exxon spokeswoman said the Beaumont refinery is developing plans to start up again. The facility processes 365,000 barrels of crude oil per day.
Shell's (RDSA) Deer Park refinery is also still shutdown. The facility has been in "start-up mode" since Friday, according to a Shell spokesman. He said there is "no timetable" for when Deer Park will be fully operational.
Platts lists three more refineries as offline: Total's (TOT) Port Arthur refinery and separate facilities in Corpus Christi run by Magellan and Buckeye.
The largest U.S. refinery, Motiva Enterprises' Port Arthur facility, remains partially shut down, according to Platts. Motiva said it expects to "continue to ramp up production rates over the next few days."
The good news for drivers is that gas prices have stopped spiking. The average price has held steady for five days at $2.67 a gallon, up from $2.36 a month ago, according to AAA.
"We've peaked. We're going to see sharply lower prices," said Tom Kloza, chief oil analyst for the Oil Price Information Service.
Unfortunately, the hurricanes themselves are one reason gas prices have stopped rising. The storms caused whole regions of the United States to grind to a halt, hurting demand for gasoline.