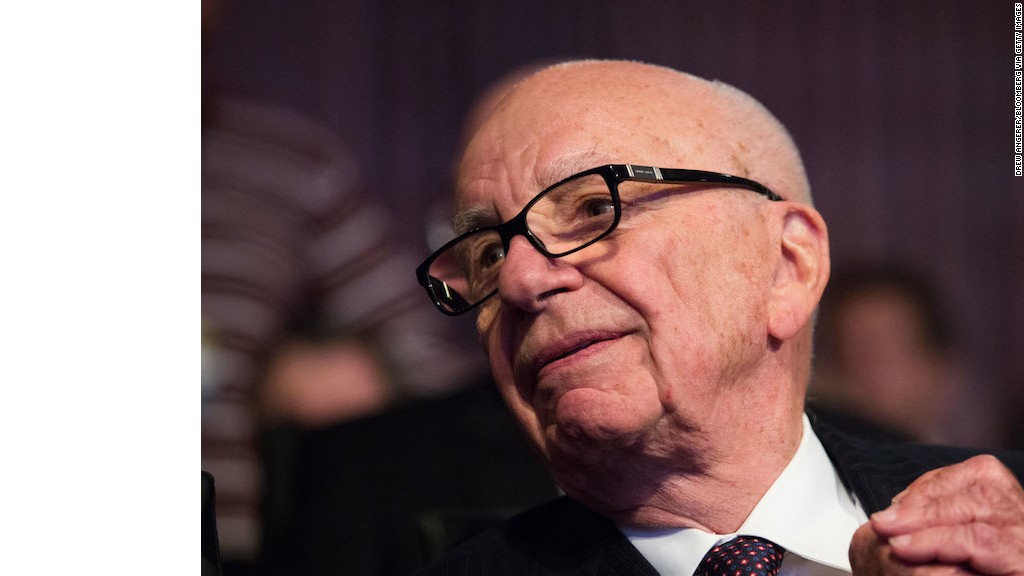 Britain is putting Rupert Murdoch's dream takeover on hold because of concerns over broadcasting standards at Fox News.
U.K. culture secretary Karen Bradley said Tuesday that she intends to order an extensive review of 21st Century Fox's (FOX) $15 billion planned takeover of Sky TV because of concerns over "genuine commitment to broadcasting standards" and the increased influence it would give the Murdoch family over British media.
Sky (SKYAY) shares dropped by roughly 2% in London.
Bradley had previously voiced concerns that the combined company would have the third largest reach of any news provider in the U.K., uniquely spanning television, radio, newspapers and digital publications.
Bradley said she was prepared to refer the merger for an additional six month review over that issue.
Related: Setback for Murdoch's $15 billion Sky deal
And she raised new concerns Tuesday about the company's commitment to broadcasting standards.
A group of British lawmakers recently pressured the government official to examine accusations of sexual harassment against former Fox News boss Roger Ailes and former star host Bill O'Reilly.
In a letter to Bradley in July, the lawmakers argued that an initial review by Britain's media regulator had failed to address whether Sky's news division was at risk of becoming more like the American news channel.
One of them, former Labour Party leader Ed Miliband, said Monday that Fox News should serve as a cautionary tale.
"In the era of fake news it is all the more important we protect trusted news sources from getting into the wrong hands," he wrote in the London Evening Standard. "How can we possibly trust the Murdochs with total control of Sky News?"
Bradley said Tuesday that she was not able to conclude that the "Foxification" of Sky News was a real danger, but said the issue might merit further consideration.
She did say that further review of the company's governance was warranted, as well as the procedures the company had in place for ensuring its broadcast of Fox News in the U.K. complied with broadcasting standards.
21st Century Fox announced in August that its controversial news channel would no longer be broadcast in the U.K. after failing to attract an audience.
Murdoch's media group said it was "disappointed" by Tuesday's announcement, adding it did not believe that Bradley had grounds to question its broadcasting standards. It urged her to take a final decision quickly.
O'Reilly and Ailes, who died in May, both denied the allegations against them.
Bradley gave 21st Century Fox 10 working days to respond before the merger is referred for the additional review.
Related: U.K. officials find 'significant failings' at Fox News over sex harassment claims
This is Murdoch's second attempt to buy Sky. A previous bid collapsed in 2012 in the wake of a phone-hacking scandal at his British newspapers.
Fox will have to pay Sky £200 million ($265 million) as a break fee if the new deal falls apart.
Sky (SKYAY) has 22 million customers in five European markets: Italy, Germany, Austria, the U.K. and Ireland.