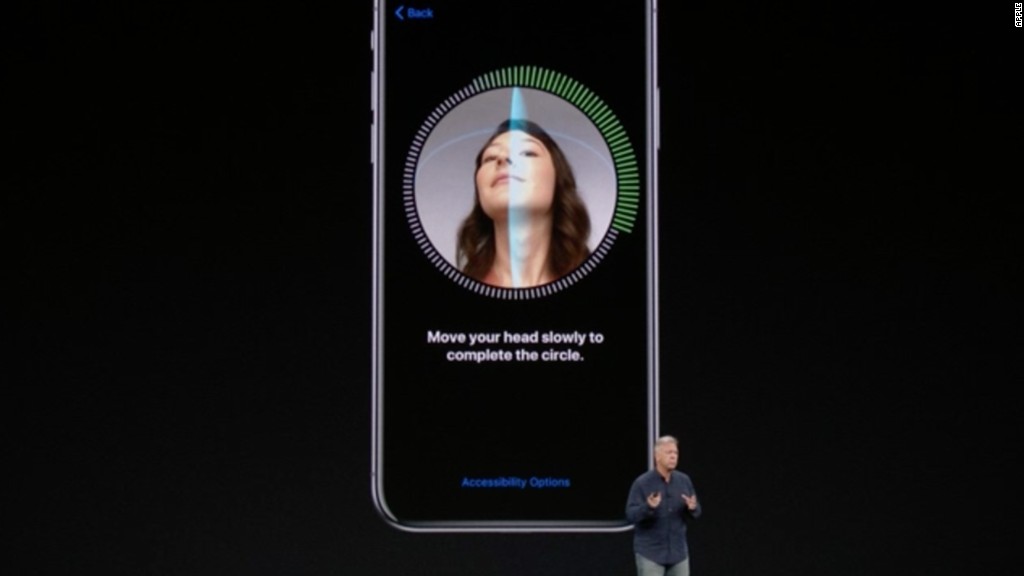 Ten years after the launch of the first iPhone, Apple has revealed the iPhone X.
It has no home button, scans your face to log you in and costs $999.
The company unveiled the anniversary edition smartphone, alongside an iPhone 8 and its bigger sibling, the iPhone 8 Plus, at a press event at the brand new Apple Park campus in Cupertino on Tuesday. The company also announced a new Apple Watch with a cellular connection, an Apple TV that streams 4K video, and gave the public its first peek at the circular Steve Jobs Theater.
iPhone X
To introduce the iPhone X, Apple CEO Tim Cook uttered the classic line at the annual press conference: "One more thing."
"We have great respect for these words and don't use them lightly," said Cook, adding the new phone would set the path for technology for the next decade.
The new iPhone X kills the home button to make space for a larger screen. It has an edge-to-edge display, glass on the front and back, wireless charging that requires resting the phone on a special surface, and a surgical grade stainless steel band around the edges. It's water and dust resistant.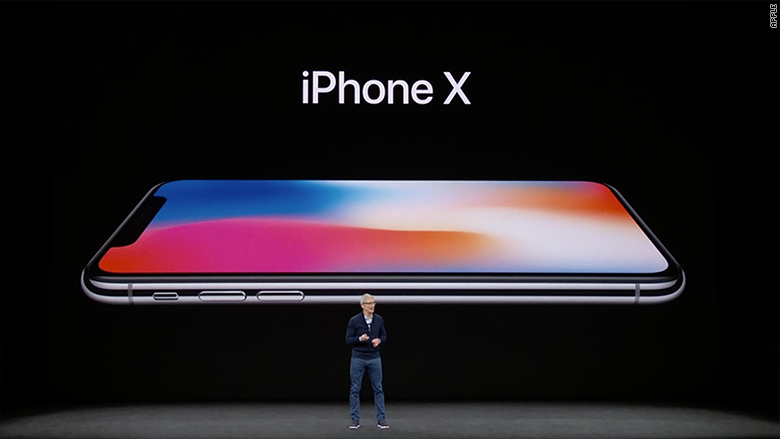 The 5.8-inch OLED display isn't just bigger, it also packs 458 pixels-per-inch. Apple (AAPL) calls it a Super Retina Display. It supports HDR, has a million-to-one contrast ratio and improved color accuracy.
Related: Apple teases the future of augmented reality apps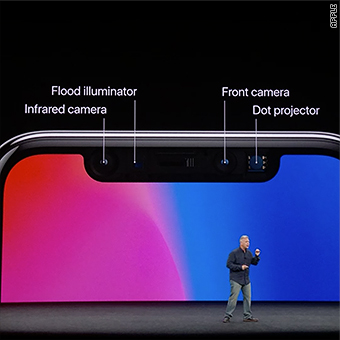 The loss of the home button means no more fingerprint sensor. To unlock the phone, you can use your face with a new technology called Face ID. Front-facing cameras and sensors create a map of your face to determine if you are the phone's proper owner. The technology learns more about your face every time you use it, and stores any face detection information on the device. It uses small flood light to work in the dark.
Apple said face detection is more secure than fingerprints. It added there was a one in 50,000 chance of a random person being able to open your phone with their fingerprint. But those chances drop to 1 in a million with face detection.
The company also introduced a Face ID-enabled feature called Animoji, which serves up animated emoji that mimic your facial expressions. For example, you'll be able to give your friends side-eye as a unicorn.
Apple spent a significant amount of time hyping up its 12-megapixel dual cameras with image stabilization. Schiller said the new front facing cameras will "revolutionize" selfies by adding portrait mode.
Related: Don't faint: The iPhone X could cost $1,000
The iPhone X will cost $999 for the 64 GB version, $1,149 for the 256 GB version, and start shipping on Nov. 3 -- more than a month later than all the other devices announced on Tuesday.
iPhone 8 and iPhone 8 Plus
For those not willing to shell out a grand for a new smartphone, the iPhone 8 options are cheaper and also pack a powerful punch. They're faster, sturdier and better at snapping photos than the previous iPhone.
On the surface, the devices look similar to the iPhone 7. The iPhone 8 clocks in at 4.7 inches and iPhone 8 Plus is 5.5 inches. But inside is an A11 "bionic chip" and an improved camera sensor. There are new camera modes, including an expanded Portrait Mode that lets you change lighting effects after you take the shot. The company also teased some of the new features coming to iOS 11, including augmented reality.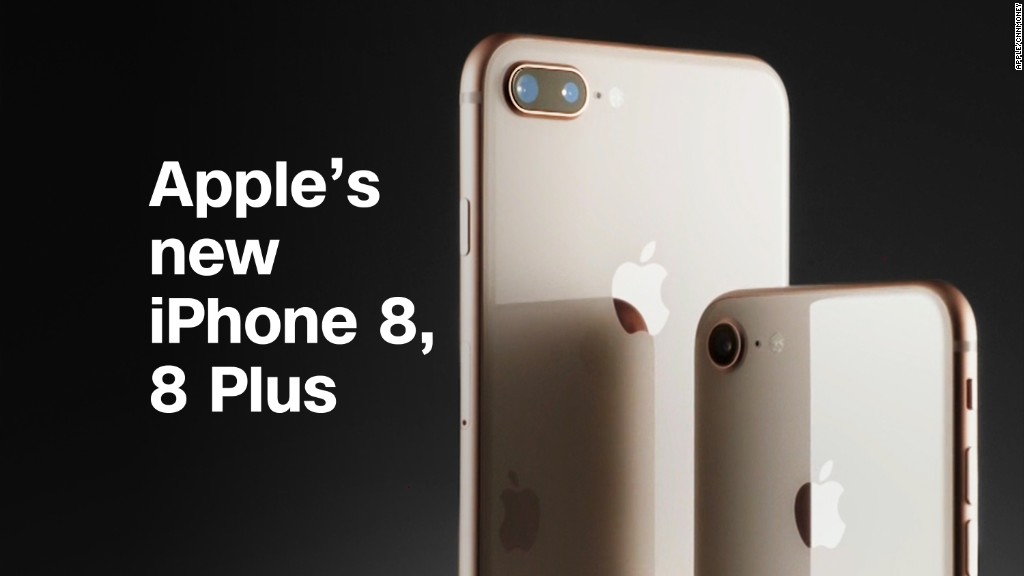 Wireless charging, available on both the iPhone X and iPhone 8 devices, is a big move forward, too. The charging requires contact between a special surface and the glass back of the iPhone. The technology is based on Qi wireless charging, which Apple believes will be available at coffee shops, stores and airports around the world in the near future, so people can get juice on the go.
iPhone 8 smartphones, which come with an aluminum band around the edges, will be available in three colors: space gray, gold and silver. The iPhone 8 will start at $699 and the iPhone 8 Plus is $799 for 64 GB models.
Apple Watch Series 3
Apple also announced a new cellular Apple Watch, which Cook claimed was the best-selling watch in the world, though the company has declined to release sales numbers. The waterproof Apple Watch has an even greater focus on fitness and health. For example, it flags users when it detects an elevated pulse.
The Series 3 comes with a built-in cellular connection, so it no longer needs an iPhone nearby for most tasks.
You can answer calls, receive text messages, talk to Siri, check maps and use third-party apps over cellular connections. Starting in October, it will also be able to stream music to Air Pods over cellular. To demonstrate the watch's new powers, Apple conducted a live phone call from stage with a person on a paddle board in the middle of a lake.
Siri can finally talk back on the new watch, thanks to a new dual-core processor. Also included is a barometric altimeter, which tracks activity like stair climbing, skiing and snowboarding.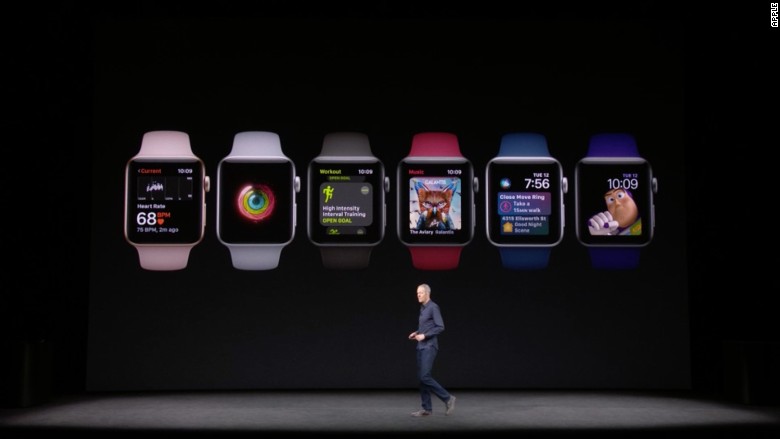 The company has bigger dreams for the watch than workouts and wrist calls. It's launching an Apple Heart Study later this year that will be able to detect early signs of atrial fibrillation, one of the leading causes of stroke.
The watch will cost $329 without cellular, and $399 with cellular. It works with all four major carriers in the U.S., though Apple did not mention details on plan pricing. The watch will be available on Sept. 22.
Apple TV 4K
The company also teased a new Apple TV ($149) with support for 4K video streaming and a revamped the user interface. Its graphics are four times as fast, according to Apple.
Apple said it is working with studios and streaming companies like Netflix to add more 4K content. It will also launch on Sept. 22.
Apple Park campus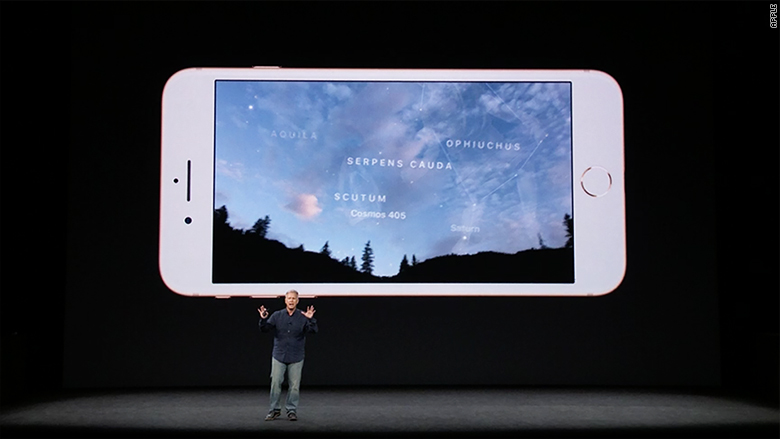 The Apple Watch was the first product unveiled inside the circular Steve Jobs Theater, part of Apple's brand new multi-billion dollar headquarters in Cupertino, California. The spaceship-shaped campus is expected to open later this year.
The event opened with a short inspirational video with featured audio by late Apple founder Steve Jobs.
"It seems only fitting that Steve should open his theater," Cook told attendees. "Steve meant so much to me and so much to all of us. There's not a day that goes by that we don't think about him. Memories especially come rushing back as we prepared for today and this event."