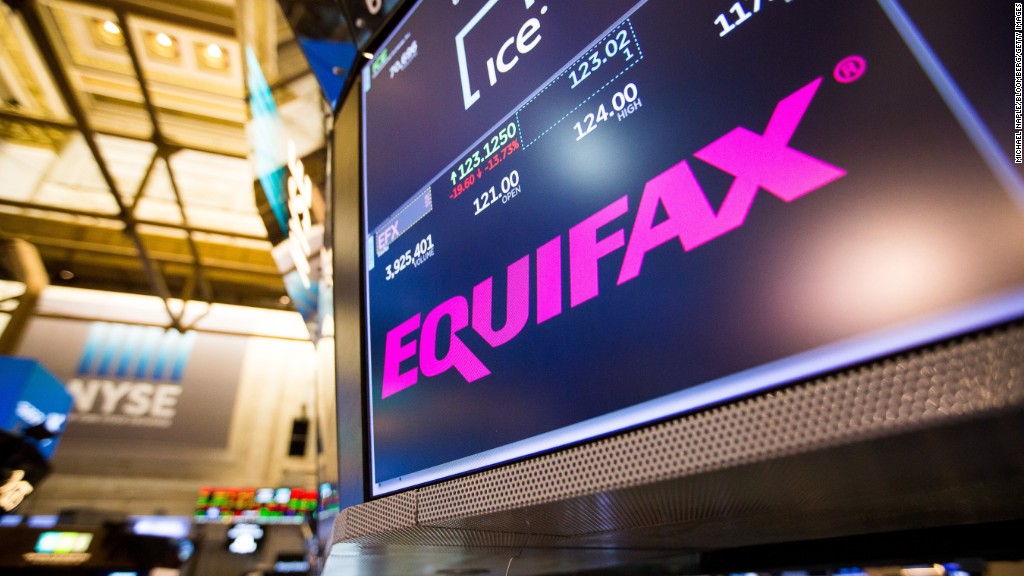 Is Equifax toast?
Shares of the beleaguered credit monitoring company plunged nearly 10% in early trading Thursday morning before recovering a bit.
Equifax (EFX) has now fallen 35% since disclosing last Friday a massive data breach, which could impact up to 143 million Americans. The stock's drop has wiped out about $6 billion of its market value in the process.
Thursday's decline comes after the Federal Trade Commission said it was looking into the security lapse.
Senator Mark Warner, a Democrat from Virginia, asked the FTC on Wednesday to investigate Equifax. Peter Kaplan, the FTC's Acting Director of Public Affairs confirmed to CNNMoney Thursday that it is doing so "in light of the intense public interest."
Even though CEO Richard Smith wrote an op-ed in USA Today earlier this week to apologize for the incident, some experts think the company needs to do more to regain the trust of investors and consumers. Lawsuits could hurt Equifax as well.
"You are witnessing the single greatest act of online security incompetence in modern American history," said Eric Schiffer, chairman of Reputation Management Consultants, "The board needs to fire the CEO. He was painfully unprepared."
Related: Equifax turned hack into a PR nightmare
In an email to CNNMoney, an Equifax spokesperson said "We are actively engaging with and being responsive to regulators, federal agencies and legislators and expect to continue to do so in the future."
But Equifax may need to shake things up, especially since three Equifax executives, including the chief financial officer, sold shares after the company found out about the breach and before they informed the public.
Schiffer called Equifax "amazingly repugnant and incompetent" and said that the security lapses were "soul crushing to investors and consumers."
Investors are clearly shooting first, so to speak, and asking questions later. In addition to Equifax losing more than a third of its value in just a few days, shares of Equifax's two rivals, TransUnion (TRU) and Ireland-based Experian (EXPGF), have both taken a hit.
TransUnion shares, which trade on the NYSE, are down 15% since last Friday. Experian's stock, which trades on the LSE in London, has fallen about 5%. Each fell again Thursday following the news of the FTC investigation.
It's hard to imagine how the credit scoring industry can go away anytime soon though. Lenders need some way of judging whether potential borrowers have the financial wherewithal to pay back a mortgage, credit card loans and other consumer debt.
And that may be a reason why Wall Street analysts continue to think Equifax could bounce back.
Related: Equifax debacle has been a boon for LifeLock
Although several analysts have slashed their ratings and cut price targets for the stock in the past few days, the consensus price target for Equifax is still about $144 -- near the price that Equifax was trading at last Thursday before the breach was made public.
The lowest price target for the stock is $115, more than 20% higher than the current price of about $95.
And according to data from FactSet, many big mutual funds own the stock. The top five holders are T. Rowe Price, Vanguard, Fidelity, MFS and BlackRock.
Investors won't know for sure if any of these companies have dumped their Equifax stock until after the third quarter ends later this month. Money managers start filing their latest holdings data with the SEC in October and November.
But given how precipitously Equifax's stock has plummeted in just the past few days, it seems safe to assume that many big mutual fund companies have dumped Equifax.