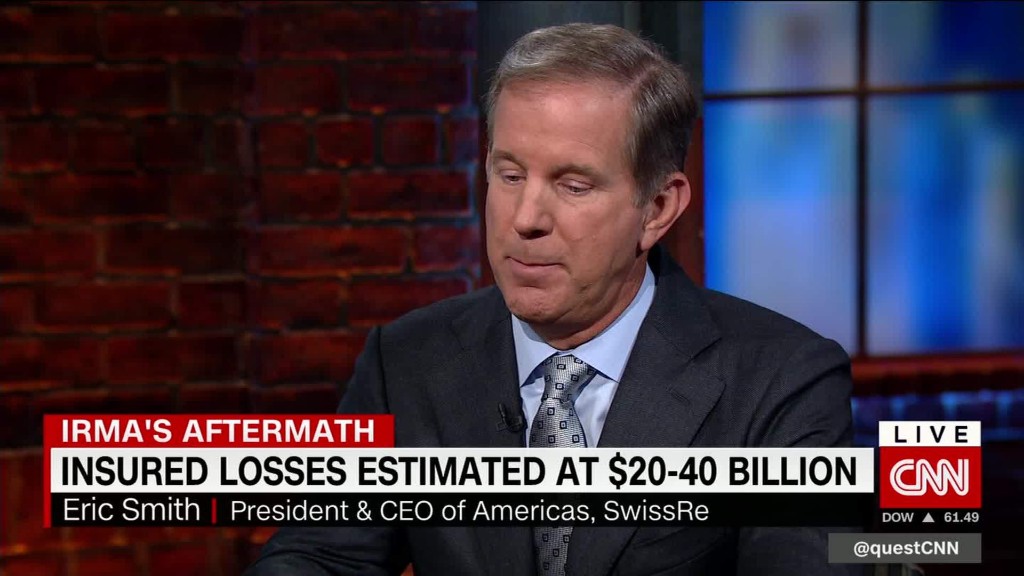 Hurricanes Harvey and Irma have finally hit the insurance industry.
Germany's Munich Re, which protects insurance companies against risks, has warned shareholders that losses from the storms will likely result in a third quarter loss and could cause it to miss its 2017 profit target of €2 billion ($2.4 billion) to €2.4 billion ($2.9 billion).
Harvey made landfall in late August, bringing catastrophic floods to the area around Houston. Irma followed a short time later, battering islands in the Caribbean before slamming into the Florida coast as a Category 4 storm.
"These two events are expected to result in high insured losses, which the market and Munich Re are unable to quantify at the moment," the company said in a statement.
Shares in Munich Re, which trade in Frankfurt, were little changed on Thursday.
Worried investors sent insurance stocks plunging in early September. But they rebounded when it became clear that Irma had not delivered a knockout blow to Florida, leading to initial damage estimates that were lower than feared.
Related: Irma and Harvey together will be as expensive as Hurricane Katrina
AIR Worldwide, a catastrophe analysis firm, predicts insured losses from Hurricane Irma will range from $20 billion to $40 billion.
Munich Re said it would be able to weather the storm.
"The business and risk strategy of Munich Re ensures that even after such severe natural catastrophes the Group has a sufficiently solid capital base to still be able to offer full reinsurance capacity to its clients," the company said.
The German company is one of the world's leading reinsurance groups alongside Swiss Re (SSREF) and Berkshire Hathaway. (BRKA)