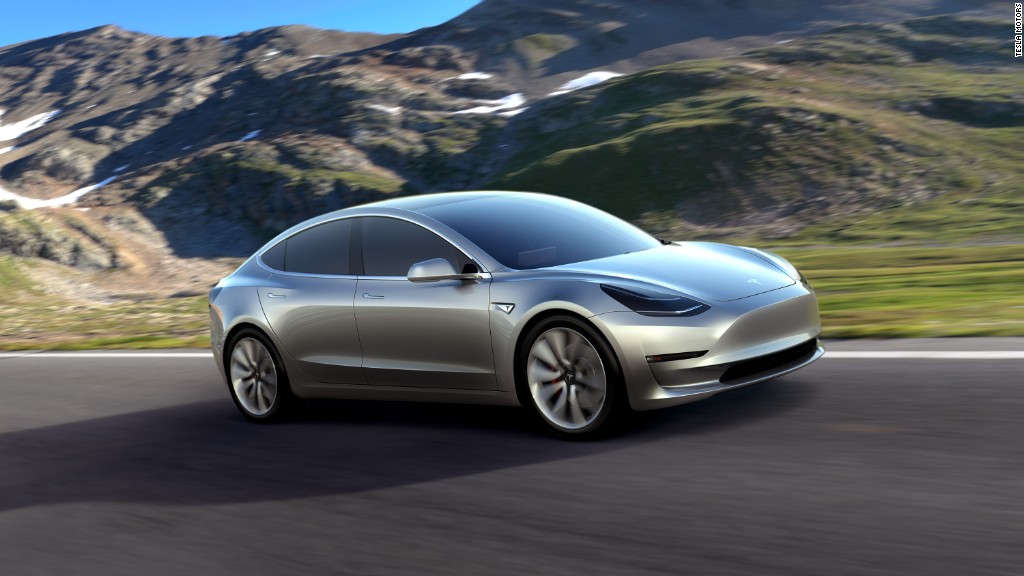 Tesla CEO Elon Musk tweeted late Wednesday that the company's upcoming Semi Truck, which the company hopes to unveil for a test drive on October 26, is a "beast" worth seeing in person.
But the real Tesla beast is the company's surging stock. One could even say, in an homage to Oakland Raiders running back Marshawn Lynch, who plays not far from Tesla's Palo Alto headquarters, that the stock has gone "beast mode."
Shares of Tesla (TSLA) are in the midst of a monstrous rally. The stock is up more than 75% this year. Tesla's market value is now $62 billion.
That makes Tesla worth more than Big 3 automakers GM (GM), Ford (F) and Fiat Chrysler (FCAU) as well as Japan's Honda (HMC) and Nissan (NSANF) and South Korea's Hyundai (HYMTF). Not bad for a company that still sells a fraction of the vehicles put out by its rivals.
Related: This is the future of driving
But Tesla, unlike traditional car companies, is also expected to post a loss this year and in 2018. Tesla is not a traditional car company, of course.
Musk is a rock star CEO, and that is one reason why investors are so infatuated with the company.
Tesla also is more of a play on alternative energy writ large, and not just electric cars. That's because Tesla now owns SolarCity, the maker of solar roof panels that was co-founded by two of Musk's cousins.
However, investors are betting that Tesla will eventually become a more mainstream auto company, and not just a maker of luxury vehicles for wealthy celebrities. It will have to in order to justify the company's current valuation.
The Model S sedan and Model X SUV are not cheap, with prices beginning at $68,000 and $79,500 respectively. But the Model 3 is Tesla's more affordable electric car, with a starting price of around $35,000. The first Model 3s shipped to customers in July.
Related: Elon Musk predicts World War III
The addition of the Model 3 to Tesla's lineup is a big reason why Wall Street is forecasting solid sales growth this year and next. Analysts expect that Tesla's revenue will soar 70% this year to about $12 billion and rise another 67% in 2018 to nearly $20 billion.
Musk has a lot on his plate though. His product roadmap for the company is ambitious to say the least. In addition to Tesla, he runs the privately held rocket company SpaceX. Will Musk be able to juggle both companies successfully for the long haul?
Being CEO of two businesses isn't easy. Just ask Jack Dorsey. His payments technology company Square (SQ) may be firing on all cylinders. The stock is at an all-time high. But Twitter (TWTR) is far from its peak as it struggles to attract more users.
Tesla is also going to need to start churning out profits on a consistent basis if it hopes to deserve its beast of a valuation.