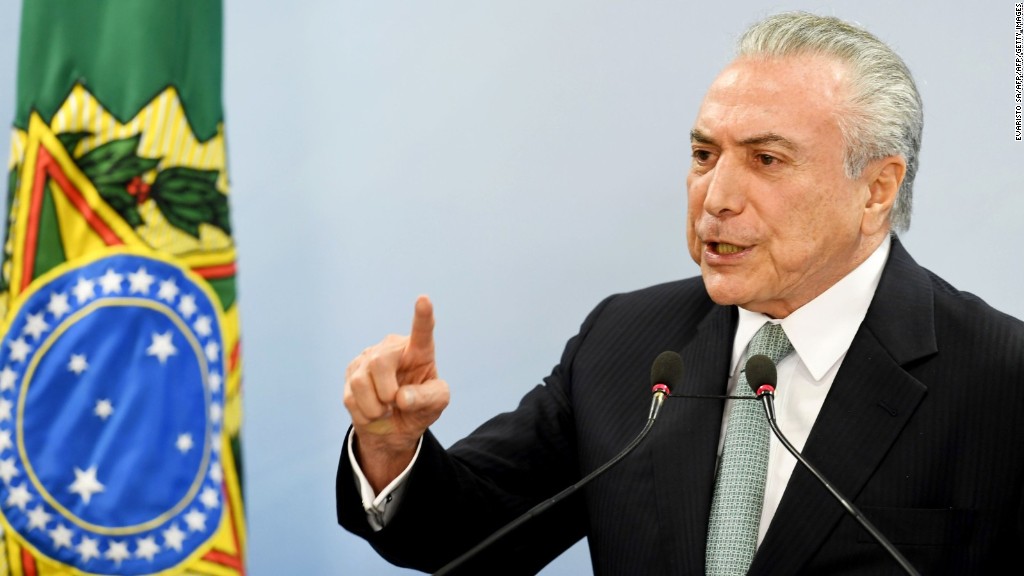 Brazil's attorney general charged President Michel Temer on Thursday with obstruction of justice and leading a criminal organization, according to a press release on the attorney general's website.
It's the latest round of corruption allegations against Temer, who survived an impeachment vote in August. Six other members of Temer's political party, PMDB, were also named in the charges filed by attorney general Rodrigo Janot.
In a statement posted on its website, Temer's office dismissed the charges as "absurd" and said they were an attempt by the attorney general to "cover his own faults." The statement added that "the truth will prevail" and Temer will be able to focus on governing.
Related: Brazilian CEO arrested on insider trading charges
Janot said the latest charges stem from plea-bargain testimony given by Joesley Batista, who turned himself in to authorities on Sunday. Batista is the former chairman of JBS, the world's largest meatpacking company. The Brazil-based company has admitted to doling out $150 million in bribes to some 2,000 politicians over a decade.
According to Brazilian state media, Batista recorded a phone call between himself and Temer last spring in which Temer allegedly suggested giving hush money to the country's former house speaker, Eduardo Cunha, to buy his silence. Attorney General Janot on Thursday brought new charges against Cunha, who is now in prison for money laundering, among other charges.
Batista gave his testimony implicating Temer last spring in exchange for the plea agreement. This week, he and his brother Wesley were charged with insider trading, which prompted the government to suspend the plea deal, state media reported. This week, their lawyers called those charges "unjust."
In speeches and statements, Temer denied that he suggested bribing Cunha and said the phone recording was doctored to make him look bad.
Related: Brazil has opened a huge chunk of the Amazon up to mining
The new charges could be a blow to Temer's pro-business agenda, which includes tax and pension reform. Earlier this month, finance minister Henrique Meirelles told the Wall Street Journal he expected those reforms to become law soon.
It also marks the latest twist in a period of deep corruption in Brazil. Temer's predecessor, Dilma Rousseff, was impeached last year on charges of manipulating the government's budget. Rousseff denied the charges.
Brazil's wildly popular former president, Luiz Inacio Lula da Silva, who preceded Rousseff, was sentenced in July to nearly 10 years in prison. He is appealing the case.
Temer will only face trial if two-thirds of the country's lower house of Congress votes to suspend him. His term ends at the end of 2018.
More broadly, a widespread bribery ring involving Brazilian politicians, the state-run oil company Petrobras and Brazil's largest construction company Odebrecht, helped plunge South America's largest nation into its worst recession on record. The recession officially ended earlier this year but the recovery has been anemic.
--Flora Charner contributed reporting to this article