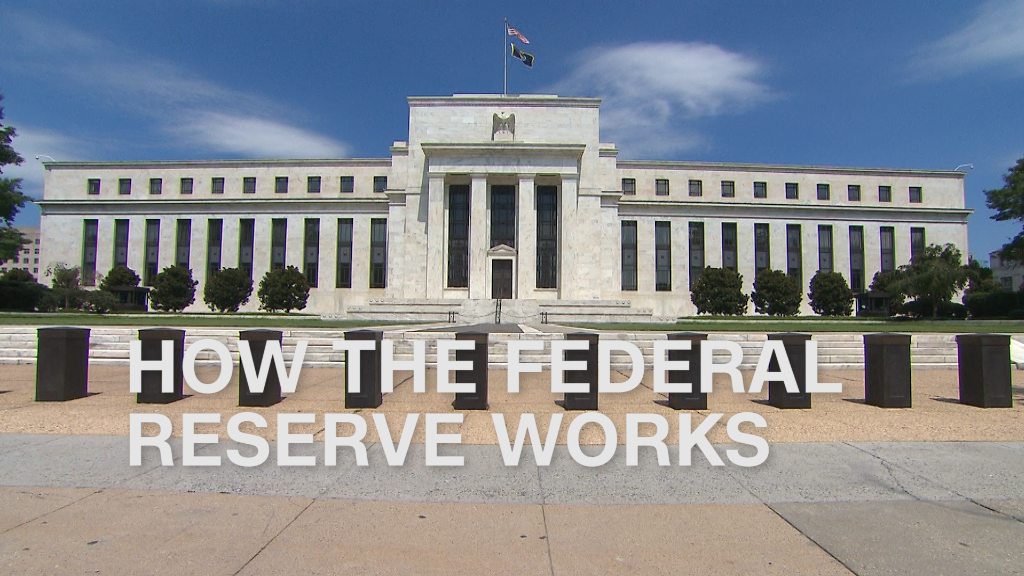 The U.S. dollar is cooling off after a red-hot surge.
Though it rose in the weeks following President Trump's election victory last November, the greenback has steadily fallen this year. It's now down to its lowest level since January 2015. Since January 3, the first trading day, the dollar is down 11%.
It's down nearly 17% against the Mexican peso this year, a reversal of fortunes after Trump's campaign threats caused the peso to plunge. It's also down 12% against the euro and 7% against the pound.
Investors were optimistic late last year that the Trump administration could cut taxes, pass an infrastructure bill and clear out financial regulations. But they're losing confidence.
"There was a lot built into it at the beginning of the year -- none of that's materialized," says Kathy Jones, chief fixed income strategist at Charles Schwab. "No infrastructure spending, no tax cuts...it really has flipped the script from where we were at the beginning of the year until now."
Related: Ivanka Trump ate breakfast with Fed Chair Janet Yellen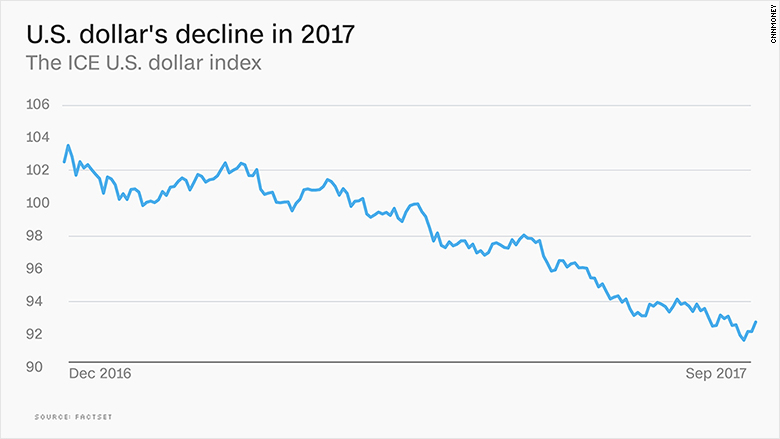 Other factors have contributed to the dollar's decline this year, but "a lot of it" is linked to Wall Street's disappointment with the progress of Trump's agenda, Jones adds.
What else is hurting the dollar's value:
1) Dimming hopes of another rate hike this year at the Federal Reserve
2) Europe's economy is picking up momentum after years of playing catch up to the U.S. economy
3) European political risks, such as the French election and the Brexit vote, are now in the rear view mirror, boosting the euro and the British pound against the dollar. A litany of other factors influence the dollar's value too.
Related :Fed Vice Chair Fischer to step down in October
But above all, the dollar's surge rode on investors' optimism for tax reform and new roads, bridges and rails. Treasury Secretary Steven Mnuchin said Tuesday that tax reform could still happen this year, and the dollar is up a notch this week.
A weak dollar isn't necessarily a bad thing. In fact, many economists argued the dollar was overvalued the last couple years. An expensive dollar makes it more expensive, and less attractive, for foreigners to buy products sold by U.S. companies like Apple (AAPL) and Starbucks (SBUX). Both companies saw international sales growth edge down as the dollar's value shot up.
The dollar's value rose sharply in 2014 and 2015 on the expectation that the Fed would be raising interest rates while European Central Bank and others were cutting them. The greenback increased so much that it caused U.S. exports to decline and U.S. manufacturing to go into a brief recession.
Now that the dollar is declining, U.S. exports are back on the rise this year as U.S. products are more affordable, and as the global economy picks up steam.