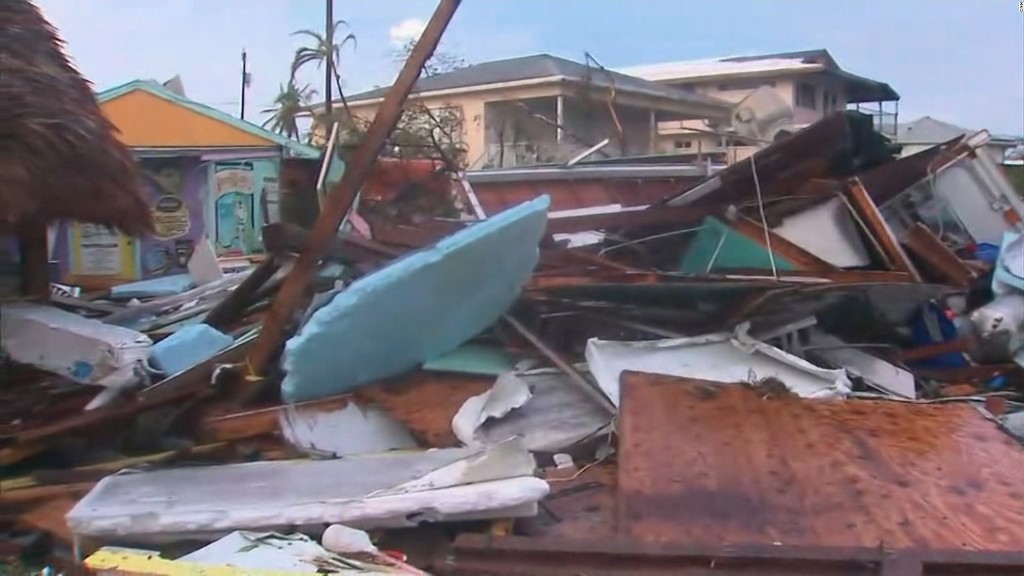 Peanut butter. Bottled water. Hygiene kits. Diesel fuel. Surgical supplies.
These are just some of the supplies and services the U.S. government has purchased through the nearly $614.3 million in contracts it has awarded since hurricanes Harvey and Irma pummeled Texas and Florida, according to the Federal Procurement Data System, which compiles government-wide contracts as of Thursday.
And that pot of money is expected to grow exponentially.
Among the recipients of these contracts are big players, including medical device maker Medtronic (MDT), aerospace and defense company General Dynamics (GD), as well as smaller outfits, like family-owned Foster Fuels, a provider of emergency fuel.
As the government continues to assess damages, more companies can expect to get awarded contracts for office supplies, dumpsters, portable toilets and other essentials needed to help clean up and rebuild homes and infrastructure.
Related: The costliest natural disasters in U.S. history
In the aftermath of Hurricane Katrina, such contractors won $20.4 billion in government money to repair the devastation across the states of Louisiana, Alabama, and Mississippi. Hurricane Sandy, which pounded New York and New Jersey, resulted in $2.9 billion in government awarded business, according to government data.
Early estimates of the destruction brought on by both Harvey and Irma could potentially exceed the damage caused by Katrina, one of the costliest natural disasters in U.S. history, according to economists.
Moody's Analytics projects the two hurricanes will cost anywhere between $150 billion to $200 billion. By comparison, Katrina, which battered the Gulf Coast in 2005, resulted in $160 billion in damages in today's dollars, according to the National Oceanic and Atmospheric Administration.
So far, Congress has appropriated $7.9 billion in emergency financing after the two latest hurricanes -- and that amount is expected to grow.
An initial government tally of awards from federal agencies reviewed by CNN shows there are 14 contracts worth $10 million or more as of Thursday.
That includes a $74.3 million contract to Florida-based government contractor Gibbco to build mobile homes. Vanguard Emergency Management Housing secured several deals, including a $62.3 million contract to inspect buildings in Florida, while CSRA (CSRA), an IT services government contractor, won a $25.1 million contract to set up a call center in Louisiana that will employ 1,500 temporary call agents to help disaster victims.
Related: Hurricane Harvey's victims struggle to recover
Warren Buffett's Berkshire Hathaway (BRKA) and GSH of Alabama, a disaster relief construction contractor based in Huntsville, each received nearly $29 million to help build manufactured mobile homes in Texas after Harvey flooded the area.
Other contracts include $11.8 million to AmeriQual Group, a food processing company based in Evansville, Indiana, to supply perishable prepared foods to Texans and a total of $10.6 million in awards to Government Acquisitions, a federal IT provider, to deliver Dell laptops to support recovery activities.
Granny's Alliance Holdings, a women-owned company that provides equipment and services for disasters such as portable showers and laundry services, also received a total of $8.7 million in contracts to help eastern Florida.
While another $1.4 million was awarded to Estes Express Lines, a family-owned, full-service shipping and freight company based in Richmond, Virginia.
Verizon Communications, too, won a $1.2 million deal to provide telecommunication services.
The rest of the contracts have been used to pay for security guards and patrol services, electrical wiring, booking air travel and other services. That includes a combined $165,000 in contracts to Concur for scheduling passenger air transportation and $400,000 in awards to Echo Tours & Charters L.P. for charter buses.
Related: House passes Hurricane Harvey relief aid
With the exception of one contact awarded to the U.S. Coast Guard, all of the hurricane relief contracts have been awarded to U.S.-owned businesses.
Women-owned businesses and veteran-owned businesses won roughly 13% and 19% of total business for Harvey, respectively. While black-owned and Hispanic-owned firms received less than 1%.
Small, disadvantaged businesses combined received 7.7% of the total work so far for Harvey -- exceeding the minimum 5% of federal contracts that are supposed to go to those and minority firms.
Out of the 84 contracts that have been awarded for work tied to Hurricane Irma, the share of work for women, black-owned and hispanic-owned business for contracts awarded for Irma is roughly 6.4%.
Related: Hurricanes Harvey and Irma may mess with the job market
Past contracts for storm work have raised questions about the potential for favoritism or abuse.
Whenever possible, local businesses are supposed to receive preference for awards. In the case of Harvey contracts, roughly 16% of bids were awarded to Texas-based firms. Meanwhile, the share of Floridian firms have received only 7% of total funds for Irma's aftermath thus far, according to a CNN analysis.
Federal contracting rules allow agencies to OK deals without standard competitive bidding in "urgent" circumstances.
One quarter of contracts were labeled urgent or were not open to competition for Harvey contracts. In the case of Irma, less than half of contracts fell in the same category.
The remaining contracts were open to competition, where the company with the best bid wins. Federal agencies sometimes hold open competitions in advance for products they know they need routinely in emergencies.
--CNNMoney's Julia Horowitz contributed to this report.