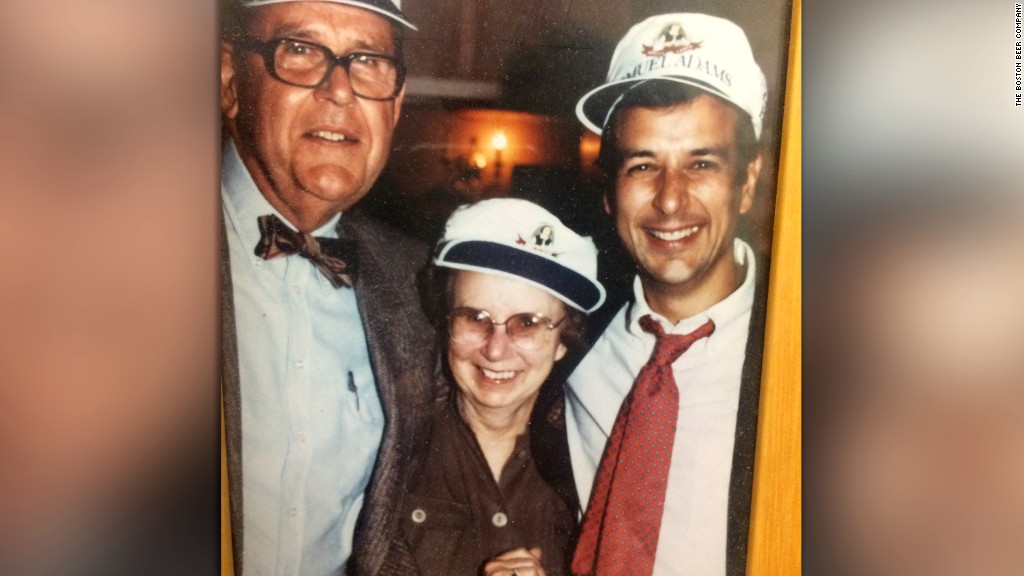 When Jim Koch quit his high-paying consulting job to become a brewer, his father did not approve.
"He said, 'Jim you've done some dumb things in your life. This is just about the dumbest,'" recalls Koch, the founder and chairman of Boston Beer Co. (SAM), which makes Samuel Adams beer, in a new podcast episode of Boss Files with Poppy Harlow.
But Koch, who was a 34-year-old Ivy League graduate making a six-figure salary at the time, was on a mission to challenge the status quo in the American beer industry.
"Everybody who wanted a quality beer thought they had to get it from an import. The reputation of American beer was terrible," Koch says. "I had to change people's minds about American beer in general."
Brewing runs deep in Koch's family and he's the sixth generation to become a brewmaster. In 1984, he discovered his great-great-grandfather's lager recipe in his father's attic and brewed the very first Samuel Adams lager. He started the company that same year.
Despite his pursuit of the family's passion for brewing, the elder Koch doubted his son. The beer industry had been consolidating and breweries were closing.
"I think he told me when he got out of brewmaster's school in 1948 there were almost a thousand breweries in the United States," Koch says. "When I started Sam Adams 36 years later, that thousand breweries had collapsed down to 50."
He told his father that he wasn't trying to compete with the giant brewers. Instead, he was going to make "rich, flavorful beer in very small batches."
Koch's recipe quickly became a catalyst for the so-called craft beer "revolution."
"I just happened to hit this historic moment when there was an opportunity to change an entire element of our culture," Koch says.
Related: The Marriott family American Dream: From 'Hot Shoppes' to hotels
Today, the craft beer industry is booming at $23.5 billion, according to the Brewers Association, and there are more than 5,000 craft breweries in America.
Koch has since built a billion-dollar (revenue) business, selling between 3 and 4 million barrels of beer each year.
The company's performance has far exceeded his expectations. "My plan was to only get to about a million dollars a year in sales," Koch says.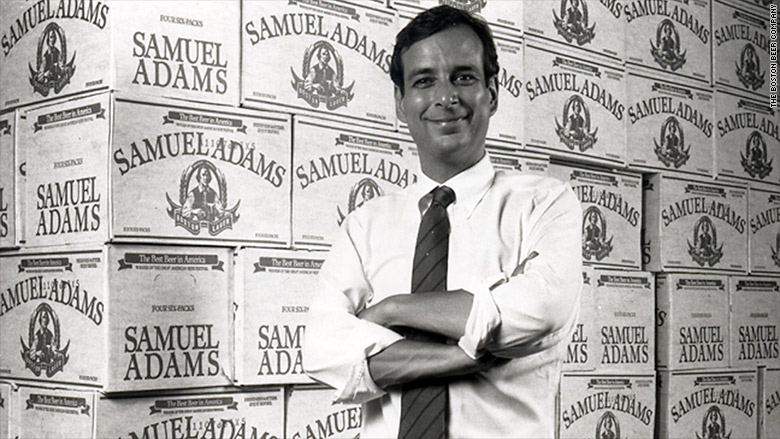 Despite his father's initial concerns, he was always by Koch's side. "He was on my board from the day we went public," Koch says.
In 1995, Koch took the Boston Beer Co. public, with his father by his side.
Related: Fast food president Kat Cole: How my single mom helped me succeed
One of the many pieces of advice he received from his father was to share the business with someone he could trust.
"I looked around Boston Consulting Group. There were all these best and the brightest with these great degrees. Very, very accomplished people. I realized, hey, they're all like me. They have all the same skillsets. They're not really adding anything," Koch says.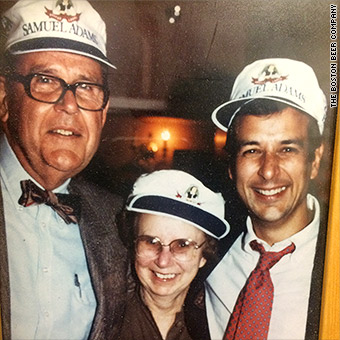 That's where Rhonda Kallman, Koch's secretary, came in. Kallman was also his co-founder and first employee.
"She was an incredible person, and she had different skills than I had. She was great with people, and she knew bars. I knew business. I knew beer, but Rhonda knew bars," Koch says.
In those first months, Koch walked bar-to-bar with a briefcase full of beer trying to sell his Samuel Adams lager and Kallman's familiarity with bars was key to jump starting the business.
About 10 years ago, Koch almost lost the company. Nearly 25 million bottles had to be recalled for possible glass falling into the bottles when capped. His father's reaction has stuck with him.
"He said: 'Jim, we could lose the whole company. You know that, right?,'" Koch recalls. "I said, 'Yeah. yeah, Dad, I know.' Then he said, 'Don't worry. It's been a great ride. Don't worry.'"
"That's the right perspective. Only your dad can give you that. It was like: I don't care if it fails, ride with me," Koch says.
Koch's father passed away six years ago, but he continues to value his business relationship with his father.
Related: Makeup mogul Bobbi Brown on her new venture
"I had this wonderful experience that very few people have, which is I was able to have an adult relationship with my dad as a business partner," Koch says.
Koch's unique leadership style is something he writes extensively about in his book, Quench Your Own Thirst: Business Lessons Learned Over a Beer or Two.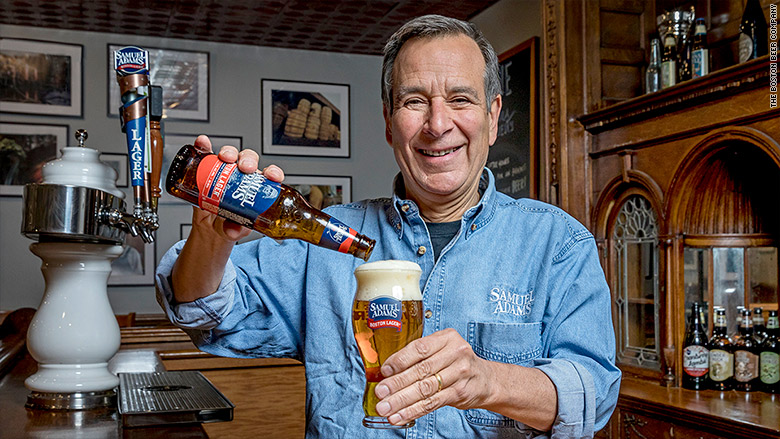 The biggest lesson learned: "Do what you think is going to make you happy rather than what's going to make you rich," Koch says.
He also believes in knowing and accepting your strengths and weaknesses. That's one the reasons why he has remained chairman and founder of the company, instead of CEO.
"I'm not really a good manager. I've never claimed to be a good manager," Koch tells Harlow. "I really focus on two things that I'm accountable for. Those two things are the quality of the beer and the culture of the company. I believe if I take care of those and we've got good managers, we'll be successful. That's what I'm good at."