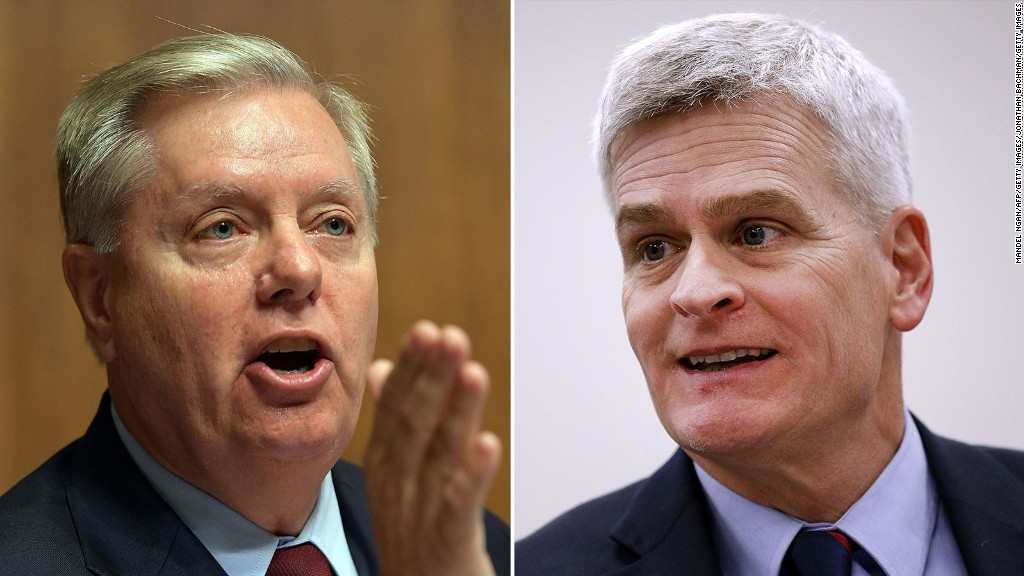 Republican senators are trumpeting their latest Obamacare repeal bill as a way to give more control over health care to the states.
But a group of governors from both parties are saying "No, thanks!"
They wrote a letter to Senate Majority Leader Mitch McConnell and Minority Leader Chuck Schumer on Tuesday asking them to find a bipartisan approach to making health care more affordable. They urged the leaders not to consider the new bill.
The revived effort to dismantle Obamacare, authored by Senators Lindsey Graham and Bill Cassidy, would give states a lot more flexibility over how to provide health care for their residents. Instead of the rigid federal regulations in the Affordable Care Act, states could use their money to provide subsidies to offset premiums or out-of-pocket costs, for instance. Or they could set up high-risk pools or shield insurers from pricey enrollees through reinsurance programs. They could even send payments directly to doctors and hospitals to lower the cost of care.
"Obamacare took power away from patients and states and gave it to the federal government. This returns that power to where it belongs," the bill's authors wrote in an explainer. "Each individual state is a laboratory of democracy, allowed to innovate to find solutions."
Related: What's in the latest Obamacare repeal bill?
But there's a catch. The flow of federal dollars for Medicaid and Obamacare subsidies would shrink in nearly all states, particularly in those that expanded Medicaid to low-income adults.
The bill would eliminate funding for Medicaid expansion and the subsidies that help many enrollees afford premiums, deductibles and co-pays. Instead, states would receive a lump sum of money as a block grant to help residents pay for health care through 2026. After that, it would be up to Congress to appropriate the funds annually.
Related: It's all coming down to Lisa Murkowski -- again
Also, it would radically overhaul the traditional Medicaid program, which insures roughly one in five Americans. The bill would send a fixed amount of money to the states each year and reduce the growth rate of that funding.
The two provisions combined would likely curtail federal support for health care -- the biggest injection of federal funds into state budgets -- throughout most of the country. In response, these states would probably have to cut enrollment, pare back benefits or reduce provider payments.
The Congressional Budget Office has yet to put a figure on just how big a cut it would mean. But its analysis of an earlier Senate repeal bill showed that a similar restructuring of the traditional Medicaid program and the gradual winding down of Medicaid expansion would reduce federal spending by $772 billion by 2026, compared to current law. Also, the earlier bill would have left about 15 million fewer people insured under Medicaid at that time.
What turning federal funding of Medicaid expansion and Obamacare subsidies into a block grant would mean is less clear. There would be some winners (think Republican states that didn't expand Medicaid) and lots of losers (a mix of blue and red states that did).
Related: Senators ditch bipartisan health care talks
An initial estimate from Fitch Ratings released last week found that the block grant overall would be $20 billion, or 14% less, in 2020 -- the first year of implementation -- than states would receive in Medicaid expansion and subsidy funding under Obamacare. But the formula would also shift federal support from states that expanded Medicaid to those that didn't in an attempt to even it all out.
By 2026, 20 states would face funding cuts from 35% to 60% below what they would have received from Medicaid expansion and Obamacare subsidy funding under current law, according to the left-leaning Center on Budget and Policy Priorities. These include California, New York, Massachusetts, Louisiana, Alaska and Kentucky.
Overhauling the rest of Medicaid would slice $39 billion, or 8%, of funding by 2026, relative to current law, the center estimates. Those cuts would get bigger over time since the annual funding increases would be tied to a lower inflation rate.
The two provisions combined would lead to 35 states losing Medicaid and subsidy funding by 2026, the center found. California and New York would be the big losers, while Texas and Alabama would see gains.
Related: Trump, White House go all-out for Graham-Cassidy Obamacare repeal bill
Implementing spending caps for both provisions shifts the burden and risks away from the federal government and onto the states, according to Fitch Ratings. States would be forced to adjust their budgets, putting pressure on state support of local governments, public colleges and health care providers.
"In the short-term, non-expansion states may see gains under the bill given redistribution of ACA-related spending streams," Fitch wrote in an analysis. "But, over time even non-expansion states will face budgetary challenges given the proposed changes to Medicaid, which will likely accelerate for all states over time."