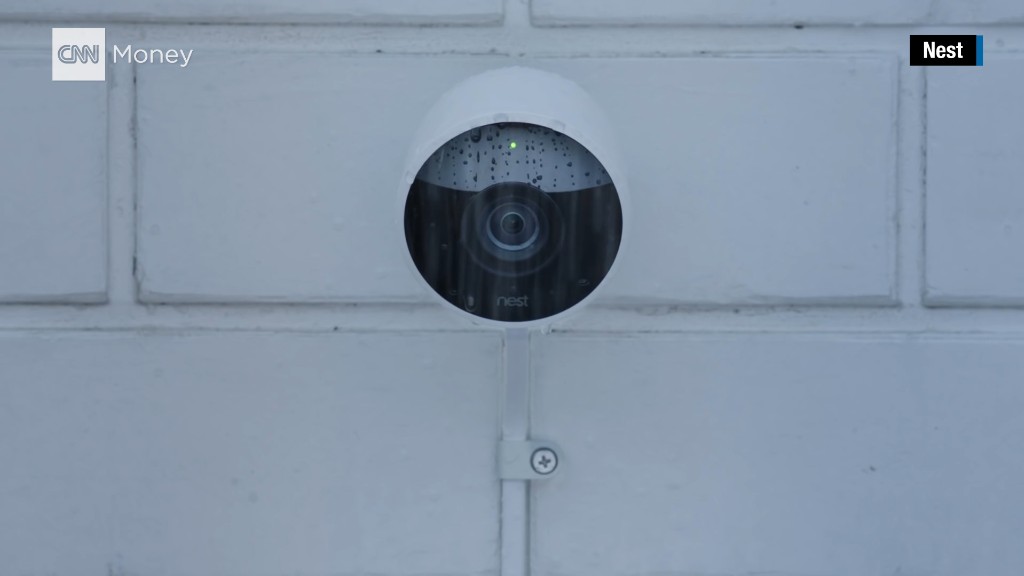 Nest wants to keep you from being robbed, as well as help you track your kids and let your dog out to pee at 3 am.
The Alphabet (GOOG) owned company announced a trio of new products on Wednesday, all designed keep your home safe with a combination of motion sensors and constant video monitoring. They include optional face detection to tell who is outside your house, ringing your doorbell, or making waffles in your kitchen.
It's launching Nest Secure, a home alarm system, Nest Cam IQ, a new version of its outdoor camera, and Nest Hello, a doorbell that includes a tiny security camera. Nest is also adding the ability to talk to Google Assistant through its indoor camera.
Nest Secure security system
The Nest Guard is the hub of the security system. It looks like a decapitated Google Home with a keypad on top, and replaces the usual wall-mounted security keypad. If triggered, the Guard blares its internal alarm.
Use one of the so-called Nest Tags -- discs with NFC sensors that go on a keychain -- to disarm and arm the system instead of entering a code. If you give a tag to a friend or dog walker, you can program it to only work during certain hours. You can also turn it on and off with the Nest app, or go ahead and enter a code with your human fingers.
Related: New Nest camera zooms in and recognizes faces
In addition to the motion sensor in the Guard, the separate Nest Detect door and window sensors can send alerts to the app or trigger the alarm, as well as detect people walking by. The Detect looks like a little robot finger with a button for a nail, which you can press if you want to open a door without triggering the entire alarm system.
There will be an option for professional round-the-clock monitoring by MONI but no prices have been announced. The Nest Secure system, available in November, will cost $499 for the base, two tags and two door sensors. Extra tags cost $25 each, and sensors are $59 each.
A doorbell that watches
The Nest Hello doorbell looks like an Amazon Dash button and features a camera that can see who's at the door. You can get alerts when anyone is at your door and watch them from the app. It will also have optional face detection.
The idea is far from original. Startup Ring currently dominates the connected doorbell market, and August announced its own version earlier this week. To stand out, Nest is adding a Naptime option to mute the ringer for a spell. There's also an option to reply to the person standing outside with a canned response like "You can leave it, thanks!" in the usual Nest robotic voice.
The device won't be out until sometime next year, and Nest did not release a price.
Face detection comes to the outdoor camera
Nest Cam IQ outdoor includes features recently added to the company's indoor camera. It can tell the difference between people and things, and can zoom in and follow subjects. If you pay for the optional Nest Aware service, the camera adds face detection, which uses the same technology found in Google Photos. Nest says its face-library is stored separately from Google's on Nest's own servers.
Related: New August smart locks know who's coming and going
The $349 device looks the same as the earlier version, but now you have to drill a hole to connect the power cable, which can be an extra layer of security or a bigger hassle.
Same aesthetic, new direction
It's been a busy year for the 7-year-old company, which released a cheaper version of its thermostat last month and updated indoor camera in May. However, it has been slow to release original products.
After it was acquired by Google in 2014 for $3.2 billion, Nest struggled with internal drama and complaints about founder and CEO Tony Fadell's management style. Fadell resigned in 2016, and now the company is being led by Marwan Fawaz, who was previously a technical adviser to home security company ADT.
So far the devices appear to be faithful to the Nest brand. They all work together via the app, and have that Nest look. Clean, rounded and boring, like how sci-fi movies imagine rich people live in the future.
Your home is secure, but how about your data?
A house outfitted with Nest products can gather a ton of data about its occupants, including faces if the cameras use face-detection. Michele Turner, a general manager at Nest who has overseen development of the security devices, says the company has gone to great lengths to keep that data safe. In addition to adding "extra layers of encryption," Nest has gone through a Google security audit.
"Google's security is probably some of the best in the world, and everything we do passes their security audit," Turner told CNN Tech. "We execute to their standards."
The company also will not use or sell the information it collects, says Turner.
"Your data is private. We are fanatical about that."