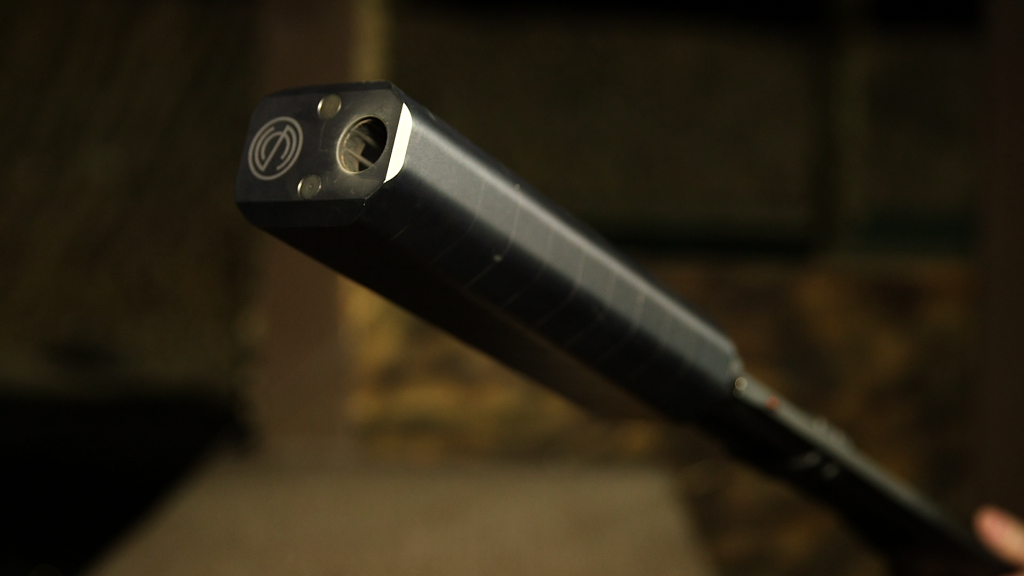 There's a new firearm on the market with an attached silencer that is not covered by federal gun control laws because it's not considered a gun and it's not considered a silencer.
The Maxim 50 from SilencerCo, a silencer manufacturer in Utah, is a .50-caliber muzzleloader, a modern version of the single-shot muskets used in the Revolutionary War. But unlike the muskets from hundreds of years ago, the Maxim 50 has a silencer that's permanently attached.
That makes the Maxim 50, which went on sale this week, exempt from federal restrictions on the sale and distribution of firearms. SilencerCo says it deliberately sidestepped federal laws with the design.
But, the company also says it has already run into legal challenges from California, Massachusetts and New Jersey -- three states with stringent gun laws.
"Since we have no desire to place any consumer in a situation where they may get arrested and charged with a felony because their state defines a firearm differently than the Bureau of Alcohol, Tobacco, Firearms and Explosives (ATF), we have placed orders from those states on hold and are refunding customers pending conversations amongst lawyers," said SilencerCo president Jason Schauble.
"It is relevant to point out that no states contemplated a product of this sort in their laws," he said.
A company spokesperson was unable to specify who the claims were from. CNN reached out to the attorneys general for the three states. Massachusetts said it didn't file any claims and New Jersey and California did not respond to CNN's inquiry.
"Since its inception, the gun industry has been manufacturing loopholes to get guns and suppressors into as many hands as possible, regardless of how dangerous those hands might be," said Kris Brown, co-president of the Brady Campaign and Center to Prevent Gun Violence. "Literally the only thing workarounds like this accomplish is they make it easier for people we all agree shouldn't have guns, much less sound suppressed ones, to get them."
Related: Gun silencer bills could mean big business for industry
SilencerCo put the Maxim 50 on the market Tuesday with a $999 price tag. The muzzleloader is sold by a Connecticut company called Traditions firearms, while the silencer is made and attached by SilencerCo in Utah.
Muzzleloaders and silencers are rarely used in crimes, according to a spokesperson for the ATF. Federal gun control laws prohibit felons from possessing firearms. But the lack of federal oversight and the absence of a federal background check means the Maxim 50 could be purchased by a felon, according to the ATF. However, they couldn't necessarily own the ammo for it and certain state and local laws might prohibit possession of the muzzleloader or silencer by convicted criminals depending on how those localities define a "gun" or "firearm."
Silencers are canisters attached to the ends of gun barrels that work like mufflers on a car, and normally they are screwed on instead of being permanently attached. They suppress the noise of a gunshot, rather than silence it completely.
Silencers are subject to federal gun control laws that are more restrictive than for most guns. They are treated like machine guns, requiring a more intensive background check that takes months to process, with a $200 tax.
Related: New pistol with built-in silencer debuts
But muzzleloaders are not subject to federal gun control laws because they use antiquated firing mechanisms without modern ammunition, said Max Kingery, chief of the Firearms and Ammunition Technology Criminal Branch of the ATF. "Thus, there would be no federal restriction on the sale or distribution of this item," he said.
SilencerCo provided CNNMoney with a letter from the ATF that greenlights the Maxim 50, saying that their silencer is not considered a silencer because it's permanently attached to the muzzleloader, which is not considered a gun.
Muzzleloaders are loaded by pouring a measure of gun powder down the barrel along with a bullet, which is packed into place with a ramrod. Modern guns use cartridges in which the bullet, powder and primer are packaged.
It's legal for citizens in 42 states and hunters in 40 states to use silencers, according to the American Suppressor Association. However, gun control advocates see silencers as dangerous weapons that can be exploited by criminals, and they fear the silencers could reduce the noise of shootings and fail to warn people to get away.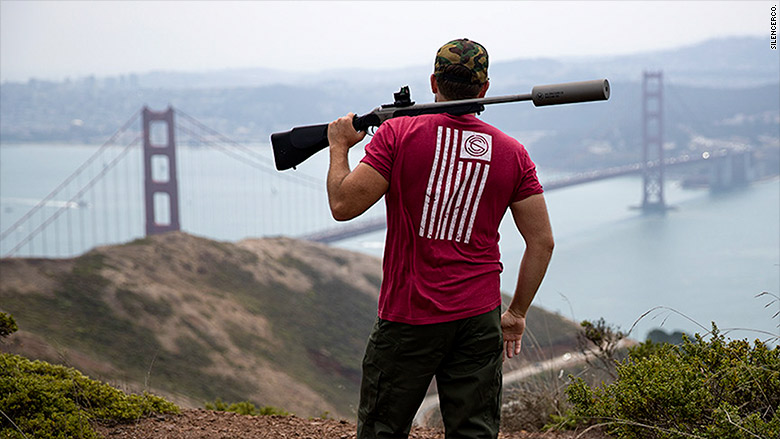 The silencer industry touts their benefits for hearing loss prevention. There's currently a bill in Congress called the Hearing Protection Act, which would loosen restrictions on the possession of silencers if it passes.
The industry has been growing in recent years in tandem with gun sales, which were fueled by the political rhetoric of the campaign trail. But sales of guns and silencers dropped after the election of President Trump, a Republican endorsed by the National Rifle Association. Gun owners were no longer afraid of the specter of a Democratic president imposing more restrictive gun control laws.
.