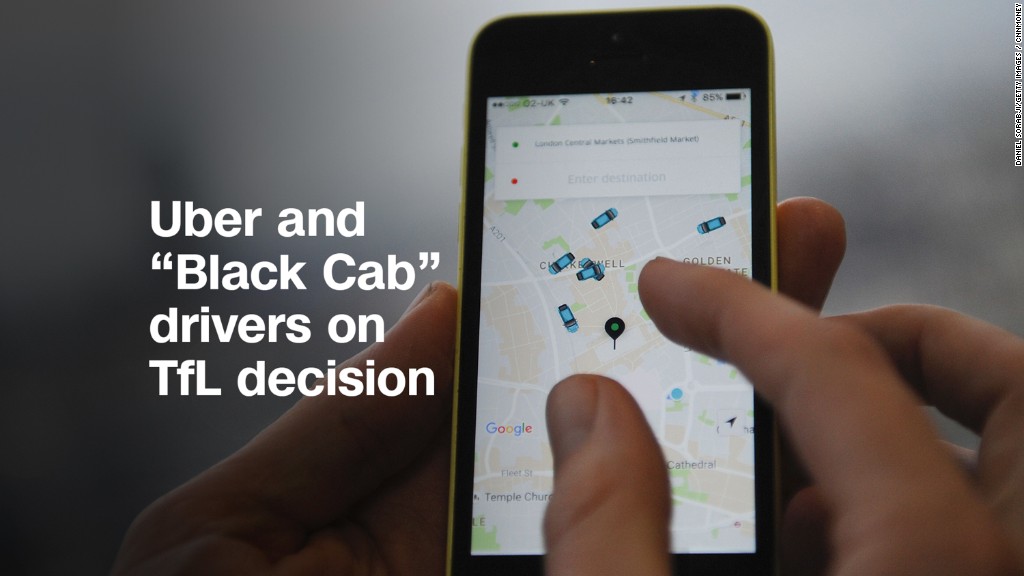 As if Uber's new CEO didn't already have his work cut out for him, now he has to deal with losing one of the company's biggest markets.
On Friday, London's transport authority said Uber is not "fit and proper" to operate in the city. The city opted not to renew the company's license -- a decision partly based on some of the damning revelations that surfaced about Uber this year.
Among those revelations: The company used controversial "Greyball" software to prevent regulators and law enforcement from monitoring the app. Uber said it was never used or considered to be used in the U.K.
Still, London no longer wants to offer the ride-sharing service a license. Uber said 3.5 million people have used its platform since starting in London in 2012. It said 40,000 licensed drivers will be affected.
The company has 21 days to appeal the decision. Uber will turn, in part, to its users to advocate for the brand. So far, a Change.org petition to keep Uber running in London has earned over 740,000 signatures since Friday.
"It's a significant decision -- not just because London is a big taxi market but also because it might set a precedent for other cities that are of two minds about Uber," according to Kartik Hosanagar, professor at the Wharton School of the University of Pennsylvania.
Arun Sundararajan, a professor at New York University's Stern School of Business, agreed.
"It's important that this not start some sort of domino effect across the rest of Europe," said Sundararajan. "It wouldn't surprise me if more cities start to push back heavily because they're trying to preserve their power."
It could also be time for Uber's opponents to advance their own interests in the region.
One thing is for sure: Uber's CEO Dara Khosrowshahi has his fair share of fires to defuse.
Khosrowshahi, formerly head of Expedia, took over the embattled $68 billion company at the end of August.
In addition to now dealing with a crisis in London, Khosrowshahi must manage Uber's escalating court battle with Google's Waymo over allegedly stolen self-driving car technology. He also faces a Department of Justice investigation into the "Greyball" software. Not to mention, the company still has a lot of work to do to repair its internal work culture.
"It will be a testament to [Khosrowshahi's] leadership skills, if he can make this problem go away and strike a deal with the London government," added Sundararajan. "It could be a pivotal moment for Uber."
Related: London says it won't renew Uber's license
In response to the London decision, Uber said it would "immediately challenge this [decision] in the courts."
"Transport for London and the mayor have caved in to a small number of people who want to restrict consumer choice," the company said.
Khosrowshahi weighed in later on Friday, tweeting that Uber is "far from perfect," but he asked that officials work with the company to "make things right."
Khosrowshahi expanded on his thoughts in an internal email sent to employees on Friday, which was obtained by CNN Tech.
"The truth is that there is a high cost to a bad reputation," Khosrowshahi wrote. "Irrespective of whether we did everything that is being said about us in London today (and to be clear, I don't think we did), it really matters what people think of us, especially in a global business like ours, where actions in one part of the world can have serious consequences in another."
Related: Londoners react to 'bombshell' Uber ban
London's decision doesn't bode well for Uber, whose rivals abroad are raising billions in funding and working together to dominate their respective markets.
In July, Uber was forced to pull out of operations in Macau, located off the south coast of China. Meanwhile, Uber merged with its rival in Russia, Yandex, that same month. A year ago, Uber sold its business in China to rival Didi Chuxing.
During the appeal of the London decision, Hosanagar believes Uber will likely point to innovations it has rolled out in the past two years to increase safety and security, such as the ability for a rider to share their ride details in real time with a friend.
On the other hand, Hosanagar said, Uber will likely have to defend how it screens and manages its huge fleet of drivers, among other things.
"I suspect the move by London will prompt Uber to take these issues a little more seriously," he said.
Uber, which operates in nearly 700 cities, was last valued at $68 billion. SoftBank, a Japanese tech giant, is considering an investment in the company.
Experts anticipate Uber's valuation could take a hit from the decision by London officials.
"All indications are that [the recent crises] are putting downward pressure on Uber's ability to sustain or grow their valuation," Sundararajan said.