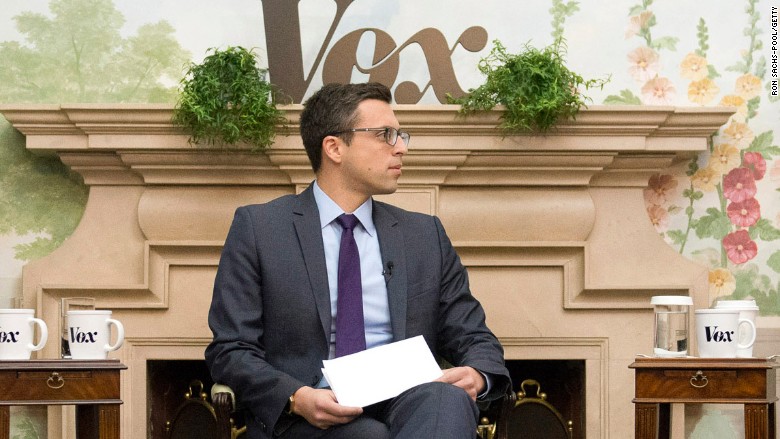 Ezra Klein, who founded Vox three years ago, is handing off the editor in chief reins to his deputy Lauren Williams.
Klein said the editor job has been one of the "great thrills and honors of my life," but "I feel a deep need to be out reporting on this political era, and to be working directly on the projects we're launching next year."
Those projects include a daily podcast and a fresh push into television programming.
The leadership transition was officially announced on Tuesday. Williams, who has been Klein's executive editor for the past nine months, will become editor in chief. Allison Rockey, the site's director of programming, will succeed her as executive editor.
"In Lauren and Allison, Vox has amazing leaders ready to guide our future and build our organization," Klein told CNNMoney.
His new title will be editor-at-large. "So proud of @ezraklein for firing himself!" his wife Annie Lowrey quipped on Twitter Tuesday morning.
Vox bills itself as a destination for explanatory journalism. It has been a closely watched venture since Klein left The Washington Post to launch it in 2014. Its parent company, Vox Media, also operates The Verge, SBNation, Eater, and other titles.
The changes atop Vox come at a time of anxiety for digital publishers. Some startups have been mocked for attempting so-called pivots to video. But Klein said that's not what is happening at Vox.
"This is something my co-founder Melissa Bell says often, but there's no pivot to video because we've always done video -- the first piece of content we published was a video, and we have four Emmy nominations this year!" he said via email.
The new TV project, which is slated for 2018, is an outgrowth of what the site has already been doing, he said.
Vox CEO Jim Bankoff tweeted in response to the changes, "fastest growing news brand of past 3 years still has a lot of explaining to do."