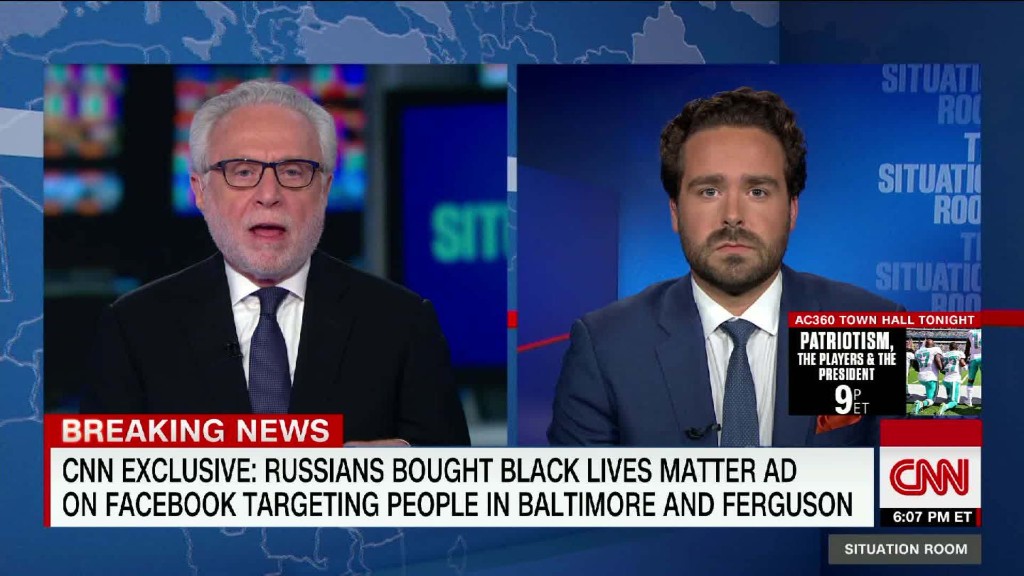 At least one of the Facebook ads bought by Russians during the 2016 presidential campaign referenced Black Lives Matter and was specifically targeted to reach audiences in Ferguson, Missouri and Baltimore, sources with knowledge of the ads told CNN.
Ferguson and Baltimore had gained widespread attention for the large and violent protests over police shootings of black men. The decision to target the ad in those two cities offers the first look at how accounts linked to the Russian government-affiliated troll farm known as the Internet Research Agency used geographically targeted advertising to sow political chaos in the United States, the sources said.
Facebook has previously said that roughly one-quarter of the 3,000 ads bought by the agency were geographically targeted, but it has not revealed any specific locations. Facebook has also not revealed which demographic groups and interest groups were targeted by the ads.
The Black Lives Matter ad appeared on Facebook at some point in late 2015 or early 2016, the sources said. The sources said it appears the ad was meant to appear both as supporting Black Lives Matter but also could be seen as portraying the group as threatening to some residents of Baltimore and Ferguson.
Related: Russian-bought Facebook ads sought to amplify political divisions
New descriptions of the Russian-bought ads shared with CNN suggest that the apparent goal of the Russian buyers was to amplify political discord and fuel an atmosphere of incivility and chaos, though not necessarily to promote one candidate or cause over another. Facebook's review of Russian efforts on its platform focused on a timeframe from June 2015 to May 2017.
These ranged from posts promoting Black Lives Matter to posts promoting gun rights and the Second Amendment to posts warning about what they said was the threat undocumented immigrants posed to American democracy. Beyond the election, Russians have sought to raise questions about western democracies.
"This is consistent with the overall goal of creating discord inside the body politic here in the United States, and really across the West," Steve Hall, the former CIA officer and CNN National Security Analyst, said. "It shows they the level of sophistication of their targeting. They are able to sow discord in a very granular nature, target certain communities and link them up with certain issues."
The Internet Research Agency is a shadowy agency that U.S. military intelligence has described as "a state-funded organization that blogs and tweets on behalf of the Kremlin." A senior Kremlin spokesman said last week that Russia did not buy ads on Facebook to influence the election.
The ads were bought through Facebook's self-service ad model, which allows buyers to target their ads to users based on several criteria, including geographic location, demographic categories and specific interests.
Senator Mark Warner, the top-ranking Democrat on the Senate Intelligence Committee, said Tuesday that the "million-dollar question" about the Facebook ads centered on how the Russians knew whom to target.
"Did they know this just by following political news in America? Did they geo-target both geography and by demographics in ways that at least at first blush appear pretty sophisticated? These are the kind of questions that we need to get answered and that's why we need them in a public hearing," Warner said.
Related: How Facebook sees the Russian ad scandal
The targeting issue is also important because, if it appears that the targeting was particularly sophisticated, questions may be raised about how the Russians knew where to direct their ads. Further, information about the targeting could help investigators determine whether or not there was collusion between these ad buyers and the Trump campaign.
Republican Sen. Richard Burr, the chairman of the committee, said Tuesday that there's "no evidence yet" that Russians and Trump officials colluded on the Facebook ads, but said it's an area the committee continues to investigate.
The Black Lives Matter ad targeted toward Baltimore and Ferguson, which sources discussed with CNN on the condition of anonymity, was one of a small handful of ads presented to congress earlier this month. Facebook has said that it will hand over detailed records of all 3,000 ads to congress in a matter of days. CNN has not seen the ad but the targeted was described by the sources.
Facebook has already handed over copies of the ads and information about the relevant accounts to Special Counsel Robert Mueller, who is conducting an investigation into Russian meddling in the 2016 election.
Facebook did not comment for this story but did point to a statement from Facebook's chief security officer, Alex Stamos, who said earlier this month that "the vast majority of ads run by these accounts didn't specifically reference the U.S. presidential election, voting or a particular candidate."
"Rather," Stamos said, "the ads and accounts appeared to focus on amplifying divisive social and political messages across the ideological spectrum -- touching on topics from LGBT matters to race issues to immigration to gun rights."
Warner, the top Democrat on the Senate Intelligence Committee, said this week that the aim of the ad-buyers "was to sow chaos."
"In many cases, it was more about voter suppression rather than increasing turnout," he told reporters.
The Senate Intelligence Committee will also hear from Twitter on Thursday about how foreign nationals may have used its ad service to influence the 2016 election. Twitter has declined to shed any light so far on what information it plans to give to Congress.