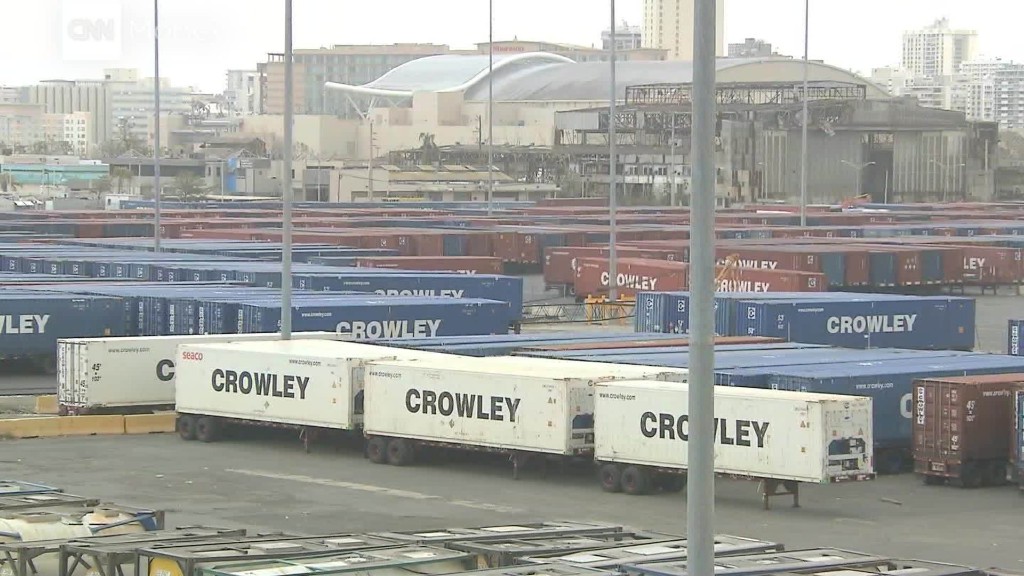 The Jones Act is an obscure, century-old law that requires all goods ferried between U.S. ports to be carried on ships built, owned and operated by Americans.
Now critics say it's making it difficult to get critical supplies into Puerto Rico.
The Jones Act, when it was established in 1920, was meant to promote shipping by U.S.-owned and operated vessels.
But it's also had the unintended consequence of making it twice as expensive to ship things from the U.S. mainland to Puerto Rico as it is to ship from any other foreign port in the world, according to Republican Senator John McCain's office.
McCain and Democratic Representative Nydia M. Velázquez, as well as the governor of Puerto Rico and mayor of San Juan, have urged Trump to suspend the Jones Act to get supplies to Puerto Rico faster.
President Trump has not waived the rule, though he said Wednesday that he is "thinking about" it. He noted the shipping industry opposes a waiver.
"We have a lot of shippers and a lot of people that work in the shipping industry that don't want the Jones Act lifted," he told reporters.
Related: More flights leaving San Juan but thousands still stranded
Trump did suspend the law after Hurricanes Harvey and Irma, which struck Texas and Florida, to allow ships to move gas from the north while refineries and pipelines in the south were shut down.
Seven lawmakers, led by Velázquez, sent a letter Monday to Acting Homeland Security Secretary Elaine Duke requesting a one year waiver of the Jones Act for Puerto Rico.
A waiver, they said, would speed the delivery of fuel, food, medicines, clothing and building supplies.
In response, the Department of Homeland Security said the Jones Act was waived after Hurricanes Harvey and Irma to make up for fuel pipelines that were shut. Puerto Rico is having no problems getting gasoline, diesel fuel and other supplies to the island, Homeland Security said. The problem is getting those supplies off the ships and distributing them on the island.
"We do not lack U.S.-flagged vessel capacity to move commodities to Puerto Rico," Homeland Security said. Cranes powered by generators that are moving at half speed, as well as difficulty moving goods around the island, are the primary problems.
Related: Who owns Puerto Rico's mountain of debt? You do
Critics say the Jones Act costs American jobs by encouraging residents in Puerto Rico, the U.S. Virgin Islands and Hawaii to buy foreign-made goods that are shipped on foreign flagged vessels, rather than goods made in America.
That's what happens when it comes to gasoline and other fuels, said Tom Kloza, chief oil analyst for Oil Price Information Service.
"Puerto Rico typically gets most of its gas from foreign sources -- Canada and Europe," he said. "Jones Act ships are so expensive that it doesn't make sense to buy gasoline from U.S. refineries." So, Kloza said, a waiver of the Jones act won't bring much more fuel to the island since Puerto Rico gets what it needs from other countries.
But plenty of other things are much more expensive in Puerto Rico because of the Jones Act. Cars, for example, cost about 40% more in Puerto Rico than on U.S. mainland, partly because of the law. It also affects other necessities.
A 2010 study by the University of Puerto Rico found that the Jones Act cost the island $537 million per year. The territory has been in a recession for 11 years and is suffering from a crippling debt crisis.
Still, the American Maritime Partnership, a coalition representing the domestic shipping industry, argues that the act supports national defense needs and ensures a vibrant maritime industry.