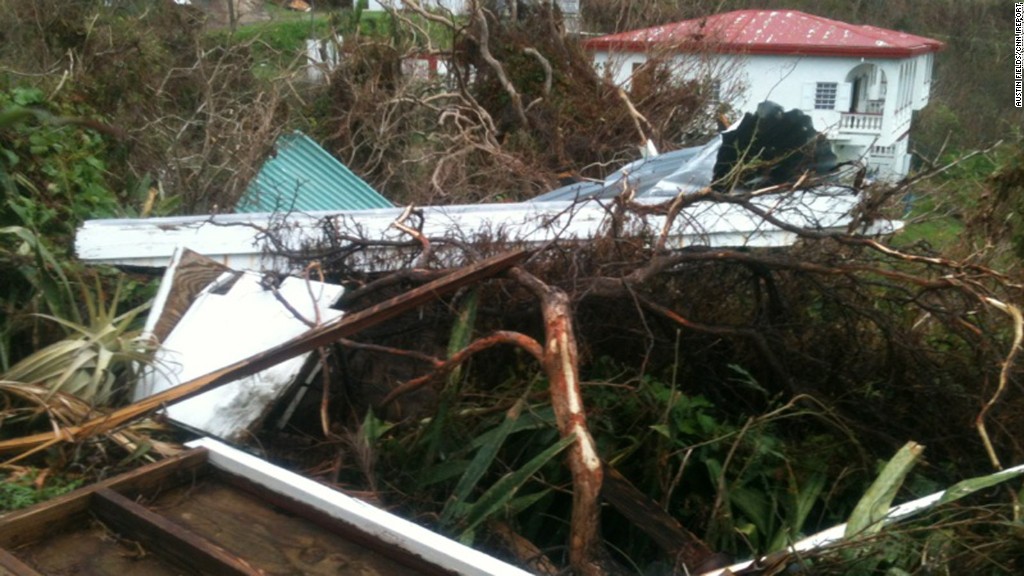 Millions of U.S. government dollars have started flowing to businesses to help out the recovery in Puerto Rico, the U.S. Virgin Islands and elsewhere following Hurricane Maria.
As of Thursday morning, the U.S. government has awarded roughly $46 million in contracts. The money will go for things like transporting cargo, inspecting buildings and providing temporary housing for survivors and first-responders, according to the Federal Procurement Data System, which compiles government contracts.
The funding comes at a critical time. Millions of Puerto Ricans have been living for more than a week without power and with limited access to medicine, water and fuel.
The governor of Puerto Rico, Ricardo Rossello, told CNN more support and resources on the island are desperately needed. "There are some challenges and we need more resources," he said.
Related: Puerto Rico's aid is trapped in 9,500 shipping containers
So far, the Federal Emergency Management Agency has awarded $22 million -- the largest contract so far -- to D.C.-based defense contractor Marine Design Dynamics to provide living quarters. FEMA is leasing three cruise ships for 30 days for survivors and first-responders of both Hurricanes Maria and Irma, according to a contract notice reviewed by CNN.
One of the largest ocean contractors for transporting food and aid, Sealift Inc., of Oyster Bay, New York, received nearly $8.7 million to help transport passengers and U.S. troops to and from Puerto Rico.
Defense contractor General Dynamics (GD) won nearly $4 million to transport supplies, water, and food for victims of Hurricane Maria with the USTS Kennedy, a former commercial freighter and a current Marine training vessel.
The government gave another $3 million to Asset Group, a contractor based in Oklahoma City, to deliver special dietary food to hurricane victims.
The National Center for Missing and Exploited Children also won a $144,000 contract to help identify and reunite displaced children with their parents or legal guardians.
Related: Hurricane Maria is a nightmare for Puerto Rico's economy
Vanguard Emergency Management Housing based in Winchester, Virginia, also secured a $260,000 contract to allow inspectors to perform building inspections of damaged homes.
The government has also started to address the crucial shortage of food and water.
On Wednesday, a U.S. military plane carrying 3,500 pounds of water, ready-to-eat meals, diapers and other supplies headed to from Miami to Puerto Rico, said Rob Brisley, a spokesman for U.S. Customs and Border Protection.
Additional ready-to-eat meals will also be on their way following a $35,000 contract awarded to Atlantic Diving Supply of Virginia. Pacific Link International also secured several contracts worth a total of about $158,000 to supply packaged foods, including peanut butter.
In the wake of the devastation in Puerto Rico, San Juan Mayor Carmen Yulín Cruz -- along with several U.S. politicians -- urged the suspension of a century old law called the Jones Act, which requires all goods ferried between U.S. ports to be carried on American-owned and operated ships.
On Thursday, the Trump administration authorized a waiver to the Jones Act in order to help expedite shipping of supplies to the island.
The move follows criticism that the U.S. government's response in Puerto Rico has been markedly slower than its responses to Hurricanes Harvey and Irma in Texas and Florida, respectively.
Related: These companies have pledged money to rebuild Puerto Rico
President Trump said he will visit Puerto Rico next Tuesday -- nearly two weeks after Maria struck the island. He visited Texas and Florida within four days of Harvey and Irma.
Responding to the criticism, Trump said Tuesday that the recovery efforts were more difficult in Puerto Rico because of its geography. FEMA Administrator Brock Long added that the limited operations at Puerto Rico's international airport were making it difficult to move resources into the area.
-- Additional reporting by CNN's Madison Park, Jason Hanna, Nicole Chavez, Holly Yan, and Patrick Gillespie.