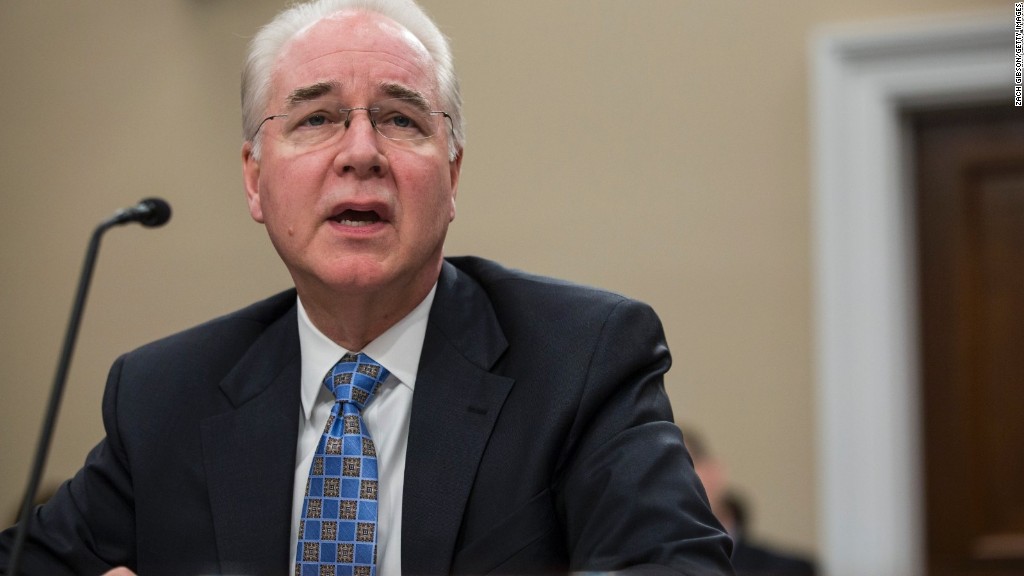 Tom Price, who just resigned as health secretary after a scandal over his use of private jets, is worth $14.1 million, according to the Center for Responsive Politics.
Price and his wife, who is also a doctor, have an extensive investment portfolio, according to his 2016 financial disclosure form. That made him the 9th wealthiest official in the executive branch, the center said.
In January, he said he would step down as managing partner at an Atlanta-area surgical group but continue to have a financial stake in it. He also said he'd sell his holdings in 43 companies, including health-related stocks such as Aetna, Biogen, CVS Health, Innate Immunotherapeutics and Zimmer Biomet.
Related: Price vows reimbursement for flights 'approved through the normal process'
Price's investments have raised concerns in the past, particularly in the weeks leading up to his confirmation earlier this year.
Last year, as a member of the House, Price purchased up to $15,000 of Zimmer Biomet stock days before introducing legislation that would have directly benefited the medical device manufacturer, according to House records reviewed by CNN. Also, the Wall Street Journal reported in December that Price traded roughly $300,000 in health companies' shares over the past four years while pursuing legislation that could impact them.
Related: 'I think the President's mad as hell': Hill Republicans fume over Price's travel costs
On Thursday, the former orthopedic surgeon said he will reimburse the government $52,000 for his seat on the planes, though not for the full cost of chartering the flights. The total tab, which also includes overseas trips on military aircraft, exceeds $1 million, according to Politico.
The next day, President Trump accepted his resignation.
-- CNN's Manu Raju, Kevin Liptak and Jeff Zeleny contributed to this report.