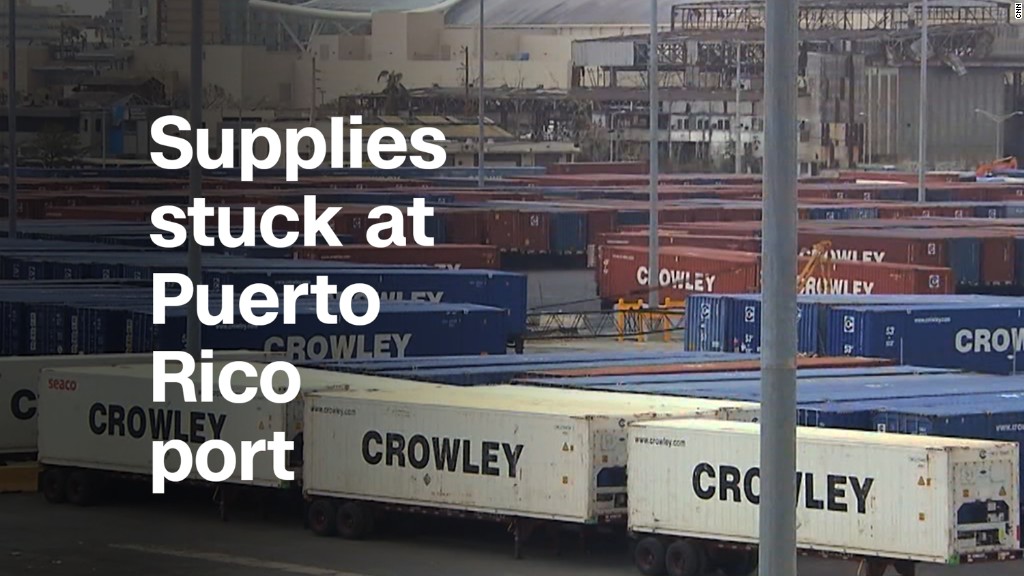 More than a week after Hurricane Maria slammed into Puerto Rico, the island remains plagued by a communications blackout.
Just over 90% of all cell sites in Puerto Rico were still out of service as of Thursday, according to the most recent report from the Federal Communications Commission. In each of the island's 78 municipalities, at least 75% of cell sites down.
This has only made an incredibly difficult situation even harder. Millions of Americans island must struggle to stay in touch with loved ones and get access to important information.
Cell phone companies have sent emergency equipment and engineering crews by planes and barges to the island to address the communications crisis, but they are facing greater obstacles to restore cell service.
"Maria created restoration challenges unlike those we've seen in other storms," Joan Marsh, executive VP of regulatory and state external affairs for AT&T (T), wrote in a blog post Thursday. (AT&T has agreed to acquire Time Warner, the parent company of CNN. The deal is pending regulatory approval.)
Among the daunting list of challenges highlighted by various companies this week: an island-wide power outage, extensive damage done to fiber connections, and logistical issues getting satellite trucks to the island.
Related: What cell phone companies are doing to restore service in Puerto Rico
After Hurricane Irma, for example, Marsh says AT&T was able to "provide a big shot in the arm" to the worst hit areas of the Florida Keys by sending in trucks with satellite and cell equipment. But there are only limited options to fly these trucks to Puerto Rico, and shipping by sea takes longer.
"We currently have three Satellite trucks on a FEMA barge due to land next week and three more on the way [Thursday] morning," Marsh says.
There are also sincere safety concerns, as fuel needed for generators gets stolen and workers risk being held up at gunpoint on the roads.
"Security is a very serious issue on the island and is causing delays for all telecommunications companies," a spokesperson for T-Mobile told CNN. "It's a very serious and sad situation."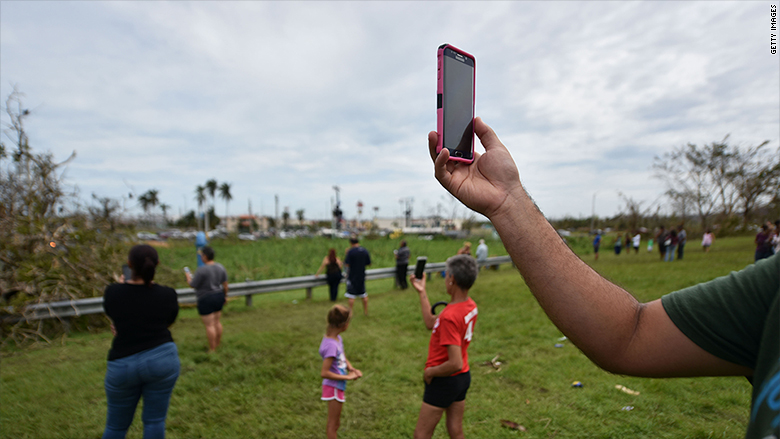 Luis Romero, VP of the Puerto Rico Telecommunications Alliance, called attention to the security issue in a letter this week to President Trump.
"We need security. The fuel trucks are being hijacked and scant fuel we have is being stolen from the emergency power plants," Romero wrote in the letter. "The current situation of total chaos will lead to a total blackout of communications if not controlled today."
Related: Who will help Puerto Rico?
In an update on the situation Thursday, FEMA said "the federal government is working with its interagency and private sector partners to ensure that fuel continues to remain available."
After some reluctance, the Trump administration authorized a waiver on Thursday to loosen shipping rules for Puerto Rico, potentially paving the way for more deliveries of fuel and other critical supplies.
Trump is scheduled to visit the island next week for the first time since the hurricane hit.
-- CNN's Paul P. Murphy contributed reporting.