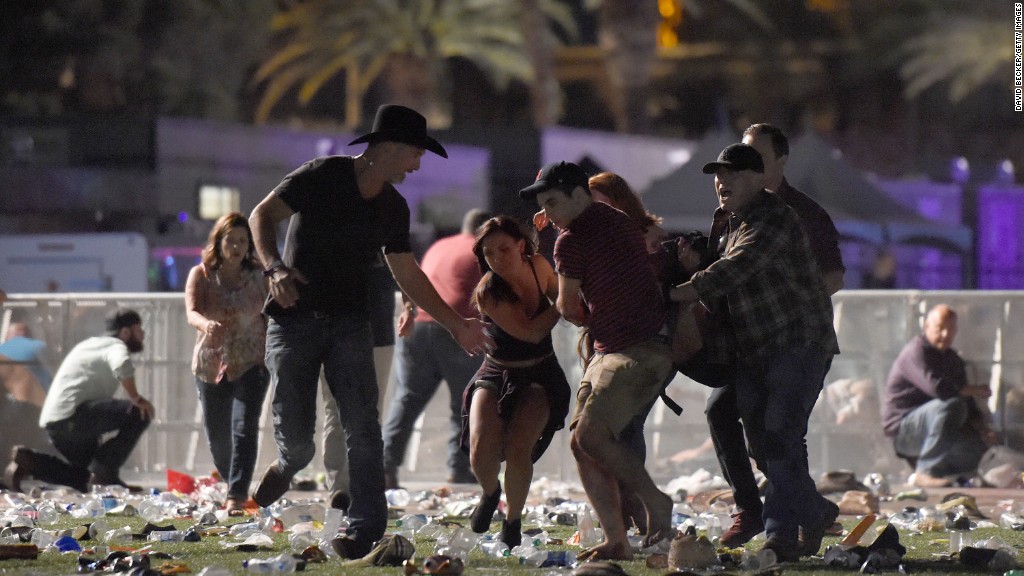 No place in America relies on tourism more than Las Vegas.
More than a quarter-million people work in hotels, restaurants, bars and casino gaming operations in the Las Vegas metropolitan area, according to the Bureau of Labor Statistics. That's more than one out of every four people who work there.
In addition, more than 100,000 jobs rely on tourism by providing services to the industry. Altogether, tourism accounts about 44% of the area's work force, according to the Las Vegas Convention and Visitor Bureau.
Not even Orlando, Florida, depends that heavily on tourism for jobs -- and it's home to Disney World and Universal Studios.
Related: Google and Facebook help spread bad information after Las Vegas attack
Sunday night's tragedy was the deadliest mass shooting in modern U.S. history, and that could pose a problem for a city that relies almost exclusively on visitors. The attack killed at least 59 people and injured more than 500. Investors sent shares of some leading casino operators lower.
The visitors' bureau declined to comment on the city's tourism.
"The thoughts and prayers of all of Las Vegas go out to the victims and their families. This was a horrific, yet isolated, incident," visitors bureau CEO Rossi Ralenkotter said in a statement. "Las Vegas is a strong community that will work through this tragic incident. We are grateful beyond words to our incomparable law enforcement, first responders and everyone who continues to help victims and their families."
Related: Las Vegas shooting is deadliest in modern U.S. history
The tourism industry is vital for the local government. Las Vegas attracted a record 43 million visitors last year, according to the convention and visitors bureau, up 10% in the last decade, and they spent $35.5 billion.
The state and local government collect $1.4 billion in gaming and room taxes annually, as well as $264 million in property taxes on the hotels and casinos. In addition, tourists pay about $752 million a year in sales tax.
Vegas was a small desert stopover before the casinos arrived after World War II. The city and its surrounding suburbs now have a population of 2.2 million people, and it's the 10th fastest growing major metropolitan area in the country.
Related: Gun stocks up after Las Vegas shooting
For decades, Las Vegas was the only place in the U.S. where gambling was legal. But today, the strip has lots of competition from casinos spread across 40 states. That means travelers with misgivings about visiting Vegas might be more inclined to head to a casino much closer to home.
Vegas was hit hard by the recession in 2009, but the economy has bounced back.
Unemployment in metro Las Vegas was 5.2% in August, above the national average but down a half-point from a year ago. Home prices that plummeted during the housing bust have nearly doubled from five years ago, although they're still far below the highs of the real estate boom.