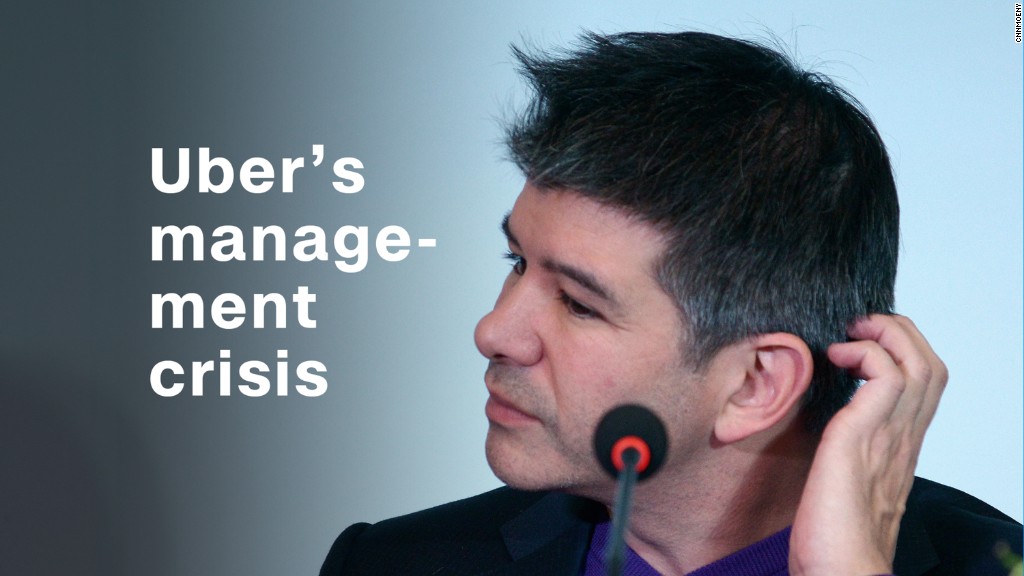 Uber has stripped power from its founder and former CEO, Travis Kalanick, part of an ongoing struggle to move past a scandal-plagued mess at the company.
The ride-hailing behemoth's directors on Tuesday unanimously approved a host of changes to the way Uber will be run. Among them, the already massive board of 11 will increase by six members, according to a person familiar with the board's decision. Also, board members will all vote on an equal scale.
The changes serve three main purposes:
1) They reduce Kalanick's grip on the company.
2) They pave the way for a large investment from Japanese tech conglomerate Softbank (SFTBF).
3) They help prepare Uber for an initial public stock offering by September 2019.
Related: Uber board weighs reducing former CEO's power
Adding board members -- two for Softbank, plus four independent directors, including a new independent chair -- blunts Kalanick's influence. He was ousted from the company's helm earlier this year after a series of crises, though he maintained his board seat. Kalanick and another early investor, venture fund Benchmark Capital, are engaged in a bitter legal battle over his role at the company.
The board voted Tuesday to require two-thirds of the directors' votes to approve a new chief executive, likely closing the door on any effort Kalanick might make to return as CEO.
The new voting system adopted by the board is particularly damaging for Kalanick's influence: board members will now each have one vote per share, regardless of the class of shares they own. Kalanick and Benchmark own special shares held by early investors that previously gave them 10 times the number of votes of other board members.
Related: The rise and fall of Uber CEO Travis Kalanick
"The board voted unanimously to move forward with the proposed investment by SoftBank and with governance changes that would strengthen its independence and ensure equality among all shareholders," Uber's directors said in a statement.
The vote is a huge win for Uber's new CEO, Dara Khosrowshahi. He was able to calm a tumultuous storm brewing in the company's board and secure one of Uber's biggest-ever investments in just over a month on the job.
Softbank has agreed to make an initial investment of between $1 billion and $1.25 billion in Uber, buying new shares to maintain the company's $69 billion valuation, the person familiar with the board's decision said. The Japanese company also committed to spend billions more purchasing between 14% and 17% of the company's shares already held by current stakeholders at a discounted rate.
Pending the sale of those shares, Benchmark has agreed to drop its lawsuit against Kalanick, the person said.
Related: Uber CEO to meet London transport boss about ban
"Today the board came together collaboratively and took a major step forward in Uber's journey to becoming a world class public company," Kalanick said in a prepared statement. "Under Dara's leadership and with strong guidance from the board, we should expect great things ahead for Uber."
Uber said Softbank's investment serves as a "vote of confidence" in the company.
Also Tuesday, Uber also named Xerox chairwoman Ursula Burns and bank executive John Thain to its board. Thain was head of Merrill Lynch before it was bailed out by Bank of America (BAC) during the financial crisis in 2008.