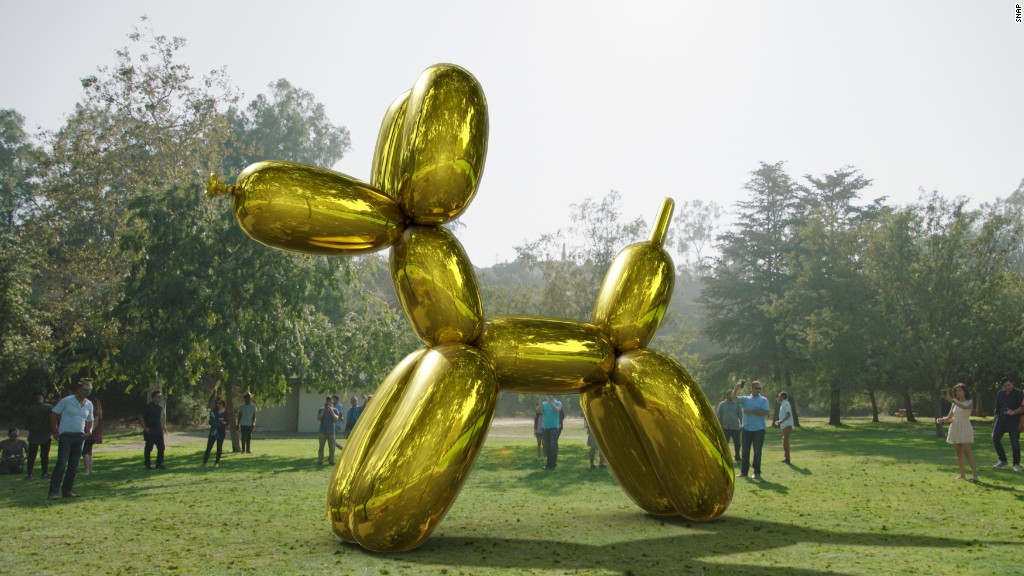 Snapchat is bringing pop art to its platform.
On Tuesday, Snap announced a new partnership with artist Jeff Koons, known for his stainless steel sculptures of balloon animals.
The collaboration is part of Snapchat's Lens feature which lets users animate videos and photos, such as adding a flower crown to their head.
Some of Koons' most famous sculptures will now appear within the Snapchat camera when a user is at a certain major park or landmark in countries such as the U.S., Canada, U.K., Paris, Australia and Brazil. More worldwide locations will be added, the company said.
Each included location, like Central Park in New York City or the Eiffel Tower in Paris, will feature one of Koons' sculptures, such as a balloon dog, swan or rabbit.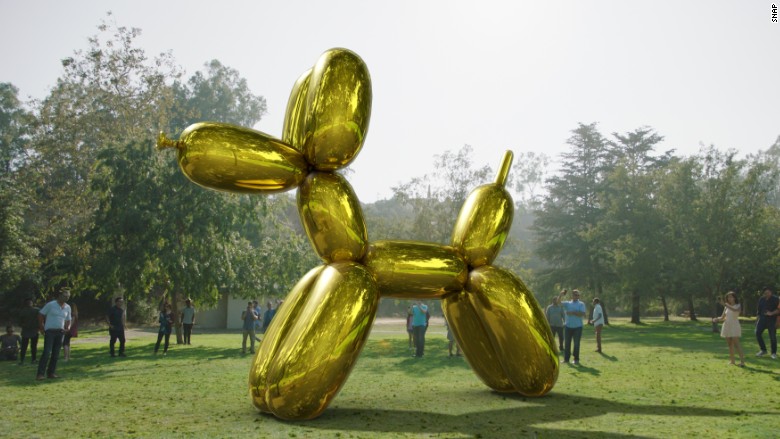 Users must be within about 300 meters of the Lens and have the latest version of the app installed to see the art.
Snapchat is encouraging other artists to add work to the platform through an application process.
Related: Snapchat adds features as rivalry with Instagram intensifies
This is Snapchat's latest move into augmented reality, which shows digital images on top of real-life objects when viewed on a smartphone or tablet.
Last month, the company released a feature that allows users to superimpose their Bitmoji avatar into a video or photo. Bitmoji, which was acquired by Snap last year, is an app that allows people to make a custom emoji of themselves.
Snapchat also pioneered face filters, which overlays images such as dog ears onto the faces of users.
Related: Apple teases the future of augmented reality apps
While Snapchat was one of the first apps to add AR tools, companies like Facebook (FB) and Instagram are now launching their own features. Instagram famously copied Snapchat's face filters earlier this year.
Apple's (AAPL) new iOS 11 software update also supports augmented reality apps. For example, Ikea launched an app that lets you see how furniture would look in your living room.
As Snapchat's rivalry with Instagram has intensified, it has tried to add more unique features such as photo-editing tools, 3D filters and augmented reality capabilities like the partnership with Koons.
However, Snapchat continues to struggle as user growth slows and financial losses mount. Parent company Snap (SNAP) reported 173 million daily users in its most recent quarter, an increase of just seven million compared to the prior quarter. Meanwhile, Instagram Stories hit 250 million daily users in June.
Snap went public in March.