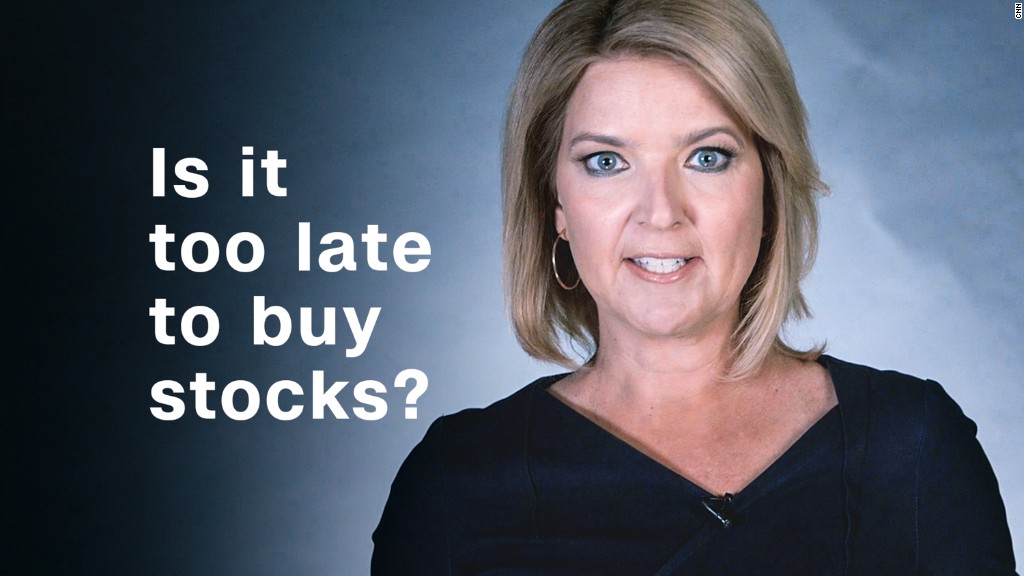 The biggest question in money today: Is it too late to buy stocks?
After all, the stock market has rallied for eight years, notching record high after record high. The S&P 500 has almost quadrupled from the low during the financial crisis to top 2,500 for the first time. The bull market is the second strongest and the second longest in history.
There are plenty of risks, of course. Stocks don't go up forever. There is always the chance of what stock market pros call "an exogenous shock" -- an unpredictable factor that roils markets. And there is a long list of known risks around the world: North Korea, Brexit, a slowdown in the global economy.
History can be a helpful guide. To match the epic market run from 1987 to 2000, stocks would almost have to double from here, and run almost four more years.
Related: Obama-Trump bull market is second longest in history
So is it too late to buy stocks? It's never too late.
Don't try to pick highs and lows, or time the market. That's best left to the professionals. Instead, buy stocks monthly or quarterly through what's known as dollar-cost averaging to smooth out the fluctuations and risk of buying stocks.
Intimidated by the stock market? Consider legendary investor Warren Buffett's advice: Buy a low-cost index fund tracking the S&P 500.
Ignore peaks and valleys and business headlines. Instead, consistently add to your stocks.
The younger you are, the more stocks you should own in your portfolio. As you near retirement, you need to pare back on stocks and add other less risky investments.
Only about half of Americans own stocks, either outright or through a tax-advantaged retirement plan. That means half the country isn't building wealth in this epic stock market rally.