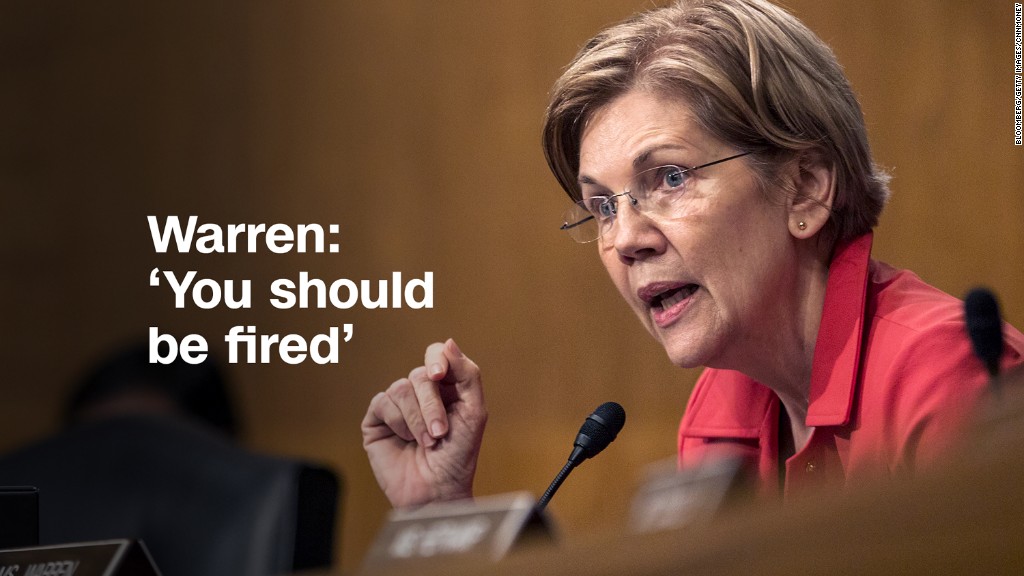 Wells Fargo is in trouble once again -- this time for fees charged to customers trying to nail down a mortgage.
The scandal-ridden bank said on Wednesday that some mortgage borrowers were inappropriately charged for missing a deadline to lock in promised interest rates, even though the delays were Wells Fargo's fault.
Wells Fargo (WFC) said it will reach out to all 110,000 customers who were charged "mortgage rate lock extension fees" between September 2013 and this February. The bank promised to refund customers "who believe they shouldn't have paid those fees."
Here's what happened: Interest rates offered on Wells Fargo mortgages typically carry expiration dates. Sometimes, those rates expire before the loan closes. The delay can be the bank's fault or the borrower's. If it's the borrower's fault, customers can pay a fee to extend the rate.
However, four former Wells Fargo employees told Congress in a letter last year that the bank blamed customers for mortgage paperwork delays even when it was the bank's fault. The letter was first reported by ProPublica in January.
The federal Consumer Financial Protection Bureau is investigating the matter, according to Wells Fargo regulatory filings.
Related: Elizabeth Warren to Wells Fargo CEO: 'You should be fired'
Now Wells Fargo says an internal review by the bank supports these claims.
Wells Fargo said on Wednesday that the review determined that the mortgage rate lock policy "was, at times, not consistently applied." In some cases, borrowers were charged fees even though Wells Fargo was "primarily responsible for the delays," the bank said.
It's not clear how many customers were wronged. A total of about $98 million in rate lock extension fees was charged to 110,000 borrowers. Wells Fargo said it believes a "substantial number" of the charges were appropriate.
The bank said it plans to reach out to all of those customers later this year. "It's not going to be a complicated process," a Wells Fargo spokesman said.
CEO Tim Sloan said in a statement that the bank is paying the refunds "as part of our ongoing efforts to rebuild trust" with customers.
Related: Wells Fargo accused of lying to Congress
The mortgage mess is the latest black eye for Wells Fargo in a year of scandal. The bank has fired 5,300 employees for the creation of many as 3.5 million fake accounts. Thousands of customers were charged fees for accounts they didn't open. The bank has blamed an out-of-control sales culture.
Wells Fargo has also said it charged up to 570,000 borrowers for car insurance they didn't need. About 20,000 of them may have had their vehicles repossessed as a result.
And Wells Fargo has been accused in a lawsuit of ripping off mom-and-pop businesses by overcharging them for processing credit card transactions.
Patricia McCoy, a former CFPB mortgage official, said the disclosure about the mortgage rate fees fits a pattern.
"Wells Fargo had a business model, until all of this came to light, that emphasized generating fees charged to consumers under duplicitous circumstances simply for the sake of padding revenue," said McCoy, who is now a professor at Boston College Law School.
Testifying before the Senate on Tuesday, Wells Fargo's CEO insisted that the bank has made fundamental changes to fix its broken culture.
"The past year has been humbling and challenging," Sloan said. "We are resolving past problems even as we make changes to ensure nothing like this happens again at Wells Fargo."