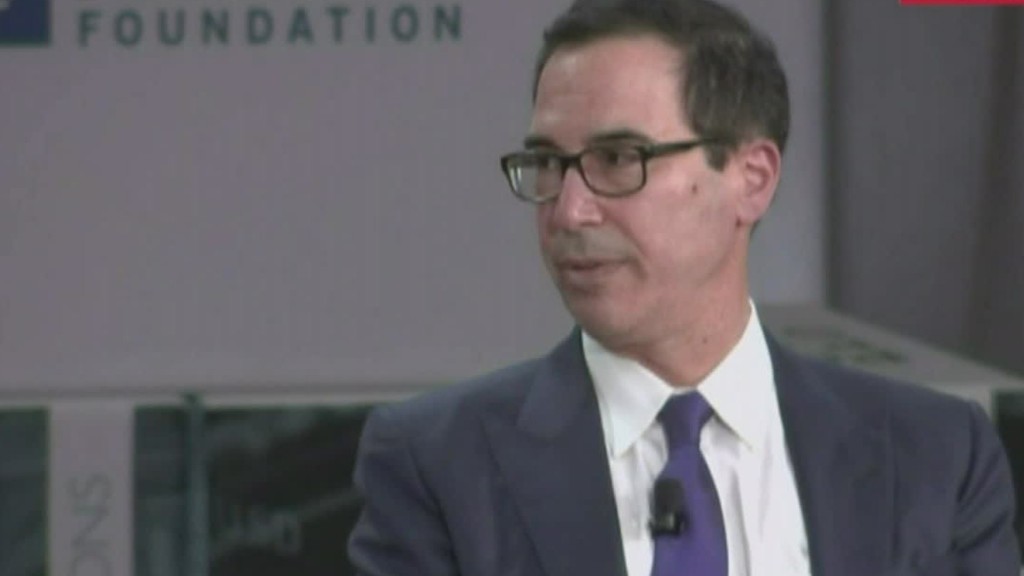 An investigation into Treasury Secretary Steven Mnuchin's use of government jets could be completed and made public as early as Friday, an official at the Treasury Department's inspector general office told CNN on Wednesday.
This is the first time a Treasury secretary has ever been investigated by the inspector general for use of military aircraft for travel -- personal or otherwise.
Richard Delmar, counsel to the inspector general, told CNN the office hopes to post its report about its investigation on its website by Friday.
In August, the department's inspector general, an independent office that investigates allegations of wrongdoing within Treasury, began reviewing every trip Mnuchin has taken using taxpayer-funded planes during his 10-month tenure.
The IG's office has declined to say the exact number of trips included in its review. It is looking into White House authorizations of Mnuchin's trips and whether trips taken by Mnuchin's wife were reimbursed, according to Delmar.
The facts and recommendations compiled by Inspector General Eric Thorson will be given to Congress and the Treasury Department and be made public at that time.
Related: Top aide to Steven Mnuchin flew with hedge-fund billionaire
Inspectors general, which operate throughout the federal government, don't have power to mete out discipline. But their reports can pressure government officials to correct missteps or even resign.
"There is accountability that you're going to have to answer to members of Congress and to the public," said Scott Amey, general counsel for the Project on Government Oversight, a nonpartisan watchdog group. If the problem is not corrected, Congress could seek to impose greater oversight on travel by Trump administration officials.
A Treasury spokesperson could not immediately comment on the department's internal processes for disciplining officials.
The inspector general is reviewing a trip Mnuchin made to Kentucky with his wife in August, around the time of the solar eclipse. He is also looking into a request Mnuchin made to use a government plane for travel that coincided with his honeymoon.
Lawmakers have been pressing members of President Trump's cabinet to disclose information about their use of government planes or taxpayer-funded private planes.
Former Health and Human Services Secretary Tom Price resigned on Friday after an outcry over his use of private charter planes for government business.
EPA Administrator Scott Pruitt has also used private planes for government duties, the agency confirmed last month.
On Friday, the White House gave authority to Chief of Staff John Kelly to sign off on government travel with aircraft owned, rented or leased by the government.
Related: Mnuchin's missteps: Third time's the charm
Mnuchin, a former Goldman Sachs banker and Hollywood producer, has said he doesn't regret using a government plane to travel to Kentucky with his wife, Louise Linton.
"It was approved by the White House and there were reasons why we needed to use that plane that are completely justifiable," he said on NBC's "Meet the Press" program on Sunday.
The Treasury secretary has declined to commit to using only commercial aircraft while in office.
"I can promise the American taxpayer that the only time that I will be using mil air is when there are issues either for national security or we have to get to various different things where there's no other means," he said on CBS 'This Morning.' "Mil air" is shorthand for military air.
The IG's review was triggered after Linton posted a photo of herself on Instagram stepping out of a government plane on the Kentucky trip. Mnuchin was visiting Senate Majority Leader Mitch McConnell to discuss tax reform.
In her post, Linton tagged luxury designers -- Hermes, Tom Ford, and Valentino. She then belittled a person who commented on it. Social media pounced and called Linton ostentatious and out of touch.
Related: Treasury IG set to review Mnuchin's controversial trip to Kentucky
The Kentucky trip included a stop at Fort Knox, where Mnuchin, McConnell and Linton watched the solar eclipse.
The Treasury Department has defended Mnuchin's trip as "official government travel" and denied that viewing the eclipse was the primary purpose of the trip.
Then, it was revealed that Mnuchin requested use of a government jet, which would have cost $25,000 per hour, for his European honeymoon over the summer. That request to the White House was later withdrawn.
A Treasury spokesperson told CNN that Mnuchin made the request to ensure access to secure lines of communication when he and his wife were abroad.