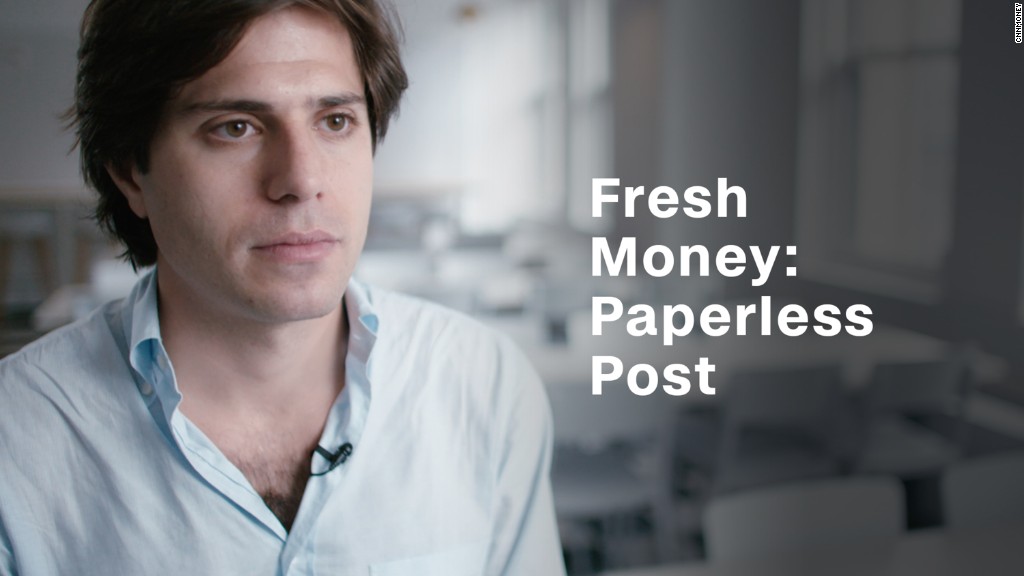 James and Alexa Hirschfeld's successful online stationery company, Paperless Post, was born of necessity.
James was throwing an elaborate party to celebrate his 21st birthday in 2007. He had worked out every detail, but when it came time to send out invites, paper was too expensive, and digital didn't reflect "all the care that went into the event."
He saw an opportunity to create stylish online invitations and use technology to connect people in real life.
Paperless Post allows customers to create online and paper stationery that reflects their individualism. Users can send invites and greeting cards online, or via traditional mail.
"We really focus on getting people together face to face," he told CNNMoney. "That's sort of a rare and special part of life that will never be replaced, and needs to be focused on from a technology perspective as well."
As an entrepreneur, Hirschfeld said his job is always being "redefined." But his anxiety is constant.
"I've spent the past 10 years worrying about failure, worrying about being disrupted, worrying about being overtaken by a competitor, worrying about drifting into non-relevance, worrying about seismic shifts in technology that could take a product that is innovative and make it obsolete," he said.
He also said that it's hard to let go of your company and trust others with its success.
"Empowering people that you trust and that you've hired ... that you've taken a chance on to really own their role and to own a piece of the future of the company and to make decisions is a really big challenge," he said.
Related: Robinhood co-founders want everyone in the stock market
Hirschfeld started the company while attending school. He'd never had a real job before, and so he had a steep learning curve.
"Understanding how to build a high functioning, goal-driven organization is something that I've had to learn on the job," he said.
Luckily, his sister, also a Harvard alum, had gained some real-world lessons.
"My sister had two years of work experience outside of Paperless Post and she has referred back to that all the time," he said. "Having that frame of reference of understanding what it feels like to be part of a team and a corporation is an advantage that I don't have as a leader."
He said that they complement each other in terms of skills and strengths and that they've succeeded as partners because their close bond allows them to "communicate incredibly directly." But working with a sibling takes effort.
"It's challenging to see your sibling in a light that allows them to grow," he said. "When you've known someone for your entire life and you've seen them, and they play a certain role in your life, they play a certain role in your family, you can put someone in a box. In reality, in the workplace, they should have the opportunity to be seen for who they are and to have a chance to grow."
Related: Bumble founder created the app after experiencing online harassment
Paperless Post has grown from an idea to a business that's sent 85 million cards since 2009.
As it's increased in popularity, the company has grown from two employees to 150.
"The feeling that I have toward the people that I work with isn't that I'm responsible for their livelihood the way maybe you would feel if you had a 15,000 person company where stability was the main value proposition that you were offering your employees," Hirschfeld said.
"They're more partners to me, I would say, even at this size, than employees. So, I don't really think of it as being responsible. Everyone here is responsible for the growth of the company and the growth of their careers."