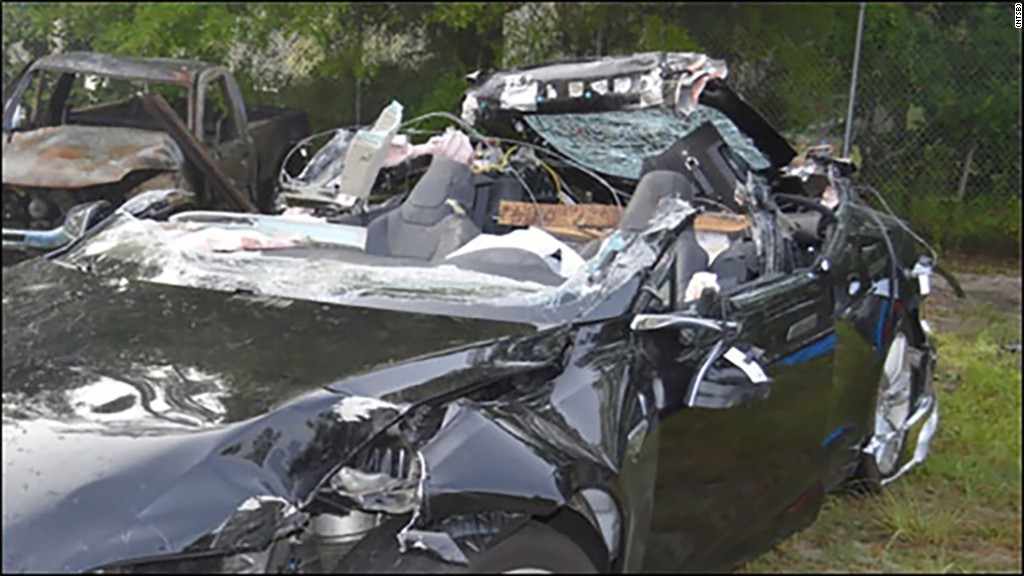 Cars may be be getting safer, but American roads are getting deadlier.
The National Highway Traffic Safety Administration said that the number of traffic fatalities in 2016 rose nearly 6% compared with the previous year to 37,461.
Part of the problem is that once again the combination of cheap gasoline and an improving job picture resulted in Americans driving more. Americans on average drove 2.2% more miles during the year.
The number of fatalities per mile driven also increased by 2.6%. That's the highest rate since 2008. However it is still very near the record-low fatal action rate reached in 2014 and well below the levels of even 10 years ago, the agency said.
The reason may be that cars are getting safer.
"Vehicle improvements including technologies such as air bags and electronic stability control have contributed greatly to reduce traffic deaths," it said. "However, with the large increases in fatalities in 2015 and 2016, that decade-long downward trend [of reduced fatal accidents] has been reduced by more than one-third."
Related: The last place in America you should try to cross a street
American drivers are apparently getting the message not to drive and text-- or drive and do other things on their smart phones. Fatalities attributed to distracted driving fell by 2.2%. Drivers being drowsy or falling asleep also decreased as a cause of fatal accidents.
But there's a lot of existing problems that are getting worse and killing a lot of people. Drunk driving fatalities rose 1.7% to 10,497. They account for more than one out of every four traffic deaths.
Those attributed to speeding increased 4% to 10,111. Fatalities attributed to not wearing a seat belt increased by 4.6%.
Related: Old school technology to try to stop distracted driving
Altogether what NHTSA classifies as "human choices," such as driving while intoxicated or driving too fast, account for 94% of serious accidents.
There was also an 8.2% jump in the number of fatal accidents involving drivers age 65 and older. And that is a demographic problem because the number of drivers on the road who are in that older age group continues to increase steadily. The number of 65-plus motorists is up about 30% in the last 10 years.