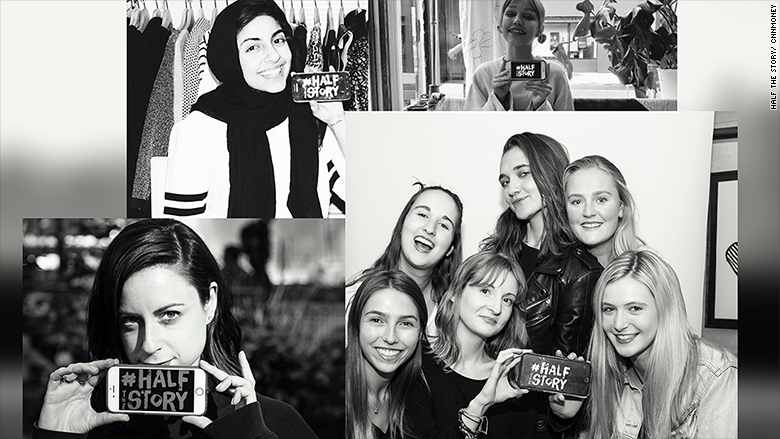 Her social media presence told the story of a picture-perfect life.
Larissa May, who was a student at Vanderbilt University, had an enviable Instagram account. In addition to studying, May was a fashion blogger known for her site "Livinlikelarz." She covered high-profile events such as New York Fashion Week. Her perfectly curated posts showed a glamorous lifestyle.
But the other side of her story was different. May worked 17-hour days, struggling to balance schoolwork with her blog and interning. She felt sleep deprived and suffered from severe anxiety.
She noticed a disconnect from reality and what was shown on her life online. It led her to launch "Half the Story," a brand that lives primarily on Instagram and Facebook.
Alongside beautifully filtered photos, captions shine a light on topics not often discussed like depression, anxiety, envy and feelings of inadequacy.
"My friends and family know I'm entrepreneurial," one caption reads. "They've listened to my countless business ideas and have seen me start, stop, start, stop projects throughout my adult life. The fact is, I've mostly been a 'wantrapreneur.'"
The accounts, run by May and her team of five, are based on user submissions.
Although it's common to use social media to portray an ideal version of oneself or "build one's personal brand," the platforms also have "an impact on the presence of our spirits."
May said some Instagram users have reached out and shared thoughts of self-harm.
"We respond to every message and have a protocol for how to handle those," said May, who sends them online mental health resources.
Two years after launching the brand, May is paid to speak on college campuses and conducts workshops related to the intersection of social media, mental health and well-being.
Related: Meet the 78-year-old Crisis Text Line counselor
"With rising rates of anxiety and depression among college campuses, social media has only complicated the university experience," said May.
She's working to expand Half the Story into a branded content series on Facebook's new Watch platform, devoted to original programming.
Many studies have examined the impact of social media on mental health. One published in the Royal Society for Public Health in the UK declared Instagram as the most detrimental social app for young people. The social platform encourages young women to "compare themselves against unrealistic, largely curated, filtered and Photoshopped versions of reality," said Matt Keracher, author of the report.
Another study from the American Psychiatric Association found that the more social platforms young adults use, the stronger the association with anxiety and depression.
Related: Choosing this Instagram filter could mean you're depressed
19-year-old Maura Sheedy, chief financial officer of Fordham University's Residence Halls Association, helped bring May to speak to about 50 of the Residence Hall student leaders in September.
"When you're in college, you see people struggle -- and you may be struggling yourself -- but it really isn't talked about," said Sheedy, a sophomore.
One of the assignments during May's workshop at Fordham was for attendees to write down the five most important values to them and two things with which they're struggling. Sheedy said it helped create a dialogue to openly discuss the issues they're battling.
Nance Roy, chief clinical officer at JED, a nonprofit focused on emotional health and suicide prevention among teens and young adults, stressed that social media can be used in a multiplicity of ways.
This includes encouraging conversations like those on Half The Story or offering more tech solutions, like Facebook's pattern recognition algorithm, that can help detect individuals who may on the brink of self-harm.
"[Students] aren't running to counseling sessions," said Roy. "There are tons of kids [counselors on college campuses] are not reaching."
"Since we know [youth/young people] are on their screens, we need to use them in a constructive and productive way ... to try and shift the focus to fight stigma."