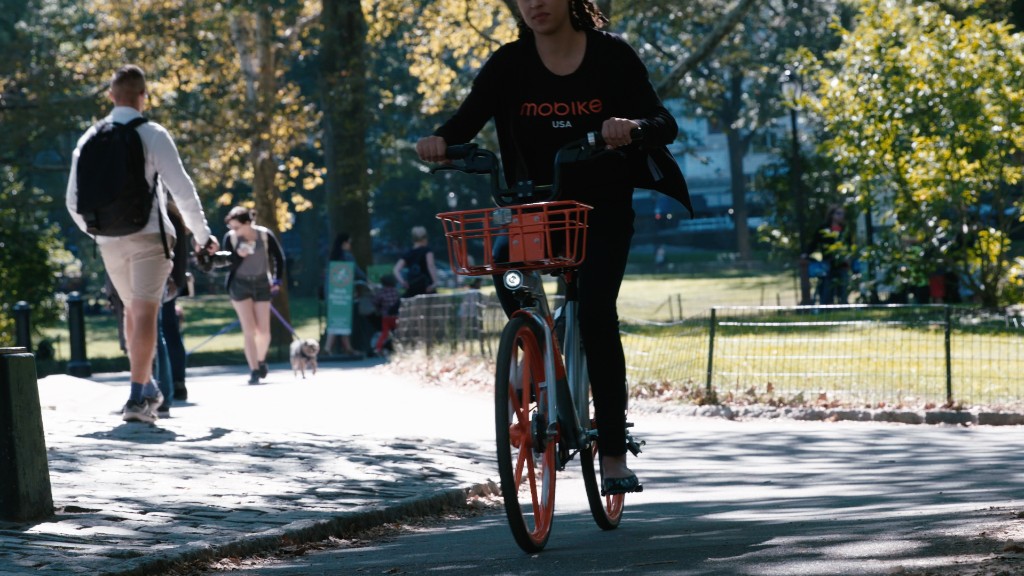 The bikeshare market is being turned on its head, and the implications could be huge for cities.
Governments, which have long struggled to afford bikeshare systems, are suddenly seeing startups offer free bikes to cities. Previously, cities needed millions of dollars to acquire bikes and stations for parking. But now, money isn't a barrier to introducing a bikeshare system.
Transportation experts have pointed to bicycling as a way to address congestion, pollution and public health issues. Although it's often the fastest way to get around urban areas, the cost of a bikeshare program has limited it as viable public transportation method.
Even cities with the nation's largest bikeshare systems such as New York, Chicago and Washington, D.C. haven't expanded to every neighborhood or offered enough bikes to trigger a tipping point.
But in the last year, investors in China and California's Silicon Valley have poured billions of dollars into bikesharing startups that have a unique twist: bikes can be parked in locations other than docking stations. Riders find bikes via smartphone apps and can leave them in approved parking spots, such as public bike racks, next to street signs or at street corners, provided sidewalks aren't blocked.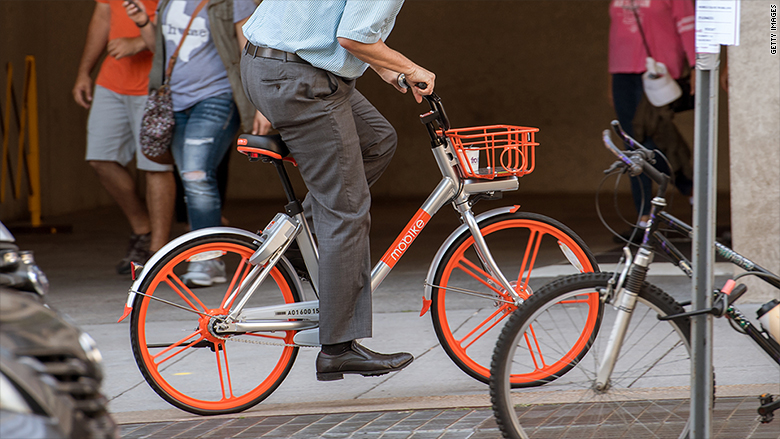 This means bikes don't need to be returned to docking stations, which are expensive to build and often inconvenient for riders.
This style of bikeshare was first popularized in China. Now, Chinese companies such as ofo and Mobike, which have each raised more than $1 billion to grow the concept, are expanding to the United States. Meanwhile, U.S.-based startups, such as Spin and LimeBike, are also cutting costs dramatically by relying on dockless technology.
The shift could ignite a bicycling renaissance in the U.S. -- or end in failure, according to bicycling and transportation experts.
"The jury is still out, but it's promising," Tim Blumenthal , president of PeopleForBikes, told CNN Tech. "Nobody in the U.S. knows how it will play out."
For example, cities such as Seattle are shifting from offering one bikeshare option, funded by taxpayer dollars, to a system where private bikeshare companies are granted a permit to operate at no cost to the city. Previously, cities have had to pay up to $5,000 per bicycle to operate a system. The permits make it easier for companies to operate, and cities can spend money elsewhere.
"This is the moment everyone in the industry has been hoping for," said Nick Foley, the head of product at Social Bicycles, which operates the dockless bikeshare service Jump Mobility.
In coming years, experts believe the companies will equip bikes with cameras and additional sensors to collect valuable data that will be sold to advertisers.
Seattle's transportation department, which pioneered a permitting process for the first major deployment of dockless bikeshare, has heard from more than 50 curious cities seeking advice.
Related: How Seattle morphed from bikeshare failure to industry leader in 5 months
Dallas is among the cities embracing a dockless bikeshare revolution. It welcomed the trend last summer.
Councilman Lee M. Kleinman, who chairs the city's transportation committee, said he previously envied New York's bikeshare system, CitiBike.
"I just banged my head against the wall for years. Why can't we get something like this in Dallas?" Kleinman told CNN Tech. "Unfortunately, we can't spend money on everything. There were always budgetary constraints."
But that changed. Kleinman heard from Silicon Valley startups that wanted to operate in the city. The city wouldn't have to pay anything to get the program up and running.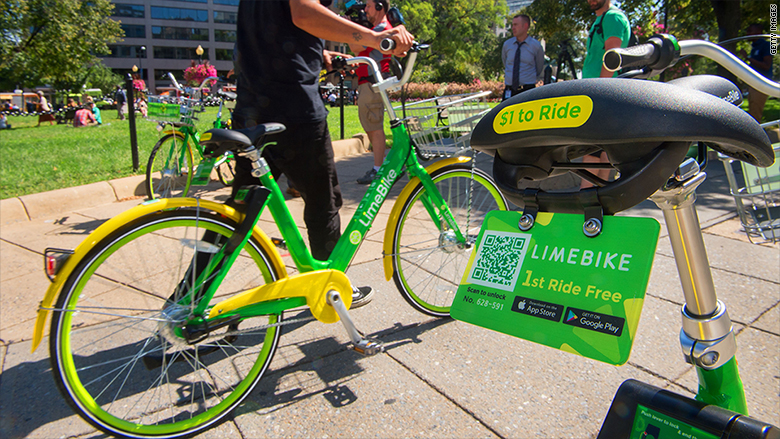 In August, thousands of bikes from LimeBike, and its competitor Spin, arrived on Dallas streets as a part of a pilot program. Kleinman said there haven't been complaints so far.
A similar script is playing out outside Boston in Revere, Massachusetts. Mayor Brian Arrigo said he previously failed to convince Boston's bikeshare officials to expand to his town. But this week, ofo launched 200 of its dockless bicycles in Revere.
The move is also a game changer for cities that already have shared bikes. Washington, D.C. has become the first U.S. city to experiment with how dockless bikeshare options complement the existing system of docked bicycles.
In a month's time, the fleet of shared bicycles in the nation's capital has grown by 50% due to startups like Jump Mobility and LimeBike entering the city. Ofo will launch next week.
Washington D.C. department of transportation official Sam Zimbabwe, who oversees bikeshare in the city, said dockless systems may address the most common complaints about Capital Bikeshare: There aren't enough bikes, convenient stations and places to park.
Some cities such as Arlington, Virginia are taking a more cautious approach by waiting to see how the method is received.
"It's exciting, but we'll have to see," said Henry Dunbar, who leads bike transportation in Arlington, nearby Washington D.C. "There will be an impact. I just can't tell you exactly what it will be."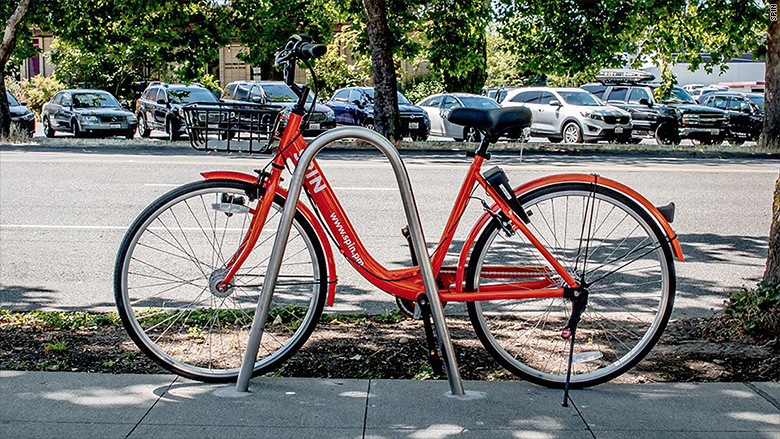 There are still questions about potential drawbacks of dockless technology. The programs have generally been successful in China, but some cities have reported piles of neglected bicycles cluttering the streets due to few regulations.
U.S. cities and the startups have pledged to avoid a similar fate by monitoring bike parking and slowly deploying new bicycles so demand isn't exceeded. For example, LimeBike has five people tracking its 400 bikes across Washington, D.C.
If the dockless model works, bicycling may become a viable transportation option in many cities, with millions of shared bicycles appearing in cities.
Related: The case for bicycles' inevitable triumph over cars
LimeBike CEO Toby Sun envisions riders never having to walk more than a block or two to find a bike. His company estimates one day having as many as 30,000 bikes in Seattle, five times as many bikes as are in the city now.
There's no best practice for how many bikes per resident make sense in a city. But U.S. cities appear to be a long way from maxing out on bikes. Beijing, for example, has about one shared bicycle for every 10 residents. Washington, D.C. has one shared bike for every 175 residents.
"It's an incredible opportunity for cities," said Russell Meddin, editor of BikeSharingMap.com. "Many U.S. cities could take five to 20 times as many bikes as they have today, finally fulfilling the potential of public bicycle transportation."