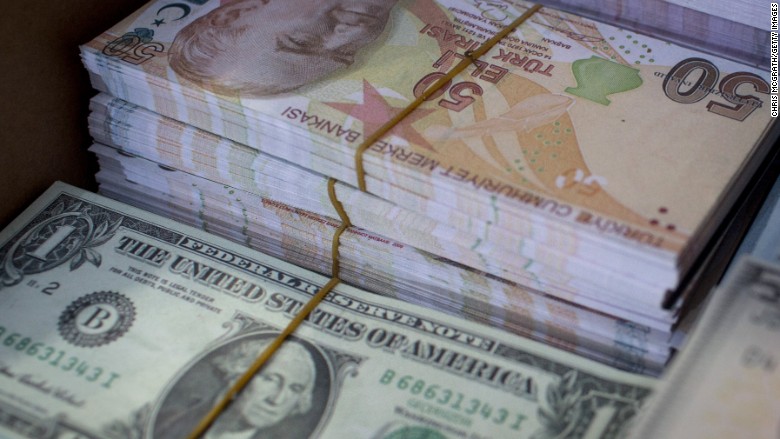 Turkey's currency is suffering the effects of the country's escalating feud with the United States.
The Turkish lira slumped as much as 6.6% against the U.S. dollar on Monday after a spat over visas between the two countries intensified.
The nosedive in the currency came after the U.S. embassy in Ankara announced late Sunday that it would cease processing most kinds of visas for Turkish citizens.
Turkey's embassy in Washington D.C. quickly responded in kind, saying it would halt visa applications for Americans.
The lira clawed back most of those losses by late morning Hong Kong time and was trading down about 2.8% versus the dollar.
Rodrigo Catril, a currency strategist at National Australia Bank in Sydney, said that the sharp drop was partly explained by thin trading volumes, but also showed how political risks were rising in the country.
Investors are anxious about the independence movement in Kurdistan and tensions with Europe, Catril said. Turkey has "a large current account deficit and the country is highly dependent on foreign investment," he added.
That means Turkey spends more on imports than it makes on exports, causing investors to worry about the country's ability to pay its debts.
Related: Turkey backs Syrian rebel group in new anti-extremist push
The tit-for-tat moves by Turkey and the U.S. come following the arrest of a U.S. consulate employee in Istanbul last week. The staff member, Turkish national Metin Topuz, has been accused of having links to Pennsylvania-based opposition cleric Fethullah Gulen.
Turkey wants Gulen, who it blames for last year's attempted coup, extradited from the U.S. to Turkey. Topuz is the second U.S. government employee in Turkey to be arrested this year.
"Recent events have forced the United States Government to reassess the commitment of the Government of Turkey to the security of U.S. Mission facilities and personnel," a statement from the U.S. mission in Ankara read.
A later statement from the Turkish embassy in Washington D.C. was almost identically worded.
The latest moves by both governments mean they will stop processing all visas except those for applicants who are seeking to emigrate. That will make it much harder for Americans to visit Turkey for business or leisure.
Trade between the U.S. and Turkey was worth about $17 billion in 2016. That means Turkey is below Vietnam, Thailand and Malaysia in the list of major U.S. trading partners.
Major U.S. exports to Turkey include aircraft, metals and agricultural goods.