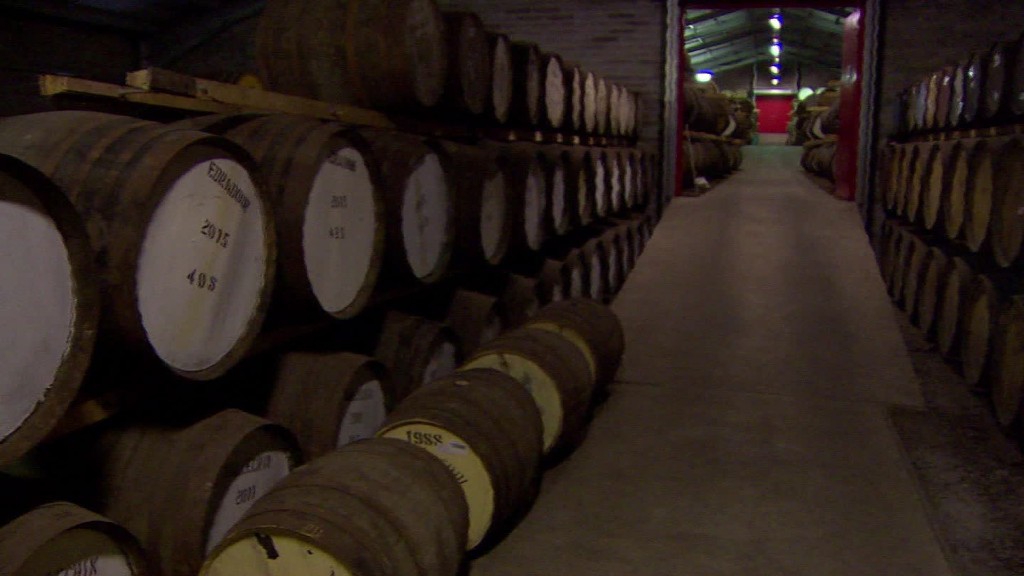 Two Scottish distilleries that have been closed since 1983 are being reopened to help satisfy a growing thirst for premium whiskies.
Global booze giant Diageo (DEO) announced Monday that it would invest £35 million ($46 million) to bring the "lost" distilleries back from the dead by 2020.
The distilleries -- Port Ellen and Brora -- are best known for their medium-peated single malt Scotch.
Diageo said that the move "reflects the strong growth in the single malt Scotch market and the opportunity to create new generations of whisky consumers."
The London-based company, which makes whiskies including Johnnie Walker, Talisker and Lagavulin, said the reopened Scottish distilleries will be among its smallest, each producing roughly 800,000 liters a year.
Demand for single malt Scotch -- which is made from the product of a single distillery rather than a blend -- has skyrocketed in recent years.
Scottish exports of single malts have increased from 47 million bottles in 2002 to 114 million in 2016, according to the Scotch Whisky Association. The value of the exports topped £1 billion ($1.3 billion) for the first time in 2016.
Jeremy Cunnington, a senior alcoholic drinks analyst at Euromonitor International, said that opening these facilities will help meet growing demand for high-end, craft concoctions.
"The returns can be spectacular," he said.
Related: Scotland's smallest distillery fears Brexit
The industry's problem is that single malts have always been, by design, a limited commodity. Distillers produce a set amount in a given year, and essentially guess what demand will be like when the spirit matures.
Scotch must be aged for a minimum of three years by law. Diageo said these new whiskies will be aged for 12 years.
Andy Simpson, co-founder of brokerage service Rare Whisky 101, warned that restarting production may dilute the value of vintage Port Ellen and Brora bottles, which can sell for thousands of dollars each.
"Part of the enduring allure of both Port Ellen and Brora is that they haven't produced a single drop since 1983," he said. "With the distilleries reopening, will collectors and connoisseurs be quite so enthused to get their hands on rare Port Ellen and Brora stock? We're not so sure."