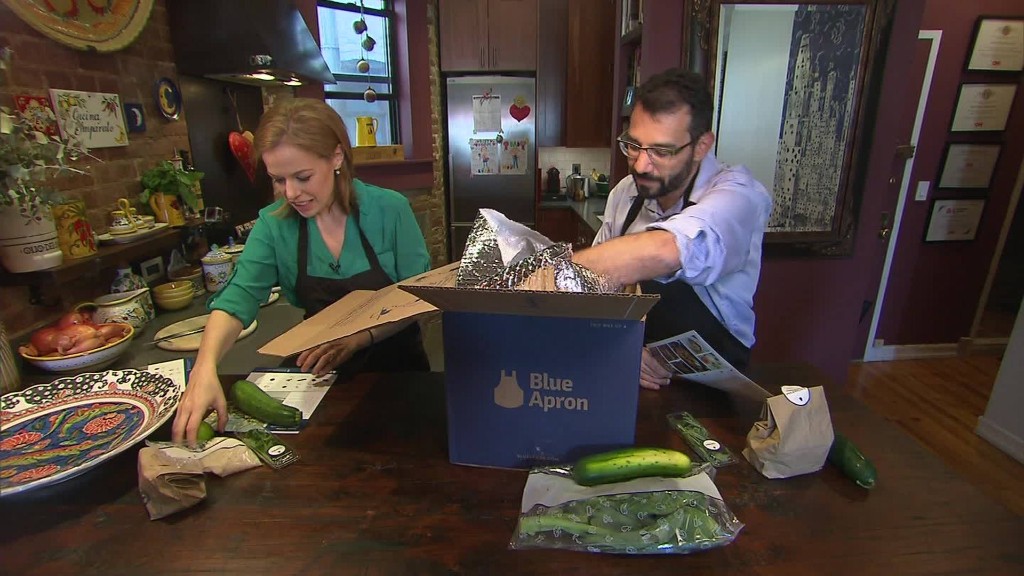 There may be a bubble brewing in the food business.
HelloFresh, a Berlin-based meal kit company that operates in the United States, announced Tuesday that it plans to go public on the Frankfurt Stock Exchange.
And Bakkavor, a fresh food supplier to U.K. supermarket giants Tesco, Marks & Spencer and Sainsbury's that also has a presence in the U.S. and China, said it was looking to sell stock on the London Stock Exchange in November.
Both companies must hope investors have a bigger appetite for their stocks than Americans did for meal kit leader Blue Apron, which has performed like a moldy piece of fruit since its initial public offering debuted on the New York Stock Exchange in June.
Shares of Blue Apron (APRN) have lost nearly half their value since the IPO.
Even so, global competition in the meal kit and food delivery business appears to be intense.
Amazon (AMZN), which now owns organic grocer Whole Foods, recently launched its own meal kit service.
Albertsons, which also owns the big U.S. supermarket chain Safeway, agreed to buy another meal kit company, Plated, for $200 million last month.
Purple Carrot, which partnered with Whole Foods in 2016 before the Amazon deal, is another big player. And there are reports that meal kit company Home Chef is considering a sale as well.
But HelloFresh, which wants to raise 250 million to 300 million euros from its offering in order to fund more growth for the business, says it has a leg up on the competition because of its global scale.
Related: Blue Apron stock tanks after disappointing results
HelloFresh does business in 10 countries, including the U.S., Canada and Australia as well as Germany, the Netherlands and Belgium in Europe.
"The public listing marks the next logical step to further expand our business, to secure our position as the leading global player and to pursue our long- term growth strategy," said HelloFresh co-founder and CEO Dominik Richter in a statement Tuesday.
Still, profits have proven to be elusive for the company. HelloFresh, which is controlled by German tech incubator Rocket Internet, said it generated sales of more than 230 million euros in the second quarter, but that it has not yet made money.
HelloFresh does hope to break even within the next 15 months though.
The U.K.'s Bakkavor fares a little better. It did post a profit in the first half of the year. But its sales and earnings are growing relatively slowly. Revenue is up just 6% and earnings is up 8%.
So it will be interesting to see if there really will be strong demand for all these food services companies given how poorly Blue Apron has done.
With so many startups out there, not to mention Amazon, more food delivery IPOs could just give investors heartburn.