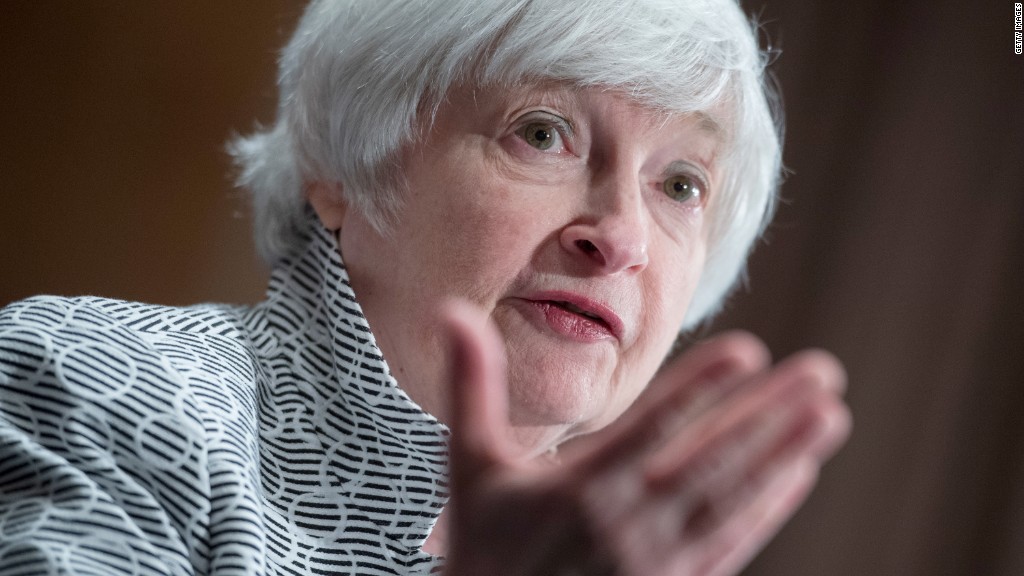 President Trump will soon make one of his most important decisions: Nominating the next leader of the Federal Reserve.
His advisers have narrowed the list of candidates for Fed chair to roughly five, though more names could be added and the roster isn't final, according to a person familiar with the process.
Former Fed Governor Kevin Warsh is considered the frontrunner, according to sources, who cautioned that Trump is weighing all options and a decision hasn't been made. Others in the running include current Fed Chair Janet Yellen, Fed Governor Jerome Powell, Trump's top economic adviser Gary Cohn and renowned Stanford economist John Taylor.
Related: Good news in a bad jobs report: Wages
Warsh, Cohn and Powell would be unusual picks because they aren't economists. Every Fed chair since 1979 has been an economist.
"It's a mistake to think only economists can do the job ... but in general I think we're better off with economists as chair," says David Wessel, a senior fellow at the Brookings Institution. For non-economists, "I worry a little bit about on-the-job training."
White House officials said last week that Trump has met with Warsh, Powell and Yellen. He also plans to meet with Taylor, and he speaks regularly with Cohn, though their relationship cooled after Trump's response to the white nationalist protest in Charlottesville, Virginia.
Related: Senate confirms Trump nominee for top Fed post
Trump intends to make a decision in the coming weeks, in hopes the person will be confirmed by the Senate Banking Committee before Yellen's term expires in February. Trump had said that he would make a decision before the end of the year.
White House officials say Trump is looking for a nominee with experience in monetary policy and an eye toward rolling back financial regulations, which Trump says are overly burdensome and harmful to the economy.
That makes Warsh, a conservative who teaches at Stanford, a mixed candidate. He has said that the Fed "micromanages" big banks under regulatory reforms adopted after the financial crisis.
However, some experts believe Warsh would also be in favor of raising interest rates at a faster pace, also known as being "hawkish." Trump has said he favors low interest rates.
Related: Elizabeth Warren to Wells Fargo CEO: You should be fired
"We see Warsh as the most hawkish and most likely to change the way the Fed conducts monetary policy," Bank of America (BAC) economists Michelle Meyer and Alexander Lin wrote in a recent research note.
What may make Warsh appealing to Trump -- a desire to roll back regulations -- also makes Yellen less likely to be renominated. She is a staunch defender of the Fed's financial reforms, arguing they are critical to the stability of America's biggest banks.
However, presidents before Trump have set a precedent of renominating Fed chairs chosen by the other political party. For example, President Obama renominated Ben Bernanke, who was originally nominated by President George W. Bush.
It's unclear whether that precedent matters to Trump.
"I'm not sure he has any coherent thoughts on the matter," says Andrew Rose, an economist at the University of California, Berkeley, who worked there with Yellen. "Even if he had any coherent thoughts on the matter, he might change them in the next 45 minutes."
Related: Wall Street loves the Fed and Janet Yellen
In September, Yellen declined to comment on whether she wants a second term.
Cohn, the economic adviser to Trump, was seen over the summer as a leading candidate. But Cohn, who is Jewish, criticized Trump after Charlottesville, when the president blamed "many sides" for the violence.
"This administration can and must do better in consistently and unequivocally condemning these groups and do everything we can to heal the deep divisions that exist in our communities," Cohn, director of the White House's National Economic Council, told the Financial Times in August.
That comment hurt Cohn's candidacy for Fed chair, though he and Trump have mended ties somewhat since, according to people familiar with their relationship.
Cohn is working on Trump's tax reform bill with Treasury Secretary Steven Mnuchin, who is leading the Fed search. Mnuchin also regularly meets with Yellen and has complimented her.
Yellen has only three more meetings in her first term as chair.