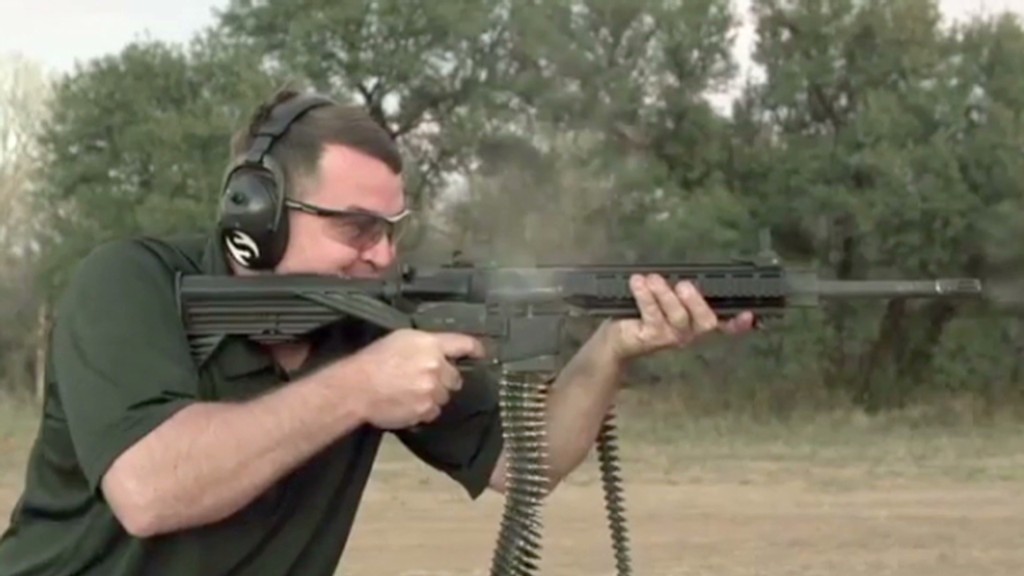 A gun control group has filed suit against a bump stock manufacturer seeking damages and counseling for the survivors of a mass shooting in Las Vegas earlier this month.
Gunman Stephen Paddock had 12 rifles mounted with bump stocks when he fired from his 32nd floor suite in the Mandalay Hotel at the street-level Route 91 Harvest Festival, before killing himself.
The Brady Center to Prevent Gun Violence filed the class action suit against Slide Fire Solutions "on behalf of all concert goers who suffered emotional distress as a result of the shooting that killed 58 people and wounded hundreds on Oct. 1."
"This horrific assault did not occur, could not occur, and would not have occurred with a conventional handgun, rifle or shotgun, of the sort used by law-abiding responsible gun owners for hunting or self-defense," the complaint alleges.
Slide Fire did not return messages from CNNMoney.
The lawsuit, which was filed in Clark County District Court, asks that defendants pay for counseling costs and other treatments for emotional distress suffered by the victims. It also asks for punitive damages, but doesn't mention a monetary amount.
Bump stocks, which were invented by Jeremiah Cottle of Slide Fire Solutions and approved by the Bureau of Alcohol, Tobacco, Firearms and Explosives in 2010, are legal in most places.
They are not regulated with the same level of intensity as fully automatic machine guns, which cost tens of thousands of dollars and are subject to the National Firearms Act.
Slide Fire, which was selling bump stocks for up to $400 before suspending sales, did not return messages from CNNMoney.
Bump stocks speed up the rate of semi-automatic fire to mimic fully automatic fire, by harnessing the recoil of the rifle to shoot the gun faster than manual trigger-pulling would allow.
The lawsuit specifically names Slide Fire as the inventor and patent owner of Paddock's bump stocks, but may include other manufacturers and sellers who might have supplied Paddock. The Las Vegas Metropolitan Police Department has not identified the maker of the bump stocks used in Las Vegas.
One other company makes them. Fostech Outdoors of Seymour, Indiana says it licenses Slide Fire's patented technology to make its Bumpski stocks.
Related: Bump stocks have been selling out since Vegas massacre
Fostech did not return messages from CNNMoney. Both companies announced on their web sites that they have temporarily suspended sales of bump stocks.
Slide Fire said it has suspended new orders "to provide the best service with those already placed." Fostech said it was suspending sales "until manufacturing can catch up with demand."
Related: Bump stocks mimic machine gun fire, and they're legal
Bump stocks have been selling out at gun shops around the country since the Mandalay Bay massacre. Some retailers say that sales are driven by the fear of consumers that gun control legislation will ban bump stocks.
Legislators of both parties have suggested tighter controls or outright bans on bump stocks. In an unusual move, the National Rifle Association, which generally opposed all gun control, has said bump stocks should be subject to "additional regulations."