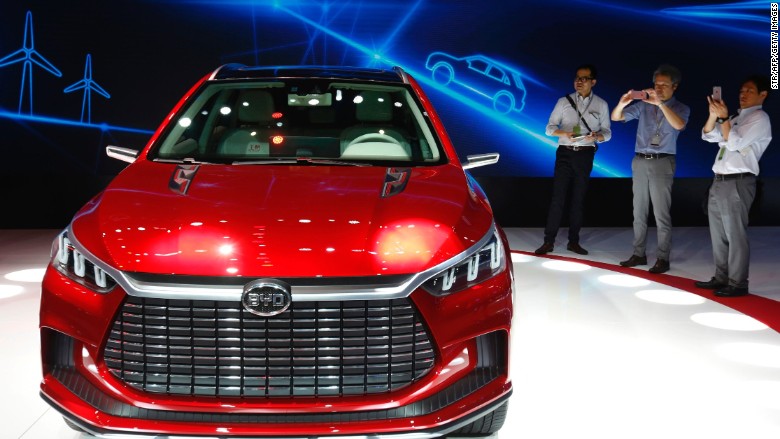 Investors are hot for China's answer to Tesla.
Shares of BYD (BYDDF), a Chinese battery and electric car maker in which Warren Buffett is a major investor, have risen 55% over the past month.
Stock in the Tesla (TSLA) rival hit a 52-week high in Hong Kong this week, though it closed about 3% lower Wednesday.
The steep climb started in early September, when China announced plans to eventually ban the production and sale of vehicles powered solely by fossil fuels.
Related: China wants to ban gas and diesel cars
The announcement also boosted shares in China's other leading electric car maker, Geely (GELYF), which is up about 40% over the same period.
China is pushing to replace the gas guzzling cars on its streets, and Beijing wants homegrown companies to benefit from the windfall in sales of alternative vehicles.
The country's "Made in China 2025" plan calls for domestically produced hybrid vehicles and electric cars to account for at least 70% of sales by 2025.
Related: Tesla's stock is up 75% this year. That's not a typo.
Betting big on BYD makes sense given that the company is also a leading manufacturer and supplier of batteries, said Angus Chan, an analyst with research firm Bocom International.
But investors in BYD -- which stands for Build Your Dreams -- may be a little overeager.
Chan says the stock is "expensive" right now.
Related: Tesla announced another delay -- this time its the semi-truck
Daiwa, a Hong Kong investment firm, recommends that investors buy BYD stock, but it has set a relatively modest 12-month price target of 58 Hong Kong dollars -- about 25% below where the stock is currently trading.
Other analysts are much more skeptical. JL Warren Capital, a New York investment company, said in a report in August that the Chinese carmaker is far too dependent on government subsidies. The firm says investors should sell BYD stock.
Rarely a year goes by without BYD needing funding "due to its perpetual cash burn," wrote JL Warren founder Junheng Li in the August report.
Related: These countries want to ban gas and diesel cars
Investors have pushed the stock to dreamy heights in the past. In October 2009, BYD shares hit an all time high of 88.40 Hong Kong dollars ($11.30), only to tumble sharply in 2012, after an analyst in China slashed the firm's target price for the stock to virtually nothing.
Buffett's Berkshire Hathaway (BRKA) has stuck with the stock through highs and lows.
It bought a 9.9% stake for $232 million in September 2008. After the recent run, that stake is now worth about $2.2 billion.